Top Story
"Emma" Virtual Twin to Drive Healthcare Innovation
September 28, 2023
Avatar designed to raise awareness of how virtual twins can be tapped to understand diseases and treatment effects.
"Emma" Virtual Twin to Drive Healthcare Innovation
September 28, 2023
Avatar designed to raise awareness of how virtual twins can be tapped to understand diseases and treatment effects.
Dassault Debuts Emma Twin for Healthcare Innovation
September 21, 2023
An avatar was designed to raise awareness about how virtual twins are advancing healthcare.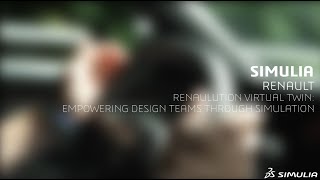 Pascal Remusan - MODSIM Pioneer
September 14, 2023
Pascal Remusan of Renault Group, talks about his presentation at the 3DEXPERIENCE Modeling & Simulation (MODSIM) Conference 2022.
MODSIM – Unified Modeling and Simulation
July 24, 2023
MODSIM unifies modeling and simulation on a common data model within a single user experience on the 3DEXPERIENCE platform.
3DEXPERIENCE Modeling & Simulation Conference
July 24, 2023
This year's virtual event will focus on game-changing technology from CATIA, SOLIDWORKS, and SIMULIA, inspiring managers and leaders to design and innovate the next generation of products on one business platform.
NextGen Design | Webinar Series
July 24, 2023
In this ongoing series, learn how to accelerate your product development with unified Modeling and Simulation (MODSIM).
Join the MODSIM Community
July 22, 2023
Experience MODSIM in a collaborative community that brings together simulation, modeling, and design experts from around the world including customers and Dassault Systèmes R&D experts.
EPLAN Enters Tech Partnership with Dassault Systèmes
July 21, 2023
The interface between the EPLAN Platform and the 3DEXPERIENCE platform of Dassault Systèmes will be expanded by both parties working together.
Unified Modeling And Simulation (MODSIM) For Sustainable Product Development
July 20, 2023
Companies in all sectors must address the need for greater sustainability to meet customer demands. The development of new products necessitates rigorous testing and evaluation, while efforts must be made to decrease emissions and operate in a more economical fashion.
Dassault Systèmes, ISAE Group Partner
June 27, 2023
The six top aerospace engineering schools in France will integrate Dassault Systèmes' 3DEXPERIENCE platform into its training programs for 7,000 students.
Automotive Manufacturing Gone Virtual
June 16, 2023
AR, VR, digital twins and 3D prototyping all play roles in the future of the automotive market.
Real-World Application of Simulation Takes Center Stage at NWC 23
June 9, 2023
Taking a look back at this year's NAFEMS World Congress meeting highlights.
Ellison Now Offers Dassault Software Solutions
June 6, 2023
This offering includes SOLIDWORKS and the 3DExperience Platform in the state of California.
Seeking Misbehaving Virtual Drivers
May 30, 2023
Simulating accidents in mixed reality is a critical step for the future of autonomous vehicles.
Accelerating Electric Vehicle Development with Multidisciplinary Simulation and High-Performance Computing
May 18, 2023
In this new Making the Case guide, learn how a unified approach to design and multidisciplinary simulation from Dassault Systèmes, combined with high-performance computing powered by AMD EPYC™ processors, can accelerate EV design.
Latest News
Carbon Shares Platform Improvements
Company introduces new EPU 46 resin with color options.
COMSOL Announces Program for COMSOL Day: Aerospace & Defense
The event will explore multiphysics simulation applications and modeling topics supporting innovation and design in the aerospace and defense industry.
Keysight Highlights EDA 2024 Integrated Software Tools
This integrated EDA software is designed to increase productivity for engineers developing high-speed products in multiple applications, the company reports.
3D Systems Partners with Klarity
Klarity Prints, powered by 3D Systems, is a service-based line of 3D-printed radiotherapy accessories.
Altair Takes Home Awards from Fortune, Newsweek
Altair has been named to two lists that recognize companies that put employees first, Altair reports.
US DoD Deploys SPEE3D Printers to Ukraine
SPEE3D supplies 3D printers and training for Ukrainian soldiers and engineers to manufacture and repair military equipment in the...
All posts