Top Story
Building a Better EV Battery
January 26, 2023
As the advent of electric vehicles takes shape globally, battery design takes center stage as a technology to watch, especially as more electric vehicles are produced and go on the road.
Renault Group Taps Into Dassault Systèmes' Data Science Solution
February 3, 2023
New cost intelligence solution with artificial intelligence enables Renault Group to simulate impacts of raw material price increases and part cost variations, according to Dassault.
Building a Better EV Battery
January 26, 2023
As the advent of electric vehicles takes shape globally, battery design takes center stage as a technology to watch, especially as more electric vehicles are produced and go on the road.
Dassault Systèmes Presents Urban Renaissance 3D Mapping Project
January 17, 2023
Immersive experience taking place at the Dongdaemun Design Plaza in Seoul, South Korea, explores how sustainable cities can thrive as urbanization increases, according to Dassault Systèmes.
Celebrating the Union of CAD and CAM
January 3, 2023
Milestone mergers and partnerships brought design and manufacturing closer.
Dassault Systèmes and Ecole Normale Supérieure Paris-Saclay Sign MoU
December 13, 2022
MoU with France's leading university for careers in higher education and research aims to drive a greater understanding of the role of virtual twins in sustainable innovation.
Boosting CAD Interoperability
December 2, 2022
Consolidation and change within industries that use engineering design software raise questions about CAD software interoperability.
Dassault Systèmes Names Chief Sustainability Officer
November 29, 2022
Philippine de T'Serclaes brings experience in business transformation, financing, energy transition, blockchain, energy efficiency and more, company says.
FREE WEBINAR DEC. 13: Simulation-Driven Design of High Performance Thermal Systems for Industrial Machinery
November 25, 2022
In this webinar, learn how to address challenges related to the design of thermal systems for industrial machinery using SIMULIA's Computational Fluid Dynamics (CFD) solutions.
Accelerate Business Value Through Unified Modeling & Simulation
November 20, 2022
Find out how organizations from multiple industries are defining their own MODSIM strategy. Learn from simulation, modeling, and design experts benefiting from a MODSIM approach.
Unified Modeling and Simulation for Structure Development of Heavy Machinery and Equipment
November 17, 2022
The 3DEXPERIENCE Platform can help heavy mobile machine manufacturers innovate in a collaborative environment and overcome challenges, such as safety, that drive the market.
Accelerating Vehicle Product Development Cycles with Modeling and Simulation
November 16, 2022
Using modeling and simulation (MODSIM) tools, OEM engineers can successfully create and validate products in a unique, integrated and digitally connected environment.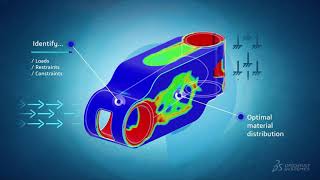 Generative Design in Support of Science-based Modeling and Simulation
November 16, 2022
In today's increasingly competitive market, it is no longer sustainable to approach design slowly and methodically. Designers are challenged with faster design cycles and more demanding design requirements.
Introduction to MODSIM and Its Implementation Journey
November 15, 2022
Consumers demands are challenging new product development. To effectively meet these new challenges in delivering new products and features to market quickly, efficiently, and safely, the product development and manufacturing cycles must be tuned in a manner that provide the...
3DEXPERIENCE® Platform to Virtually Test Sustainable Packaging Solution
November 14, 2022
PepsiCo turned to Dassault Systemes for sustainable packaging solutions, while ensuring that these solutions were resistant to both shipping, and shelf damage.
Unified Modeling and Simulation
November 14, 2022
Exploring how we do science-based modeling and simulation, and how new paradigms in this field are delivering next-generation product design systems with modeling and simulation at their core.
Latest News
Oqton and Valk Welding Partner for Automated Robotic Welding
Oqton is part of Valk Welding's Automatic Robot Programming (ARP) solution for high-mix, low-volume production.
CADSoftTools Releases ABViewer v15.1
CADSoftTools announces ABViewer 15.1 with new features and enhancements.
C3Nano Unveils Conductive Curing Printable Ink Solution
C3Nano'sSuperGrid low-temperature process enables markets and applications for consumer electronics, flexible printed circuits, and interconnects, company says.
Siemens Advances Integrated Circuit Verification
Company debuts new, data-driven Questa Verification IQ software.
All posts