Top Story
AI-Accelerated Rendering
November 1, 2019
Artificial intelligence ushers in rendering democratization.
EU Releases New Funding Opportunities Through the Project AMable
December 29, 2019
AMable calls for proposals aimed to generate innovative ideas of functional products that need additive manufacturing to become real products.
AI-Accelerated Rendering
November 1, 2019
Artificial intelligence ushers in rendering democratization.
ASSESS Initiative Publishes Strategic Insight Paper on Generative Design
September 19, 2019
The ASSESS Initiative is planning on publishing Strategic Insight papers related to various themes.
The Path to Simulation
September 1, 2019
Industry veterans weigh in on how to make engineering simulation more accessible to a larger user base.
Subscription Pricing Meets the Design World
September 1, 2019
The desire for increased flexibility and an ongoing relationship with vendors is fueling a shift toward subscription-based pricing models.
A More Open, Accessible Future
September 1, 2019
Our focus on democratization in this issue is pointing to the future, but also telling an old story.
Generation Gap
September 1, 2019
Bye bye, baby boomers. Move over millennials. Engineering software gears up for Gen Z.
ASSESS 2019 Congress Lines Up Speakers
July 2, 2019
The ASSESS 2019 Congress will be held October 27-29, 2019 at the Chateau Elan Winery & Resort in Braselton, GA.
Ralf Hartmann of Airbus Defense & Space to Keynote ASSESS 2019 Congress
June 18, 2019
Hartmann's keynote presentation's title is "Multidisciplinary Integration Towards the Digital Twin."
Going Live with Real-Time Simulation
June 6, 2019
GPU-powered simulation advances democratization of simulation.
Simulation Transition: Meshing Nuts and Bolts
May 1, 2019
It's essential to understand the fundamentals of how to adjust a mesh to obtain accurate and reliable results.
Simulation Transition: Meshing and Elements
April 1, 2019
This month, we look at the array of elements and provide some insight into their application in the world of simulation analysis.
Bringing Order to AI Chaos with Blockchain
March 1, 2019
Investigating the use of blockchain to democratize artificial intelligence.
Transition to Simulation: Linear and Nonlinear Buckling
March 1, 2019
Buckling describes where structural failure can occur when compressive loads are applied to a slender structure.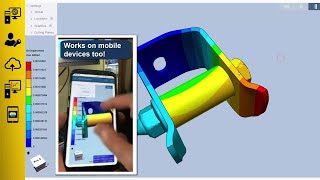 ANSYS Provides Path to Cloud HPC
February 20, 2019
ANSYS Cloud delivers on-demand cloud HPC access within the ANSYS portfolio to democratize simulation.
Latest News
MapleMBSE Release From Maplesoft Now Includes Capella Support
MapleMBSE 2020.2 offers expanded toolchain connectivity, improved performance and usability.
BETA CAE Systems Releases SPDRM v1.4.0
SPDRM v1.4.0 features numerous important enhancements in the back-end and in the SPDRM client.
Cambashi Releases 2020 Update of CAE Market Observatory 
Market for CAE / Simulation software will reach $6.1bn in 2020.
Engineering for Change and Siemens Name Finalists in Design Challenge
Eight teams selected for innovations that address fundamental need for clean water and adequate food supply; winners will be announced...
All posts