Ansys Cloud to Support AWS Arm-based Graviton2 Processors
July 27, 2021
AWS Graviton2 processors can be employed in Ansys semiconductor simulation products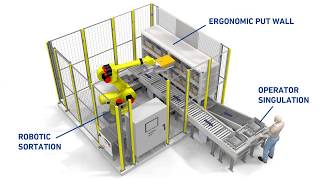 Digital Twins and Cyberphysical Security at AeroDef
May 3, 2019
DE Video News May 3, 2019: Digital twins and cyberphysical security discussions at AeroDef Conf, ANSYS acuires EDA firm
Industry Focus: Designing for Consumer Electronics
February 16, 2018
Design engineers developing consumer electronics were some of the first to arrive at the intersection of hardware, electronics, software and aesthetics. That intersection has since become jammed with engineers from various disciplines trying to navigate their way through an ever-changing...
Siemens Acquires Sarokal Test Systems
February 12, 2018
With its acquisition of Sarokal Test Systems, Siemens to add to growing integrated circuit (IC) strength and worldwide digitalization strategy with technology and expertise for 5G segment.
Altair Acquires MODELiiS
May 30, 2017
MODELiiS was originally a start-up company incubated within a larger EDA design firm.
Design-to-Order Reshapes Product Development and Management
October 20, 2015
Web-based tools for EDA can reduce costs, simplify connectivity and manage the supply chain.
Mentor Graphics Updates FloTHERM XT
May 26, 2015
The platform supports transient analysis, Joule heating, parametric studies and more.
Zuken Accelerates Electric Vehicle Research Collaboration
December 19, 2014
The company has helped with electromagnetic compatibility research.
Mentor Graphics Joins European Centre for Power Electronics Consortium
August 28, 2014
The company is the only electronic design automation organization in the research network.
Mentor Graphics Acquires Electronics Simulation Solution Company Nimbic
June 3, 2014
With Nimbic's flagship products, Mentor Graphics can expand its simulation portfolio.
Latest News
Zuken Launches AI-Powered PCB Routing Tool, as First Step in Long-Term AI Strategy
Zuken Launches AI-Powered PCB Routing Tool, outlines AI roadmap at PCB West.
pSeven User Conference Highlights Hybrid Digital Twins
DATADVANCE user conference focuses on predictive modeling and design space exploration products.
Air Force Awards $10.8 Million Contract for Metal 3D Printing
3D Systems to spearhead large-format metal 3D printing technology demonstrator.
Hexagon Launches Mould and Die Suite
Aim is to empower teams to simplify the work of complex manufacturing.
Notilus Marine Plugins Expanding
Design plugins made for the maritime industry.
FEA In the Age of Cloud
Specialized infrastructure providers fill a need in HPC-powered simulation.
All posts