Top Story
Mixed Reality Moves Beyond the Cool Factor
February 1, 2020
As hype subsides, practical use cases emerge.
Editor's Pick: Upgrade to Mixed Reality 3D CAD Viewing Suite
May 5, 2021
Theorem Solutions Theorem-XR Suite update offers support for HoloLens 2 and the Microsoft Azure Remote Rendering (ARR) engine.
Bridge the Gap Between CAD and XR With Release of Theorem-XR
April 23, 2021
This latest release sees the Theorem-XR portfolio offering support for Microsoft HoloLens 2.
Arvizio Launches XR Connect
February 17, 2020
Multi-User XR now available for CAD, BIM and Point Cloud Visualization with Magic Leap 1, HoloLens 2 and Mobile AR.
Mixed Reality Moves Beyond the Cool Factor
February 1, 2020
As hype subsides, practical use cases emerge.
How Real is VR for Design?
February 1, 2020
Use of extended reality (XR) products has become an increasingly hot topic in the design space.
VRX Sets for December in San Francisco
November 15, 2019
The VR Conference and Expo by Reuters will feature several panels that seek to identify trends in the emerging XR commerce.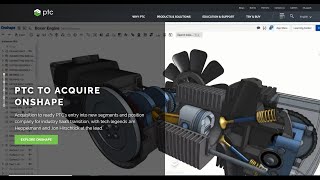 PTC Buys Onshape, xRS Brings Out Use of AR-VR in Training, More
October 31, 2019
In this episode of DE Video News Roundup, CAD and PLM vendor PTC buys cloud CAD Onshape for $470 million, xRS Conference brings out ARVR use in training, CAASE conference now open for paper proposals, DE seeks holiday-themed simulation projects to...
XR Transforming Design, Visualization
September 18, 2019
Ford, BASF discuss extended reality in VR Intelligence webinar.
Latest News
Velo3D CEO Benny Buller on Going Public
Metal Additive System Maker joins other 3D printer makers going public
Blockchain Tech Start-Up Pilots Data Protection Tool Launch
The gender-balanced blockchain technology start-up, based in the Netherlands, states its solution is made for businesses and individuals who want...
Digi-Key Electronics Debuts 3D Printing Service
Through this new tool, Digi-Key customers can upload design files, receive instant quotes and have custom 3D products and items...
Hexagon Reveals Strategy for CAE Innovation
Company unveiled "entrepreneur-driven" growth plans for simulation to support its customers' ambitions for smart manufacturing and sustainability.
All posts