Top Story
XR Brings Greater Clarity to Automotive Design
January 19, 2023
While the technology is still evolving, it also offers a lot of possibilities to automakers. 
Theorem Solutions Unveils Extended Reality Offering
August 4, 2023
In this release, augmented reality users can now benefit from new embedded QR Code features, which allow for model loading. 
Utilizing Extended Reality & IIoT in Manufacturing
July 12, 2023
The manufacturing industry is poised to leap forward with the advent of extended reality technologies and the integration of the IIoT. Both offer the potential to increase efficiency, improve employee training, and better track materials.
FARO Partners With Hologate
June 8, 2023
HGXR systems will integrate FARO digital scanning technology.
ESI Debuts IC.IDO Weave
May 16, 2023
Businesses can review complex product design virtually from a human-centric manufacturing perspective.
XR Brings Greater Clarity to Automotive Design
January 19, 2023
While the technology is still evolving, it also offers a lot of possibilities to automakers.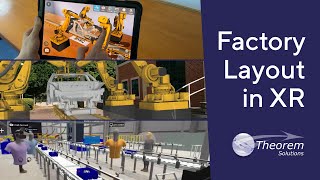 Bridge the Gap Between Digital and Physical by Using XR for Planning and Layout
December 13, 2022
Using Extended Reality (XR) is helping to bridge the gap between the digital and physical when creating and planning factory and plant layouts.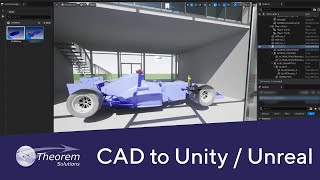 How to Use CAD Data Within Unity and Unreal
October 31, 2022
Extended Reality (XR) provides a range of new opportunities for engineering and manufacturing companies. From new training methods to digital collaboration, XR is set to have a big impact on manufacturing.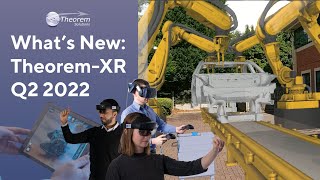 Augmented, Mixed or Virtual Reality
August 24, 2022
The adoption of extended reality (XR) technology in engineering and manufacturing is accelerating at a rapid pace. But what is XR and what are its benefits? Theorem Solutions explains.
Virtual Reality Ready for Engineering Prime Time
August 22, 2022
Engineering firms can now take advantage of hardware advancements for extended reality tools.
Theorem-XR Q2 2022 Release Boosts XR Capabilities
July 26, 2022
Company says the new release enables users to "explore the future of 3D visualization."
Getting Started with Extended Reality (XR)
July 21, 2022
The use of Augmented Reality (AR), Mixed Reality (MR) or Virtual Reality (VR) (collectively known as Extended Reality (XR)) in engineering and manufacturing is still in its infancy, but has seen a steady rate of growth and adoption, especially in...
FREE WEBINAR JUNE 7: Extending Reality to Tomorrow's Trucks - Volvo's Collaborative Workspaces
May 29, 2022
Join Volvo Group, ESI Group and NVIDIA to learn how extended reality can improve product development.
Survey Shows How Manufacturers Plan to Leverage Metaverse
April 1, 2022
Majority of companies interested in learning how 'digital twins' can benefit their operations, survey finds.
Autodesk Buys The Wild XR Platform
March 28, 2022
The Wild enables architecture, engineering and construction (AEC) professionals to present, collaborate and review projects together in immersive and interactive experiences.
Visual Effects
November 1, 2021
Engineering software is effective as a visual tool to help drive product sales, demonstrations and content creation for marketers.
Latest News
Almost Perfect: Lenovo ThinkStation P360 Ultra
Lenovo delivers an ultrasmall workstation that's big on performance.
Carbon Shares Platform Improvements
Company introduces new EPU 46 resin with color options.
COMSOL Announces Program for COMSOL Day: Aerospace & Defense
The event will explore multiphysics simulation applications and modeling topics supporting innovation and design in the aerospace and defense industry.
Keysight Highlights EDA 2024 Integrated Software Tools
This integrated EDA software is designed to increase productivity for engineers developing high-speed products in multiple applications, the company reports.
3D Systems Partners with Klarity
Klarity Prints, powered by 3D Systems, is a service-based line of 3D-printed radiotherapy accessories.
Altair Takes Home Awards from Fortune, Newsweek
Altair has been named to two lists that recognize companies that put employees first, Altair reports.
All posts