Top Story
Redesigning CAD for Mixed Reality
February 1, 2020
Break old habits while inventing new practices at the same time.
Redesigning CAD for Mixed Reality
February 1, 2020
Break old habits while inventing new practices at the same time.
Mixed Experiences Ring in New Era of Design Collaboration
February 1, 2020
AR/VR brings enhanced visual context to design collaboration, reducing time-to-delivery cycles and resulting in better products.
Is AR/VR Ready to Go Beyond Visualization?
December 1, 2019
Storytelling is the dominant use of mixed reality devices at present, but may change in the future.
Editor's Picks: Oct. 17-23, 2019
October 23, 2019
One of the picks will be chosen as DE's Editor's Pick of the Week.
flyingshapes° Launches Virtual Reality CAD Application
October 22, 2019
Available now for Oculus Rift and HTC Vive, flyingshapes° streamlines design workflows for precise spatial modeling with intuitive haptic controls and interactive VR toolset.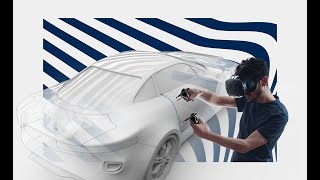 Varjo Releases VR2, Flyingshapes Launches CAD for VR, More
October 17, 2019
xRS Week Conference by Greenlight Insights kicks off, Varjo releases VR-2 Regular and Pro hardware, flyingshapes launches CAD modeling app for VR users
Latest News
NVIDIA Releases New RTX GPUs
Ampere architecture GPUs will power next-generation laptops, desktops and servers.
Materialise Acquires Option to Buy Link3D
Potential acquisition aims to boost cloud-based access to integrated software platform.
NVIDIA Announces CPU for High-Performance Computing
Los Alamos, Swiss Supercomputing Center build CPU-powered supercomputers with a focus on AI.
Dassault, STMicroelectronics, Others Team Up to Create Software Republique
New collaboration to serve as an ecosystem for intelligent and sustainable mobility.
All posts