Top Story
Redesigning CAD for Mixed Reality
February 1, 2020
Break old habits while inventing new practices at the same time.
Redesigning CAD for Mixed Reality
February 1, 2020
Break old habits while inventing new practices at the same time.
Mixed Experiences Ring in New Era of Design Collaboration
February 1, 2020
AR/VR brings enhanced visual context to design collaboration, reducing time-to-delivery cycles and resulting in better products.
Is AR/VR Ready to Go Beyond Visualization?
December 1, 2019
Storytelling is the dominant use of mixed reality devices at present, but may change in the future.
Editor's Picks: Oct. 17-23, 2019
October 23, 2019
One of the picks will be chosen as DE's Editor's Pick of the Week.
flyingshapes° Launches Virtual Reality CAD Application
October 22, 2019
Available now for Oculus Rift and HTC Vive, flyingshapes° streamlines design workflows for precise spatial modeling with intuitive haptic controls and interactive VR toolset.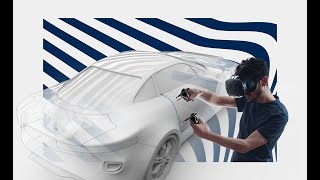 Varjo Releases VR2, Flyingshapes Launches CAD for VR, More
October 17, 2019
xRS Week Conference by Greenlight Insights kicks off, Varjo releases VR-2 Regular and Pro hardware, flyingshapes launches CAD modeling app for VR users
Latest News
AMD Set to Buy Xilinx, Challenging NVIDIA in HPC
GPU maker AMD to buy programmable chipmaker, seeking to boost HPC offerings
Altair Named Official Supplier for Luna Rossa Prada Pirelli Team
Under this agreement, Altair is named an official supplier for the Luna Rossa Prada Pirelli team and will provide the...
ExOne Awarded Contract to Develop High-Strength Steel for US Air Force
Parts additively manufactured with AF-9628 are about 20% stronger than conventional AM alloys.
Ball Aerospace to Deploy 3DEXPERIENCE Platform as Manufacturing Solution
The 3DEXPERIENCE platform works as a single integrated solution to support program execution activities.
All posts