Top Story
Remaining Productive During Lockdown
June 15, 2020
Remote collaboration, virtual GPUs and video conferencing help advance projects during the COVID-19 crisis.
Remaining Productive During Lockdown
June 15, 2020
Remote collaboration, virtual GPUs and video conferencing help advance projects during the COVID-19 crisis.
Graebert to CAD Vendors: We Can Take You to the Cloud
December 5, 2019
Graebert conference presents the company's expanded vision for the cloud-based CAD technology.
Clouds Without Silos are the New Frontier for the Open Design Alliance
September 17, 2019
Open Design Alliance targets CAD interoperability in the cloud with new SDK, development platform, and other tools.
Graebert Technology Enables Dassault Systemès DraftSight to Advance Interoperability
November 13, 2018
Graebert sees itself as the arms merchant for the war to liberate CAD from the desktop. It sells a three-part portfolio of DWG-based CAD software under the ARES brand name for desktop (Commander), mobile (Touch), and cloud (Kudo). It also...
Graebert Achieves Amazon Web Services Competency Achievement
September 18, 2018
There's a new APN Partner Competency Program from Amazon Web Services. Graebert was among the first Advanced Technology Partners to achieve the AWS Industrial Software Competency with its cloud-based CAD technology, ARES Kudo.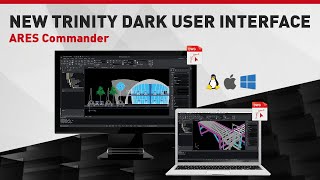 Graebert GmbH
August 30, 2018
Graebert is a leading developer of CAD software for desktop, mobile and cloud. The company is recognized as a true innovator in the CAD industry and has over 30 years of technology expertise, project management and consulting experience. The founder, Wilfried...
ARES Commander Review: The Trinity of CAD
July 1, 2018
Graebert's latest ARES software offers DWG compatibility on virtually any platform.
From Perpetual to On-Demand Licensing
June 1, 2018
A look at the design software industry's movement toward usage-based, time-based sales models.
Sponsored Content
DWG-editing is Entering a New Era
December 1, 2017
Desktop, mobile and cloud computing are converging to improve workflows across users and devices.
Engineering the Software User Experience
January 20, 2017
Software designers are taking advantage of graphics technologies and user intuition.
Graebert Unites 2D CAD Desktop, Mobile and Cloud Experience
October 28, 2016
The company's Trinity approach will offer complementary desktop, mobile and browser-based versions of its ARES CAD software.
Graebert Releases ARES Touch for Android
June 15, 2016
This program brings DWG-compatible CAD to smartphones and tablets.
ARES Commander 2016 Released
December 23, 2015
Graebert has added a whole new set of productivity tools for Windows users.
Sponsored Content
Editor's Pick: ARES Commander 2016
December 23, 2015
Multi-platform 2D/3D CAD system introduces a range of productivity-driven commands and utilities.
Graebert GmbH Ships ARES Commander 2016
December 10, 2015
The software has added capabilities for quick inputs, layer management and annotations.
Latest News
MathWorks Updates Simulink Real-Time
Software enhancements involve rapid control prototyping and hardware-in-the-loop testing capabilities with QNX Neutrino Realtime Operating System (RTOS).
Radica Software Partners with Onshape on Electrical CAD
Electra Cloud now available on Onshape's app store to offer end-to-end solutions including 3D, electrical, pneumatic hydraulics and soon...
Department of Defense Bestows Multi-Million Dollar Award on Desktop Metal
The award will fund the development of a cost-effective additive manufacturing process to manufacture Cobalt-free hardmetals into complex, net or...
AM's Role in Future-Proofing the Supply Chain
A virtual panel wades in on how AM can help manufacturers add business resiliency to their supply chains while delivering...
All posts