Graebert Technology Enables Dassault Systemès DraftSight to Advance Interoperability
November 13, 2018
Graebert sees itself as the arms merchant for the war to liberate CAD from the desktop. It sells a three-part portfolio of DWG-based CAD software under the ARES brand name for desktop (Commander), mobile (Touch), and cloud (Kudo). It also...
Graebert Achieves Amazon Web Services Competency Achievement
September 18, 2018
There's a new APN Partner Competency Program from Amazon Web Services. Graebert was among the first Advanced Technology Partners to achieve the AWS Industrial Software Competency with its cloud-based CAD technology, ARES Kudo.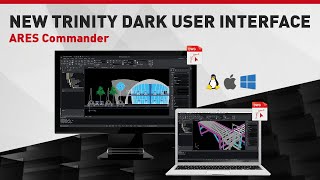 Graebert GmbH
August 30, 2018
Graebert is a leading developer of CAD software for desktop, mobile and cloud. The company is recognized as a true innovator in the CAD industry and has over 30 years of technology expertise, project management and consulting experience. The founder, Wilfried...
ARES Commander Review: The Trinity of CAD
July 1, 2018
Graebert's latest ARES software offers DWG compatibility on virtually any platform.
From Perpetual to On-Demand Licensing
June 1, 2018
A look at the design software industry's movement toward usage-based, time-based sales models.
Sponsored Content
DWG-editing is Entering a New Era
December 1, 2017
Desktop, mobile and cloud computing are converging to improve workflows across users and devices.
Engineering the Software User Experience
January 20, 2017
Software designers are taking advantage of graphics technologies and user intuition.
Graebert Unites 2D CAD Desktop, Mobile and Cloud Experience
October 28, 2016
The company's Trinity approach will offer complementary desktop, mobile and browser-based versions of its ARES CAD software.
Graebert Releases ARES Touch for Android
June 15, 2016
This program brings DWG-compatible CAD to smartphones and tablets.
ARES Commander 2016 Released
December 23, 2015
Graebert has added a whole new set of productivity tools for Windows users.
Sponsored Content
Editor's Pick: ARES Commander 2016
December 23, 2015
Multi-platform 2D/3D CAD system introduces a range of productivity-driven commands and utilities.
Graebert GmbH Ships ARES Commander 2016
December 10, 2015
The software has added capabilities for quick inputs, layer management and annotations.
Sponsored Content
Editor's Pick of the Week: CorelCAD 2016
November 11, 2015
New features include Annotative Scaling, Layer States Manager and an Android Mobile version.
AutoCAD Alternatives Are Alive and Well in Product Design
October 28, 2015
At developer conferences, Graebert and Bricsys show how to push the DWG envelope in new directions and three dimensions.
Onshape Licences Graebert Technology
April 16, 2015
Graebert is developing software for the program's Drawings module.
Latest News
Hexagon Releases Latest Update of EDGECAM
New release supports fast 5-axis machining tools; software features barrel cutter support and new gun drilling cycle.
Systems Engineering Software Update Advances Multidiscipline Simulation
Siemens PLM Software releases a full plate of new features in Simcenter Amesim 2019.1. 
Sponsored Content
Editor's Pick: Multi-domain Systems Analysis Just Got Easier
Siemens PLM Software updates Simcenter Amesim with new features in four broad categories.
Researchers Freeze-Print Graphene Battery Anodes
A team at Kansas State University used a freeze printing approach to create sodium ion batteries with hybrid graphene aerogels.
All posts