Editor's Pick: Static-dissipating composite material for electronics additive manufacturing
January 13, 2021
The material can be reinforced with continuous carbon fiber, creating strong and static-free composite parts.
Markforged Distributes 3D Printers to Project DIAMOnD Participants in Michigan
January 12, 2021
MI-based Automation Alley poised to run one of the world's largest emergency response networks capable of producing physical objects on demand.
Editor's Picks: Dec. 31-Jan. 6, 2021
January 4, 2021
One of the picks will be chosen as DE's Editor's Pick of the Week.
Markforged Launches Onyx ESD for the Electronics Manufacturing Industry
December 28, 2020
The new, high-strength 3D printing material enables electronics manufacturers to improve business responsiveness by producing ESD-safe parts on demand.
Editor's Picks: Nov. 5-11, 2020
November 13, 2020
One of the picks will be chosen as DE's Editor's Pick of the Week.
Markforged Launches AI-based Additive Platform
November 11, 2020
Cloud-based Digital Forge solution allows customers to make production-grade parts on demand.
Rapid Results
June 15, 2020
Need a prototype? There's no shortage of quick-turn manufacturing services. The trick is finding the right partner, the right process and the right price.
Editor's Picks: Feb. 20-26, 2020
February 27, 2020
One of the picks will be chosen as DE's Editor's Pick of the Week.
Markforged Releases Solution for 3D Printing Pure Copper 
February 21, 2020
The Markforged Metal X makes it easy to consistently create complex parts with high electrical and thermal conductivity.
Markforged Sets Up With Strategic Investment Agreement with In-Q-Tel
February 19, 2020
Partnership enables the U.S. government to leverage the Markforged industrial additive manufacturing platform for creating metal and continuous carbon fiber parts.
Markforged Appoints Shai Terem as President and COO
December 4, 2019
Industrial additive manufacturing veteran to oversee go-to-market, finance, people and operations teams at Markforged.
Markforged and MSC Software Pursue Partnership
November 21, 2019
In other MSC Software news, the company unveiled at Formnext 2019 its MSC Apex Generative Design, a new design optimization solution.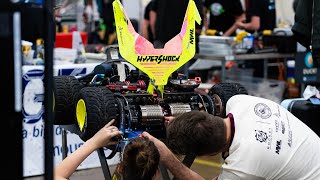 3D Printed Combat Robots
November 1, 2019
View how the team used 3D printed carbon fiber parts to boost strength and durability while minimizing weight across the drivetrain of the 3D printed robot.
Markforged Opens Manufacturing Facility in Massachusetts
October 22, 2019
An 81% increase in production over the past year has led the company to open a 25,000-square-foot facility.
Materials Madness: AM Gains Traction for Production Applications
October 17, 2019
New high-performance materials are improving ROI and expanding the business case for 3D printing production-class applications.
Latest News
Three Ways Generative Design is Transforming Business
Generative design is an exploration tool that uses artificial intelligence and machine learning to simultaneously generate multiple solutions based on...
Generative Design Helps Create New Wheels that are 35% Lighter
By using generative design technology, Briggs Automotive Company (BAC) was able to shed an additional 4.8 kilograms (10.5 lbs) for the latest...
Hyundai is Driving Mobility Innovation with Generative Design
Hyundai Motor Group is pushing the boundaries of vehicle development and reimagining how vehicles might traverse the world. In a...
How to Get Started with Generative Design
Generative design allows you to simultaneously generate multiple CAD-ready options based on real-world manufacturing constraints and product performance requirements. Try...
All posts