Top Story
University of Michigan Researchers Tout High-Speed 3D Printing Approach
February 6, 2019
The process employs dual light sources in place of an oxygen membrane to print at 100 times the print speed of conventional offerings.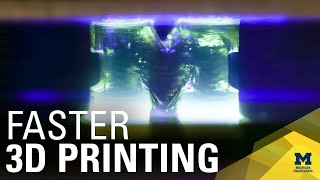 University of Michigan Researchers Tout High-Speed 3D Printing Approach
February 6, 2019
The process employs dual light sources in place of an oxygen membrane to print at 100 times the print speed of conventional offerings.
Markforged Launches H13 Tool Steel for High-strength, High-temp Tooling Applications
December 14, 2018
The expansion into H13 will enable customers to print parts in high-strength, high-temperature applications such as metal forming tools, dies and punches, and hardened inserts for fixtures, the company reports.
Markforged Metal X 3D Printer – Making its Mark
August 8, 2018
Markforged is working on roll-out of a range of metals and alloys; H13 tool steel, known for its strength and resistance to thermal shock, will soon be available. Other materials already in beta stage include Inconel, two aluminum alloys, titanium...
Sponsored Content
3D Print Software Manages Reinforced Layers
May 21, 2018
Test drive Markforged's 3D printing software and learn what fiber-reinforcement composite parts are all about.
Sponsored Content
Using 3D Printing for Welding Fixtures
March 26, 2018
3D printers and reinforced materials can help turn lead times for making specialized weld fixtures from weeks to overnight.
Sponsored Content
Metal 3D Printing with Stanley Black & Decker
March 8, 2018
Here's a study that looks at the effectiveness of 3D printing metal parts compared to subtractive manufacturing.
Industry Focus: Designing for Consumer Electronics
February 16, 2018
Design engineers developing consumer electronics were some of the first to arrive at the intersection of hardware, electronics, software and aesthetics. That intersection has since become jammed with engineers from various disciplines trying to navigate their way through an ever-changing...
Markforged Inc
January 1, 2018
Markforged started with a vision: Empower engineers to create strong-as-metal, finished parts using the right materials for the job - and remove the multiple barriers between design and a final product. We are overturning not only the 3D printing industry...
Latest News
SolidWorks World 2019: Debut of 3D EXPERIENCE.Works, Launch of xShape, Event Name Change, and More
SOLIDWORKS World to be rebranded 3DEXPERIENCE World, event marks the launch of 3DEXPERIENCE.Works,...
Applied Automation Technologies and DMG MORI USA Announce Partnership
Partnership of two companies will focus on management of on-machine measuring software.
Siemens Updates NX Software with Artificial Intelligence and Machine Learning
Latest release of NX software enhanced with new capabilities that leverage machine learning and...
ZWCAD 2019 SP2 Just Released
Compared with ZWCAD 2019 SP1, the efficiency of SP2 has been further enhanced.
All posts