Top Story
DE News Roundup March 15, 2019: HoloLens 2, V-Ray Next for Rhino, GTC and COFES, more
March 15, 2019
Microsoft debut HoloLens 2 at MWC, Chaos launches V-Ray Next for Rhino, NVIDIA gets ready for GTC, and more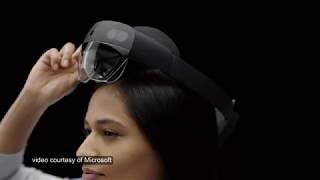 DE News Roundup March 15, 2019: HoloLens 2, V-Ray Next for Rhino, GTC and COFES, more
March 15, 2019
Microsoft debut HoloLens 2 at MWC, Chaos launches V-Ray Next for Rhino, NVIDIA gets ready for GTC, and more
COFES 2019 Comes to the Silicon Valley
March 8, 2019
Long running Congress on Future of Engineering Software comes to the Silicon Valley as a nonprofit organization's debut
Engineering with Excel
September 1, 2018
With the right tools and best practices, organizations can move the digital thread forward and keep Excel.
IntelliCAD Technology Consortium Releases IntelliCAD 9.0
July 11, 2018
The IntelliCAD 9.0 major release from IntelliCAD Technology Consortium includes many new features and improvements, including native support for opening, editing and saving 2018 .dwg files.
Divide and Conquer: Review of the HP ZBook x2 with DreamColor
July 1, 2018
HP delivers a powerful detachable PC that is powerful enough for engineering.
PTC Builds Partnerships to Advance Pace of Innovation
June 20, 2018
PTC's Jim Heppelmann made a series of announcements, led by partnerships with ANSYS and Microsoft, that are designed to advance PTC's transformation.
3MF Format for 3D Printing: What it is, How to Use it
June 1, 2018
As more 3D printing equipment supports color, texture, multiple materials and other developments, 3MF will play a key role in simplifying the process for everyone.
The Energy Data Rush
June 1, 2018
The oil and gas sector relies on high-performance computing to power the world.
Dell Technologies and Microsoft Collaborate to Simplify Delivery of IoT Solutions
May 15, 2018
Companies join forces to build secure, intelligent edge-to-cloud solution featuring Dell Edge Gateways, VMware Pulse IoT Center and Microsoft Azure IoT Edge.
Data Takes Center Stage at Hannover Messe Industrial Trade Show
May 1, 2018
The annual Hannover Messe is one of the world's largest engineering and manufacturing industrial trade shows.
3Dconnexion Introduces SpaceMouse Compact, a 3D Mouse
April 18, 2018
3D mouse from 3Dconnexion provides intuitive 3D-navigation and reviewing of 3D designs.
Tackling Blockchain
March 1, 2018
So what is blockchain, why is it being so highly lauded and how can it be applied to engineering?
By The Numbers: User Experience
February 1, 2018
Facts and figures on technologies and trends driving the design of the user experience.
AR and VR Technologies Poised for Explosive Growth in '18, Research Suggests
January 24, 2018
Augmented reality (AR) and virtual reality (VR) technologies are positioned for record growth in 2018, according to new research.
CPU Design Flaw Leaves Billions of Devices Vulnerable to Attack
January 5, 2018
Make sure your engineering workstation and cloud services are patched against Meltdown and Spectre attacks.
Latest News
America's Cup Challenger American Magic Flies Across the Water with Stratasys 3D Printing
US team for world-renowned competitive sailing event taps into carbon fiber for end-use racing parts.
Artec 3D Launches Artec Micro Industrial Desktop 3D Scanner
Scanner promises quality control of small objects, reverse engineering design and more.
Indo-MIM and Desktop Metal Set Up Partnership to Boost Adoption of Metal 3D Printing
Large metal injection molding company plans to deploy metal 3D printing at scale with the Production System.
AMT on the Importance of Automated Post-Processing for Additive Manufacturing
Company to highlight how its BLAST process intersects material science, hardware engineering and process automation at RAPID + TCT 2019; introduce the...
All posts