Ansys, Microsoft Team on Cloud Engineering
November 5, 2020
Agreement expands integration of simulation tools, Azure cloud, HPC and digital twin technologies.
Bentley Systems Expands Alliance With Microsoft 
October 29, 2020
End goal is to accelerate infrastructure digital twin innovations.
Microsoft, Rockwell Automation Bridge Design and Maintenance
October 6, 2020
Edge-to-cloud solutions will connect development, operations and maintenance teams in a single data environment.
PTC Extends Alliances with Rockwell Automation and Microsoft
June 12, 2020
Goal is to atccelerate value of digital transformation for manufacturers.
AWE Online: Unity Unveils MARS, HP Showcases Reverb G2, Scent-integrated VR, more
May 29, 2020
The AR, VR, and MR conference AWE attracts vendors with new products, panelists discuss how the COVID-19 shutdowns accelerate AR, VR, MR technology adoption
Big Compute 20: Tackling the Big Issues for a Better Future
March 2, 2020
HPC service provider Rescale and partners host conference on use of high performance computing
Is AR/VR Ready to Go Beyond Visualization?
December 1, 2019
Storytelling is the dominant use of mixed reality devices at present, but may change in the future.
Is Mixed Reality Worth a Try?
August 1, 2019
The visual technology holds much promise for design review and collaboration, but still faces limitations in hardware and processing power.
AR Takes Center Stage at PTC 2019 LiveWorx
June 12, 2019
PTC announced new tools and alliances to boost adoption of AR to transform the industrial enterprise.
Digital Twins and the New Reality
June 1, 2019
As mixed reality systems become more affordable, capable and easier to use, manufacturing is making use of mixed reality for digital twins.
The Art of Balance in Mixed Reality
June 1, 2019
Resolution, weight and price are part of the equation for virtual reality and mixed reality success.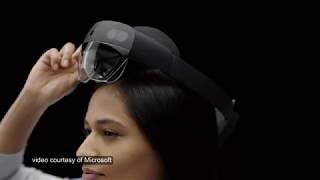 DE News Roundup March 15, 2019: HoloLens 2, V-Ray Next for Rhino, GTC and COFES, more
March 15, 2019
Microsoft debut HoloLens 2 at MWC, Chaos launches V-Ray Next for Rhino, NVIDIA gets ready for GTC, and more
COFES 2019 Comes to the Silicon Valley
March 8, 2019
Long running Congress on Future of Engineering Software comes to the Silicon Valley as a nonprofit organization's debut
Engineering with Excel
September 1, 2018
With the right tools and best practices, organizations can move the digital thread forward and keep Excel.
IntelliCAD Technology Consortium Releases IntelliCAD 9.0
July 11, 2018
The IntelliCAD 9.0 major release from IntelliCAD Technology Consortium includes many new features and improvements, including native support for opening, editing and saving 2018 .dwg files.