Top Story
Digital Twins and the New Reality
June 1, 2019
As mixed reality systems become more affordable, capable and easier to use, manufacturing is making use of mixed reality for digital twins.
AR Takes Center Stage at PTC 2019 LiveWorx
June 12, 2019
PTC announced new tools and alliances to boost adoption of AR to transform the industrial enterprise.
Digital Twins and the New Reality
June 1, 2019
As mixed reality systems become more affordable, capable and easier to use, manufacturing is making use of mixed reality for digital twins.
The Art of Balance in Mixed Reality
June 1, 2019
Resolution, weight and price are part of the equation for virtual reality and mixed reality success.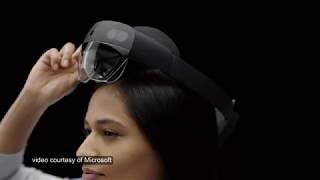 DE News Roundup March 15, 2019: HoloLens 2, V-Ray Next for Rhino, GTC and COFES, more
March 15, 2019
Microsoft debut HoloLens 2 at MWC, Chaos launches V-Ray Next for Rhino, NVIDIA gets ready for GTC, and more
COFES 2019 Comes to the Silicon Valley
March 8, 2019
Long running Congress on Future of Engineering Software comes to the Silicon Valley as a nonprofit organization's debut
Engineering with Excel
September 1, 2018
With the right tools and best practices, organizations can move the digital thread forward and keep Excel.
IntelliCAD Technology Consortium Releases IntelliCAD 9.0
July 11, 2018
The IntelliCAD 9.0 major release from IntelliCAD Technology Consortium includes many new features and improvements, including native support for opening, editing and saving 2018 .dwg files.
Divide and Conquer: Review of the HP ZBook x2 with DreamColor
July 1, 2018
HP delivers a powerful detachable PC that is powerful enough for engineering.
PTC Builds Partnerships to Advance Pace of Innovation
June 20, 2018
PTC's Jim Heppelmann made a series of announcements, led by partnerships with ANSYS and Microsoft, that are designed to advance PTC's transformation.
3MF Format for 3D Printing: What it is, How to Use it
June 1, 2018
As more 3D printing equipment supports color, texture, multiple materials and other developments, 3MF will play a key role in simplifying the process for everyone.
The Energy Data Rush
June 1, 2018
The oil and gas sector relies on high-performance computing to power the world.
Dell Technologies and Microsoft Collaborate to Simplify Delivery of IoT Solutions
May 15, 2018
Companies join forces to build secure, intelligent edge-to-cloud solution featuring Dell Edge Gateways, VMware Pulse IoT Center and Microsoft Azure IoT Edge.
Data Takes Center Stage at Hannover Messe Industrial Trade Show
May 1, 2018
The annual Hannover Messe is one of the world's largest engineering and manufacturing industrial trade shows.
3Dconnexion Introduces SpaceMouse Compact, a 3D Mouse
April 18, 2018
3D mouse from 3Dconnexion provides intuitive 3D-navigation and reviewing of 3D designs.
Tackling Blockchain
March 1, 2018
So what is blockchain, why is it being so highly lauded and how can it be applied to engineering?
Latest News
Foundry Names New CEO
Jody Madden, who joined Foundry in 2013, is named new CEO.
America Makes Locates Third Satellite Center at Wichita State University
Specifically, the Center will be at the National Institute for Aviation Research on WSU's campus.
Eurocom Releases Tornado F7 Server for On-the-Go Applications
The Tornado F7 Server Edition is an all-in-one, single-server, small form factor, laptop-based server.
The New Age of Engineering Animation
High-quality animations help engineers efficiently collaborate with colleagues.
All posts