NVIDIA Teams with Microsoft, Google on Cloud AI and Metaverse
March 23, 2023
At the GTC conference this week, NVIDIA partnered with industry leaders to expand AI capabilities and Omniverse functionality.
Ansys to Develop Offering Via Microsoft Azure
February 17, 2023
The new tool will allow customers to launch Ansys products using their Azure enrollment and to connect third-party tools.
HALOCAD for AUTODESK LIVE Available in Microsoft Azure Marketplace
July 18, 2022
Microsoft Azure customers worldwide now get access to SECUDE's HALOCAD to focus on scalability, reliability and agility of Azure to drive application development and shape business strategies.
Zuken USA Offers Cloud Storage for E3.series
June 14, 2021
There's an easy plug-in to manage, control and securely store projects.
Developing Autonomous Vehicles Faster
December 11, 2020
dSPACE will work with Microsoft to offer research and development engineers in the automotive industry an end-to-end solution that is scalable, secure, efficient and agile, dSPACE reports.
Ansys, Microsoft Team on Cloud Engineering
November 5, 2020
Agreement expands integration of simulation tools, Azure cloud, HPC and digital twin technologies.
Azure Data Explorer Now Uses AMD EPYC Processor-Based Virtual Machines
October 19, 2020
AMD EPYC processors offer 30% better performance on data analytics workloads to Microsoft Azure Data Explorer users, AMD says.
Microsoft, Rockwell Automation Bridge Design and Maintenance
October 6, 2020
Edge-to-cloud solutions will connect development, operations and maintenance teams in a single data environment.
HPC Transforms 3D Printing
March 1, 2020
Design for additive manufacturing is pushing more companies to tap into cloud and high-performance computing resources.
NVIDIA Announces Scalable GPU-Accelerated Supercomputer in the Microsoft Azure Cloud
November 21, 2019
New Microsoft Azure NDv2 supersized instance can scale to hundreds of interconnected NVIDIA Tensor Core GPUs for complex AI and high-performance computing applications.
ANSYS to Extend Microsoft Azure Digital Twins with Physics-Based Simulations
November 5, 2019
Collaboration supports joint customers' adoption of Azure Digital Twins.
What's Old is New
June 12, 2019
CAD and PLM are playing a starring role in PTC's vision for the digitally-connected industrial enterprise.
Keep It Simple, Keep Them Coming
June 1, 2019
An easy formula for estimating cost is part of some simulation software providers' strategy.
Moxa Helps Accelerate IIoT by Incorporating Cloud Connectivity into Servers and Gateways
May 17, 2019
New features bring serial devices to the cloud.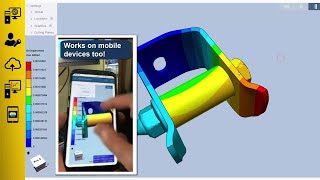 ANSYS Provides Path to Cloud HPC
February 20, 2019
ANSYS Cloud delivers on-demand cloud HPC access within the ANSYS portfolio to democratize simulation.
Latest News
AM Industry Enjoys Double-Digit Growth, Says Wohlers Report 2023
Additive Manufacturing (AM) industry analyst Wohlers Associates reports double-digit growth for 2023
Small But Powerful: HP Z2 Mini G9
This updated mini workstation delivers eye-catching performance.
Lantek Launches EdgeLine Bevel Module
The EdgeLine Bevel module powered by Lantek Expert Cut simplifies programming and streamlines CNC programming of modern TRUMPF cutting machines,...
SPEE3D to Work With British Army
Company will collaborate to develop British Army's additive manufacturing capabilities.
All posts