Top Story
Keep It Simple, Keep Them Coming
June 1, 2019
An easy formula for estimating cost is part of some simulation software providers' strategy.
NVIDIA Announces Scalable GPU-Accelerated Supercomputer in the Microsoft Azure Cloud
November 21, 2019
New Microsoft Azure NDv2 supersized instance can scale to hundreds of interconnected NVIDIA Tensor Core GPUs for complex AI and high-performance computing applications.
ANSYS to Extend Microsoft Azure Digital Twins with Physics-Based Simulations
November 5, 2019
Collaboration supports joint customers' adoption of Azure Digital Twins.
What's Old is New
June 12, 2019
CAD and PLM are playing a starring role in PTC's vision for the digitally-connected industrial enterprise.
Keep It Simple, Keep Them Coming
June 1, 2019
An easy formula for estimating cost is part of some simulation software providers' strategy.
Moxa Helps Accelerate IIoT by Incorporating Cloud Connectivity into Servers and Gateways
May 17, 2019
New features bring serial devices to the cloud.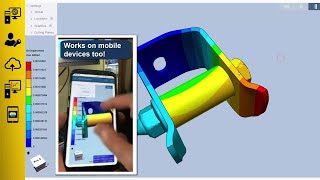 ANSYS Provides Path to Cloud HPC
February 20, 2019
ANSYS Cloud delivers on-demand cloud HPC access within the ANSYS portfolio to democratize simulation.
Advantech Unveils New Sensor-to-Cloud Solutions at 2018 IoT Tech Expo
November 20, 2018
Advantech unveils 30-Day Smart Sensors Program, Cloud Enablers, and end-to-end Solution Ready Packages.
UberCloud Available in the Microsoft Azure Marketplace
November 12, 2018
Microsoft Azure customers worldwide gain access to UberCloud to apply Microsoft Azure's scalability, reliability and agility of Microsoft Azure to transform their R&D organizations.
PTC Partners to Advance Pace of Innovation
June 20, 2018
PTC's Jim Heppelmann made a series of announcements, led by partnerships with ANSYS and Microsoft, that are designed to advance PTC's transformation.
Preview of Siemens' MindSphere on Microsoft Azure now available
April 26, 2018
Joining the MindSphere solution family through the Microsoft Azure cloud platform provides the ability for users to begin developing and implementing Industrial IoT solutions quickly, according to the company.
Siemens' Teamcenter Updated Certification on Microsoft Azure Delivers PLM Cloud Diversity
March 20, 2018
Cloud-based strategy can help eliminate large upfront infrastructure cost and simplify PLM deployments, Siemens notes.
Computer Clusters Shine through the Cloud
February 1, 2018
Computer clusters for HPC continue to be a viable solution for engineering teams, along with workstations, virtualization, cloud computing and on-site data centers.
Cray and Microsoft Bring Supercomputing to Microsoft Azure
November 21, 2017
Customers can run HPC, AI, and advanced analytics workloads at supercomputing scale.
Next-Gen Engineers: Mastering a Real-World HPC-Driven Scientific Workload
November 1, 2017
For this month's student design competition, we look at the Student Cluster Competition, which is part of the annual Supercomputing Conference (SC). It began 10 years ago as a part of the conference.
Bright Computing Supports Microsoft Azure
June 15, 2017
Bright Computing's Bright Cluster Manager, version 8.0, includes support for Microsoft Azure to enable organizations to manage virtual servers running on the Azure cloud platform, as if they were local machines.
Latest News
Dr. Hans Langer Selected for AMUG Innovators Award
AMUG gives this award to those that have cultivated innovative ideas that have advanced the additive manufacturing industry. 
Optomec 3D Metal Printing Technology Chosen by Navajo Technical University for NASA Mission
Team from Optomec, Navajo Technical University, University of Alabama Huntsville, V&M Global Solutions to collaborate on NASA Additive Manufacturing...
Healthcare Grant from Protolabs Leads to Innovative Feeding Tube Inventions
MedStar Health device improves neonatal intensive care unit feeding while Cleveland Clinic Innovations' feeding tube enhances quality of life for...
Editor's Picks: Dec. 5-11, 2019
One of the picks will be chosen as DE's Editor's Pick of the Week.
All posts