Zuken USA Offers Cloud Storage for E3.series
June 14, 2021
There's an easy plug-in to manage, control and securely store projects.
Developing Autonomous Vehicles Faster
December 11, 2020
dSPACE will work with Microsoft to offer research and development engineers in the automotive industry an end-to-end solution that is scalable, secure, efficient and agile, dSPACE reports.
Ansys, Microsoft Team on Cloud Engineering
November 5, 2020
Agreement expands integration of simulation tools, Azure cloud, HPC and digital twin technologies.
Azure Data Explorer Now Uses AMD EPYC Processor-Based Virtual Machines
October 19, 2020
AMD EPYC processors offer 30% better performance on data analytics workloads to Microsoft Azure Data Explorer users, AMD says.
Microsoft, Rockwell Automation Bridge Design and Maintenance
October 6, 2020
Edge-to-cloud solutions will connect development, operations and maintenance teams in a single data environment.
HPC Transforms 3D Printing
March 1, 2020
Design for additive manufacturing is pushing more companies to tap into cloud and high-performance computing resources.
NVIDIA Announces Scalable GPU-Accelerated Supercomputer in the Microsoft Azure Cloud
November 21, 2019
New Microsoft Azure NDv2 supersized instance can scale to hundreds of interconnected NVIDIA Tensor Core GPUs for complex AI and high-performance computing applications.
ANSYS to Extend Microsoft Azure Digital Twins with Physics-Based Simulations
November 5, 2019
Collaboration supports joint customers' adoption of Azure Digital Twins.
What's Old is New
June 12, 2019
CAD and PLM are playing a starring role in PTC's vision for the digitally-connected industrial enterprise.
Keep It Simple, Keep Them Coming
June 1, 2019
An easy formula for estimating cost is part of some simulation software providers' strategy.
Moxa Helps Accelerate IIoT by Incorporating Cloud Connectivity into Servers and Gateways
May 17, 2019
New features bring serial devices to the cloud.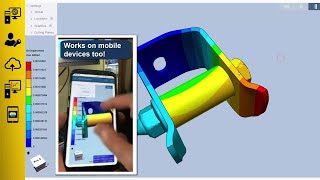 ANSYS Provides Path to Cloud HPC
February 20, 2019
ANSYS Cloud delivers on-demand cloud HPC access within the ANSYS portfolio to democratize simulation.
Advantech Unveils New Sensor-to-Cloud Solutions at 2018 IoT Tech Expo
November 20, 2018
Advantech unveils 30-Day Smart Sensors Program, Cloud Enablers, and end-to-end Solution Ready Packages.
UberCloud Available in the Microsoft Azure Marketplace
November 12, 2018
Microsoft Azure customers worldwide gain access to UberCloud to apply Microsoft Azure's scalability, reliability and agility of Microsoft Azure to transform their R&D organizations.
PTC Partners to Advance Pace of Innovation
June 20, 2018
PTC's Jim Heppelmann made a series of announcements, led by partnerships with ANSYS and Microsoft, that are designed to advance PTC's transformation.
Latest News
Raymond Weitekamp: In Search of Production-Grade AM Polymer
PolySpectra's founder and CEO Raymond Weitekamp develops resin-based AM material that can go head-to-head with molded engineering plastics.
Reimagining Manufacturing on a Worldwide Scale
Formlabs hosts 1-day event to explore how to accelerate manufacturing's potential in the 21st century.
Digital Metal Launches Industrial Metal Binder Jet 3D Printer
It is developed as a modular component of a complete binder jet solution.
Blackstone Resources Wins Green Product Award 2022
Blackstone's 3D printing, a high-speed multilayer technology, for production of environmentally friendly and high-performance lithium-ion batteries won out of 1,500 competitors...
All posts