MecSoft Sets Up Partnership with RoboDK
May 8, 2020
This partnership enables users of MecSoft's CAM products the ability to use robots for milling.
SCHOTT SYSTEME Reduces 5-Axis Milling Times
April 3, 2020
It uses Interactive Direction Vectors within its Pictures by PC CAD / CAM Software.
ASCENT Publishes New Learning Guide
April 2, 2020
Students, trainers and industry professionals can now learn how to use Inventor CAM to create 2D milling toolpaths.
Editor's Pick: 3D and 5-Axis Milling Enhancements Round Out hyperMILL Update
March 11, 2020
hyperMILL l 2020.1 CAD/CAD Suite features additive manufacturing capabilities and more.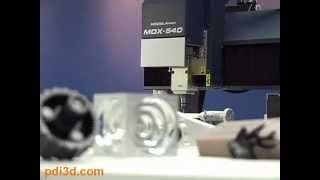 Sponsored Content
Rapid CNC Prototyping—On the Desktop
February 3, 2020
Product Development Inc. has put together an article and infographic explaining exactly how the line of Roland desktop prototyping CNC machines the company offers can eliminate many of the pain points involved in this process.
NCG CAM Solutions Celebrates 10 Years with Record Sales Growth
July 2, 2019
End-of-year sales figures have shown a leap in sales, with growth of 41% compared with last year, according to the company. 
Protolabs Celebrates 20 Years of Digital Manufacturing with Grand Opening of New Facility
May 17, 2019
New advanced manufacturing facility spotlights company's two decades of growth. .
OPEN MIND/ hyperMILL Announce Joint 5-Axis Machining Technology Seminar with GROB Systems
April 26, 2019
During the seminar, experts from GROB Systems and OPEN MIND will demonstrate ways for manufacturers to make their production facility more efficient.
MecSoft Partners with FlexCNC
April 4, 2019
As part of this partnership, FlexCNC will be bundling MecSoft's VisualCAD/CAM product with their FlexCNC milling machines.
SmartCAMcnc Announces Release of SmartCAM v2019
November 12, 2018
Also included are many customer-requested changes to the SmartCAM user interface and core functionality.
Envisioning New Markets with Roland MDX Technology
October 22, 2018
Tayyebi got the idea of creating his own line of premium eyeglass frames several years ago. To avoid competing with companies that mass-produce frames using injection molding, he decided to mill his frames from unusual substrates, including buffalo horn and...
Editor's Pick: Mills Expand and Flex for User Needs
August 15, 2018
Tormach unveils its next generation of CNC machines.
Tormach 1100M and 770M Unveiled
July 17, 2018
The M series of 1100 and 770 mills from Tormach incorporates years' worth of upgrades, optimization and customer feedback.
DeskProto Releases Free CAM Software
June 18, 2018
A new DeskProto version has been released, featuring an edition that may be used free of charge, as shareware.
Upfront CAM: The Convergence of Design and Manufacturing
March 1, 2018
Tighter integration of CAD and CAM can eliminate problematic geometry.
Latest News
SOLIDWORKS 2021 highlights, KIA uses Varjo ARVR and Autodesk VRED, NVIDIA announces Omniverse
SOLIDWORKS 2021 highlights, KIA uses Varjo ARVR and Autodesk VRED, NVIDIA announces Omniverse
ParaMatters 4.0 Generative Design Software Opens New Door to Automation
Autonomous generative design platform offers structural and thermal design and analysis, support structures and build orientation optimization for entire design-to-manufacturing...
Sandvik to Buy Software Company CGTech
Combined machining expertise of Sandvik Coromant and CGTech will enhance the Group's capabilities in machining intelligence and strengthen the software...
US Government's DLA Awards 6K a near $1M Program to Convert Metals into AM Powder
The Phase II program supports the development and commercialization of a domestic and commercially scalable supply chain for high-performance metal...
All posts