Top Story
Supersonic Comeback
December 1, 2018
Engineering startups and government agencies revisit the possibility of supersonic flight.
Sponsored Content
Building a Gateway to the Moon and Beyond
May 13, 2019
See how Protolabs is helping with Lockheed Martin's work on NASA's Gateway lunar orbiter project.
Saint Thomas Academy's Experimental Vehicle Team Earns Four Awards in NASA Competition
April 18, 2019
The EV team places first among U.S. high schools; team beat all but two university teams before falling in tiebreaker to European Space Consortium for high school students.
Company Plans 3D Printed Rocket
December 18, 2018
Relativity Space will 3D print the rocket with an internally designed 24-ft.-tall unit called the Stargate and plans are underway to build an even bigger 3D printer.
NASA Grant Funds 3D Print Modeling
December 2, 2018
University of Pittsburgh, QuesTek team to improve part quality via better computer modeling.
Supersonic Comeback
December 1, 2018
Engineering startups and government agencies revisit the possibility of supersonic flight.
Lockheed Martin Certifies 3D-Printed Fuel Tanks
August 24, 2018
In addition to meeting NASA's strict requirements for strength, durability, and weight, Lockheed Martin was able to reduce production time for the fuel tank domes by 87%, and cut delivery time from two years to three months.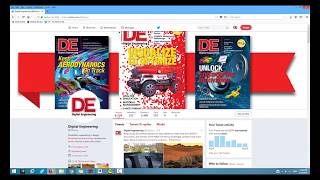 Watch This: Engineering News from 3Diligent, Autodesk, NASA and Fictiv
August 10, 2018
3Diligent takes a stand against 3D printed guns, Autodesk and NASA envision 3D-printed habitats for Mars, and a hardware business report from Fictiv.
Autodesk and NASA Explore 3D Printing for Mars
August 7, 2018
Autodesk, NASA work on proof of concept for 3D-printed habitats on Mars
Sciaky's EBAM Process Qualified for Satellite Fuel Tanks
July 19, 2018
The 46-in. titanium fuel tank domes, produced with Sciaky's metal 3D printing technology by Lockheed Martin Space, will be the largest additively manufactured parts in space.
COFES 2018: Thinking About the Future of Engineering Software
June 13, 2018
COFES, engineering software industry's annual think tank event,
Hybrid System Builds Sensors into Metal
June 1, 2018
Creating the sensor represents a step in the instrumentation of the "things" populating the internet of things (IoT). Embedded sensors promise to provide the means to effectively capture in-situ data from industrial equipment, opening the door for advanced setup, maintenance...
Companies Team up to Engineer 3D-Printed Parts for NASA Orion Mission
April 17, 2018
Key to the project are Stratasys advanced materials, including an ESD variant of the new Antero 800NA, a PEKK-based thermoplastic offering high performance mechanical, chemical and thermal properties.
7 First Steps to Design for Additive Manufacturing
January 2, 2018
Design for additive manufacturing looks at the bare-bones function of a part and how to produce it via additive manufacturing.
NASA's Latest Mission: Optimize Manufacturing of Composites
December 20, 2017
The Advanced Composites Consortium (ACC), which includes 13 members, including aerospace manufacturers, university partners, and more recently a single software provider, conducts research focused on the accurate prediction of the strength and life of composite structures, rapid inspection of composites, and...
NASA Names 3D-Printed Habitat Winners
September 22, 2017
NASA has awarded two teams a total of $400,000 in the second part of its three-part 3D-Printed Habitat Challenge.
Latest News
Bright Cluster Manager Is Now Qualified Software Stack for Intel Select Solutions for Simulation & Modeling
Bright Cluster Manager is a commercial cluster management software designed to automate the process of installing, provisioning, configuring, managing, and...
AMUG Gives Out DINO Awards
Award recognizes experience and service.
Nextflow Software Introduces Nextflow Studio
This fluid simulation software lets engineers manage easily their simulation projects and provides a graphical user interface (GUI) based on...
Ralf Hartmann of Airbus Defense & Space to Keynote ASSESS 2019 Congress
Hartmann's keynote presentation's title is "Multidisciplinary Integration Towards the Digital Twin."
All posts