Top Story
Data, Culture Snag Digital Transformation to MBSE
December 1, 2019
NIST, NASA, DOD dig deep to overcome legacy data and resistance to change in agencies.
Ansys and University of Texas at Arlington Boost High-Speed Hypersonics Research and Development
September 29, 2020
New collaboration aims to save hundreds of millions of dollars in hypersonic aircraft, spacecraft and missile prototype testing.
Optomec 3D Metal Printing Technology Chosen by Navajo Technical University for NASA Mission
December 13, 2019
Team from Optomec, Navajo Technical University, University of Alabama Huntsville, V&M Global Solutions to collaborate on NASA Additive Manufacturing Grant.
Data, Culture Snag Digital Transformation to MBSE
December 1, 2019
NIST, NASA, DOD dig deep to overcome legacy data and resistance to change in agencies.
NASA Buys Third nScrypt Factory in a Tool to Print Conductive Materials
November 20, 2019
Creating 3D antennas and printing conformal antennas on non-flat surfaces are reportedly the top objectives of the NASA research project.
NASA Selects First Mode and ASU to Develop Marathon Moon Rover, Intrepid
October 28, 2019
Company brings expertise in rover systems, surface mobility, and more to lunar mission study.
MIT and NASA Take Flight With New Wing Structure
August 19, 2019
"Metamaterial" design aims for lighter, more energy-efficient aircraft that can be produced cost effectively.
Base 11 Awards Initial Prizes in $1M+ Student Rocketry Contest
June 28, 2019
Former astronaut Leland Melvin encourages students to persevere as they continue to build and test their rockets.
Sponsored Content
Building a Gateway to the Moon and Beyond
May 13, 2019
See how Protolabs is helping with Lockheed Martin's work on NASA's Gateway lunar orbiter project.
Saint Thomas Academy's Experimental Vehicle Team Earns Four Awards in NASA Competition
April 18, 2019
The EV team places first among U.S. high schools; team beat all but two university teams before falling in tiebreaker to European Space Consortium for high school students.
Company Plans 3D Printed Rocket
December 18, 2018
Relativity Space will 3D print the rocket with an internally designed 24-ft.-tall unit called the Stargate and plans are underway to build an even bigger 3D printer.
NASA Grant Funds 3D Print Modeling
December 2, 2018
University of Pittsburgh, QuesTek team to improve part quality via better computer modeling.
Supersonic Comeback
December 1, 2018
Engineering startups and government agencies revisit the possibility of supersonic flight.
Lockheed Martin Certifies 3D-Printed Fuel Tanks
August 24, 2018
In addition to meeting NASA's strict requirements for strength, durability, and weight, Lockheed Martin was able to reduce production time for the fuel tank domes by 87%, and cut delivery time from two years to three months.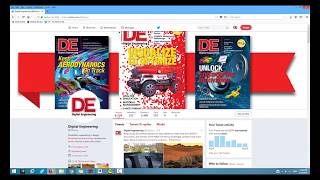 Watch This: Engineering News from 3Diligent, Autodesk, NASA and Fictiv
August 10, 2018
3Diligent takes a stand against 3D printed guns, Autodesk and NASA envision 3D-printed habitats for Mars, and a hardware business report from Fictiv.
Autodesk and NASA Explore 3D Printing for Mars
August 7, 2018
Autodesk, NASA work on proof of concept for 3D-printed habitats on Mars
Latest News
Luxion Releases KeyShot 10
KeyShot 10 adds new ​Keyframe Animation and other animation capabilities, new ​Smart Export options for output to full-color 3D prints, AR...
SynDaver Offers 3D Printing Holiday Discount
Take more than $1,000 off SynDaver Axi 3D printer for Black Friday, Cyber Monday.
PTC and Ansys Link CAD, Simulation
New Creo Ansys Simulation brings simulation to the modeling environment.
CADENAS Offers Support via eCATALOGsolutions Platform
How component manufacturers can provide their digital product data for common CAE systems like EPLAN, Zuken e3.series, NX Electrical,...
All posts