Top Story
Superworkstations!
June 1, 2019
Design engineering workstations have become extremely powerful—where does it make sense to invest your IT budget?
Sponsored Content
Building the GPU-Accelerated Data Center
September 20, 2021
Attend this webinar with Brian Corn, Vice President of Product Integration at Thinkmate, and learn more about GPU-accelerated technologies.
Sponsored Content
NVIDIA RTX - Accelerate Your Creativity and Deliver Your Project On Time
July 15, 2021
This webinar will cover the new NVIDIA® RTX™ A5000 and RTX A4000 GPUs, and the creative solutions they enable.
Sponsored Content
High-Performance Visual Computing in the Data Center Extended to Professionals Everywhere
April 15, 2021
As the world continues to shift and enterprises across the globe rethink post pandemic infrastructure, enhancing the ability of professionals to work remotely remains top of mind.
Sponsored Content
Chaos Vantage and NVIDIA RTX—Real-time Ray Tracing Powers Design Visualization
January 8, 2021
Join us for a live webinar to see how the real-time ray tracing technology of Chaos Vantage, running on professional NVIDIA® RTX™ GPUs, revolutionizes design visualization.
Sponsored Content
NVIDIA Quadro RTX for Data Science and Big Data Analytics
December 2, 2020
Learn how GPU acceleration, provided by the NVIDIA® Quadro® RTX™ line of professional graphics boards, is revolutionizing data science and analytics, resetting workflow expectations, and improving insights and outcomes for businesses across the world.
Sponsored Content
NVIDIA-Powered Data Science Workstations
September 11, 2020
Combining the power of NVIDIA Quadro RTX GPUs with accelerated CUDA-X AI data science software, NVIDIA-Powered Data Science Workstations deliver a new breed of fully integrated workstations for data science.
Sponsored Content
NVIDIA Quadro for Data Centers
September 11, 2020
Meet the most demanding visual computing challenges by bringing the power of NVIDIA Quadro RTX GPUs and NVIDIA virtual GPU software to the data center.
Sponsored Content
NVIDIA RTX Server
September 11, 2020
Take visual computing to the next level with NVIDIA RTX™ Servers which combine NVIDIA Quadro RTX GPUs with NVIDIA virtual GPU software for maximum performance and cost savings.
Sponsored Content
NVIDIA Quadro RTX
September 11, 2020
Whether implementing massive CAD models, performing complex engineering simulations or interactively rendering photorealistic images directly from CAD files, NVIDIA® Quadro® RTX™ GPUs deliver the performance you need to tackle these graphics and compute intensive tasks.
Sponsored Content
Reinventing VR and Collaboration in 2020
June 10, 2020
Join us for a live webinar to see how NVIDIA® Quadro® RTX™ and HTC are bringing people together through VR. This partnership is enabling businesses, governments, institutions, and individuals to safely bridge the social distancing gap during this tumultuous and...
Sponsored Content
How NVIDIA QUADRO RTX is Transforming Architectural Visualization
March 17, 2020
Through their Turing architecture, NVIDIA Quadro RTX GPUs are changing the way that architectural professionals work.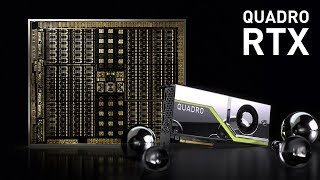 Sponsored Content
Passively Cooled Quadro RTX 8000 and RTX 6000 GPUs Optimized for the Data Center
February 25, 2020
The demand for visualization, rendering, data science and simulation continues to grow as businesses tackle larger, more complex workloads than ever before. However, enterprises looking to scale up their visual compute infrastructure face mounting budget constraints and deployment requirements.
Sponsored Content
Post Design Sales & Marketing of Manufactured Products
February 20, 2020
GPU-Powered workflows to enhance marketing asset creation, the customer purchase experience and production training.
Sponsored Content
Better Informed Decision Making, Optimized Product Designs
February 18, 2020
Design review is a critically important part of the product development process and is starting to change dramatically.
Sponsored Content
Advanced Product Design: Earlier Simulation, Faster Iteration, Greater Innovation
February 13, 2020
The detailed design process is complex and requires time, effort, and expertise to tackle efficiently. Visualization and simulation have become key to many organizations, but until now both required too much time to truly influence the early stages of design.
Latest News
NOV. 3 - FREE WEBINAR: Fast, Accurate, Scalable Multiphysics Simulation in the Clou
Learn how the cloud-native engineering simulation platform SimScale removes the traditional technical and economical barriers created by legacy CAE software.
Siemens Launches Xcelerator Portfolio as a Cloud Service
As part of its transition to a new SaaS business model, Siemens Digital Software Industries launches its entire Xcelerator portfolio...
Ford and Ansys Accelerate Development of Next-Generation Predictive Headlight Technology
Ford engineers use optical simulation solutions from Ansys for development of predictive smart headlights.
Aras Announces Roque Martin as New Chief Executive Officer
Peter Schroer transitions to Aras Board of Directors.
All posts