Top Story
Superworkstations!
June 1, 2019
Design engineering workstations have become extremely powerful—where does it make sense to invest your IT budget?
Superworkstations!
June 1, 2019
Design engineering workstations have become extremely powerful—where does it make sense to invest your IT budget?
Sponsored Content
Design & Simulation Software Review Round Up
April 17, 2019
We've compiled some of our most popular design and simulation software reviews in this issue to give you an over-view of new features and how the software works.
Sponsored Content
Editor's Pick: Powerful Ray Tracing GPU for Workstations
February 27, 2019
The new NVIDIA Quadro RTX 8000 brings hardware-accelerated ray tracing, AI-powered features, and advanced shading to professional workflows.
NVIDIA Quadro RTX 8000 Now Available from PNY Technologies
February 25, 2019
Sponsored Content
Physically-Based Rendering Revolutionizes Product Development
February 13, 2019
NVIDIA IRAY helps reduce development cost & time-to-market by ensuring concept models match the real-world product.
Sponsored Content
Advancing Product Design Workflows in Manufacturing
January 21, 2019
Radically Improve Design, Collaboration, and Time to Market with the World's Most Advanced Visual Computing Platform.
Sponsored Content
Advanced Product Design for Industry 4.0
January 21, 2019
Today, next-generation visual computing technologies can help accelerate product development processes, starting with the earliest stages of design.
Technology Focus: Designing for Optimization & Simulation
November 15, 2018
Simulation is pervasive, with people from different departments and backgrounds discovering new ways to put it to use, in all of its varied forms.
Sponsored Content
Editor's Pick: NVIDIA Quadro RTX Graphics About to Change Your Workstation
October 24, 2018
PNY expects to fulfill first partner orders for new NVIDIA accelerators in early November.
Editor's Picks: Oct. 4-10, 2018
October 12, 2018
One of the picks will be chosen as DE's Editor's Pick of the Week.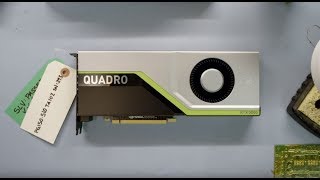 PNY Technologies
October 11, 2018
PNY Technologies® is NVIDIA's Quadro® and GeForce® channel partner throughout North America, Latin America, Europe, the Middle East, Africa and India. From Building Information Management to CAE simulation, realtime rendering, or AI enhanced products or workflows, PNY will work with...
Industry Focus: Designing for Aerospace & Defense
July 13, 2018
The use of simulation in A&D has evolved from early experimentation to become a critical part of the product design and development cycle, so much so that the sheer amount of simulation data has become a management challenge. Companies...
Sponsored Content
Next-Generation Technology for Extreme Engineering
June 21, 2018
The Quadro GV100 is NVIDIA's first graphics accelerator built with its new Volta architecture. Here's what's in it for you.
Technology Focus: Immersive Design
April 17, 2018
A fully immersive virtual design engineering software user interface may await in the future, but many immersive design technologies are already reality. We've collected some of DE's coverage of AR, VR, advanced rendering and simulation visualization in this...
VR-Ready Mobile Workstation Review: PNY PREVAIL PRO 4000
February 1, 2018
Check out the new virtual reality ready mobile workstations from a familiar name.
Latest News
Foundry Names New CEO
Jody Madden, who joined Foundry in 2013, is named new CEO.
America Makes Locates Third Satellite Center at Wichita State University
Specifically, the Center will be at the National Institute for Aviation Research on WSU's campus.
Eurocom Releases Tornado F7 Server for On-the-Go Applications
The Tornado F7 Server Edition is an all-in-one, single-server, small form factor, laptop-based server.
The New Age of Engineering Animation
High-quality animations help engineers efficiently collaborate with colleagues.
All posts