Top Story
Simplifying 3D Scan-to-Print Workflows
October 27, 2022
Lower cost offerings and AI-enabled automation help streamline scan-to-print workflows in light of more interest in reverse engineering and quality assurance use cases.
Simplifying 3D Scan-to-Print Workflows
October 27, 2022
Lower cost offerings and AI-enabled automation help streamline scan-to-print workflows in light of more interest in reverse engineering and quality assurance use cases.
University of Toronto Engineering Team Reverse Engineers the Heart
July 12, 2022
The team built a bioartificial left ventricle, a lab-grown model made with living heart cells and capable of pumping fluid inside a tube, according to the University of Toronto.
Artec 3D Launches Artec Studio 17
June 15, 2022
New release provides full inspection and reverse engineering workflows, as well as CGI features and user experience updates.
3D Printing, CT Scanning for Supply Chain Resilience
May 17, 2022
Desktop Metal and Lumafield create all-in-one scanning and additive manufacturing solution to copy and produce parts anywhere.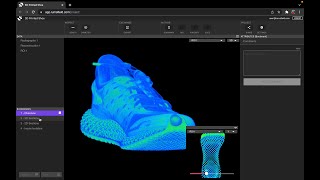 CT Scan for Engineering Parts
May 9, 2022
Lumafield develops CT scanner for engineering diagnosis
Exact Metrology Debuts Next Generation of Artec Micro
April 11, 2022
This is a high-precision industrial desktop 3D scanner, designed to deliver scans in one click, the company reports.
Editor's Pick: New reverse engineering software
September 15, 2021
Hexagon Manufacturing Intelligence REcreate turns 3D data from various sources into a model made for further design work or 3D printing. 
Hexagon's Reverse Engineering Solution to be Shown at RAPID + TCT 2021
September 7, 2021
New REcreate redefines reverse engineering with a flexible design approach, company says.
Introducing the New Reverse Engineering
September 1, 2021
Digitalization has created a revolution in reverse engineering. How can engineers best use these new capabilities?
GE Gets Air Force Airworthiness OK for Metal 3D-printed Engine Part
June 14, 2021
This F110 component is the first engine component designed for and produced by metal additive manufacturing to be qualified by any US Department of Defense entity.
Taking Care of Business
April 30, 2021
Chart the next frontier in materials and engineering design with confidence.
A Head for Reverse Engineering
July 14, 2020
Eco-friendly plant holder designer teams with Exact Metrology on reverse engineering project.
Volume Graphics CT Software Includes Scan-to-CAD Reverse Engineering Capabilities
July 10, 2020
New capabilities support digital twin creation and simulation validation.
3D Systems Unveils Enhancements to Reverse Engineering Software
May 19, 2020
Unroll/reroll function in Geomagic Design X enables a new modeling workflow for complex revolved parts resulting in a 94% efficiency improvement, company says.
Smart Scanning
April 15, 2020
For those versed in reverse engineering, here's how to stay afloat in the sea of available hardware and software solutions.
Latest News
Quick Electromagnetic Analysis of PCB Design
Autodesk Fusion 360 Signal Integrity Extension by Ansys reduces costs and improves compliance.
Editor's Pick: Major update for multiphysics simulation
COMSOL Multiphysics 6.1 update includes new simulation tools for audio technology and vehicle electrification.
Epic Games to Use HOOPS Exchange for CAD Import
Epic Games switches to HOOPS Exchange for handling CAD model import
Sculpteo Publishes Updated Report on The State of 3D Printing
In this 8th edition, there are indicators that 3D printing is moving towards greater sustainability.
All posts