Top Story
Speeding with Caution
October 1, 2019
Relating the speed sketching process to simulation and analysis.
ANSYS Boosts Support For On-Premise Simulation Through Elastic Licensing 
October 7, 2019
Flexible licensing model meets intermittent and long-term business needs.
Real-Time Simulation Software for Mechanical Equipment Added to Altair Partner Alliance
October 3, 2019
Vortex Studio—a simulation and visualization software for worksite system-level, in-the-loop modeling of mechatronics and mechanical equipment —features high-fidelity, real-time simulation, the company says.
Speeding with Caution
October 1, 2019
Relating the speed sketching process to simulation and analysis.
Sponsored Content
Editor's Pick: Groundbreaking Solutions for the Most Demanding Simulation Tasks
September 25, 2019
BETA CAE Systems releases version 20.0.
NAFEMS to Host One-Day Automotive Simulation Conference in Michigan
September 16, 2019
An event agenda and concept put together by several figures in the automotive industry will provide the opportunity to learn about the latest technologies and practices.
ANSYS and Livermore Software Technology Corporation Sign Definitive Acquisition Agreement
September 13, 2019
Acquisition will bolster ANSYS' passenger safety, healthcare and manufacturing capabilities, ANSYS says.
Simcenter STAR-CCM+ Updated
September 13, 2019
Improvements include enhanced simulation automation and video communication.
FANUC and ModuleWorks Announce Cooperation on Machining Simulation for CNC Controls
September 12, 2019
ModuleWorks material removal simulation is multi-axis, multi-purpose simulation technology.
SIMULIA Goes on the Road
September 9, 2019
Dassault Systemes goes on the road to promote SIMULIA simulation solutions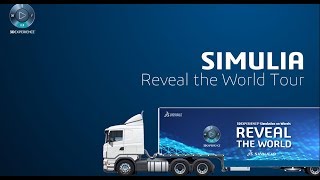 SIMULIA road trip, Unreal Engine 4.23 highlights, ANSYS and Edge Case Research partnership, more
September 6, 2019
Dassault Systèmes SIMULIA goes on the road to promote simulation, Epic Games launches Unreal 4.23 with Beta features, ANSYS and Edge Case Research partner to address autonomous vehicle hazard detection, GPU-based on-demand Bullet Render Fame goes live
Siemens and Dassault Systèmes Nab Top Spots in ABI Research's Simulation Software Assessment
September 5, 2019
The Manufacturing Simulation Software Competitive Assessment analyzed and ranked seven major vendors in the industry.
Advanced Computational Fluid Dynamics Software 
September 4, 2019
Nextflow Software introduces Nextflow Studio for smoothed-particle hydrodynamics. 
Sponsored Content
Editor's Pick: Conduct Computational Fluid Dynamics Simulations More Efficiently
September 4, 2019
Nextflow Software introduces Nextflow Studio, which covers the entire CFD workflow from pre-processing to computation and post-processing.
Digital Engineering and NAFEMS Americas Launch CAASE19 Virtual Conference
September 3, 2019
The virtual conference will explore the use of simulation and analysis across the design/development process.
The Path to Simulation
September 1, 2019
Industry veterans weigh in on how to make engineering simulation more accessible to a larger user base.
Latest News
New Industrial Design Software Has Roots in Engineering Simulation 
Inspire Studio is the most recent addition to the Altair Inspire Platform, which uses Altair's simulation expertise as a...
Editor's Pick: A Fresh Take on Industrial Design Software 
Altair Inspire Studio is part of Altair's Inspire Platform, a set of contemporary tools transforming product design by making...
Kisters 3DViewStation Offers Advanced Visualization for PLM Systems 
3DViewStation ships with current and mature importers for a broad range of 3D and 2D formats.
Screenhouse, in Chicago's Millennium Park, Enhanced by Fast Radius
Edra Soto art installation built by Navillus Woodworks to officially open in Boeing Gallery North in Millennium Park.
All posts