Top Story
A Reality Check for AR/VR
January 14, 2019
As hype and speculation give way to practical concerns, augmented and virtual reality developers continue to incorporate new innovations into their offerings.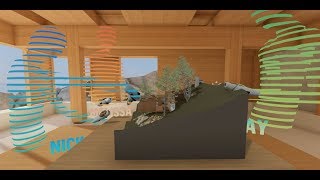 Partner Content
A Reality Check for AR/VR
January 14, 2019
As hype and speculation give way to practical concerns, augmented and virtual reality developers continue to incorporate new innovations into their offerings.
CORTIME Introduces SolidWorks Embedded Multi-Study Optimization
December 18, 2018
CORTIME, according to the company, helps engineers explore optimal designs by automating their design evaluation process and exploring design options based on performance goals and constraints.
Partner Content
CAD Embedded CFD: Overhyped, but a Good Value for Some
December 14, 2018
One particularly beneficial aspect of CAD-embedded or CAD-linked CFD is its potential for enabling and streamlining parametric studies.
Generative Design Challenges Old Paradigms from the Parametric Era
November 12, 2018
The genesis of generative design can be traced back to simulation software, with topology optimization as the intermediary evolutionary step. Generative design software uses time-tested structural, fluid and thermal simulation technologies; however, instead of asking the user to provide the...
Podcast: Digital Engineering News Roundup for Oct. 12, 2018
October 12, 2018
Listen to a brief roundup of this week's top digital engineering news featuring Siemens closing its acquisition of Mendix and its plans to acquire Iray renderer Lightworks; Luxion's release of KeyShot 8, Onshape's preview of an AR CAD-editing app at Leap...
SolidWorks 2019: Speedy Assembly, AR-VR Export, Tablet Sketching, and More
September 12, 2018
SolidWorks 2019 launches with improved assembly performance, file export for AR and VR, tablet sketching tools, and more.
Lenovo ThinkPad P52s: Thin, Lightweight and Affordable
September 1, 2018
A new P-series mobile workstation for on-the-go professionals.
Add Visual Velocity to Boost Engineering Productivity
August 13, 2018
Research proves importance of displays to productivity as 4K resolution becomes standard.
Prepare for Augmented, Virtualized Product Development
August 13, 2018
Laying the groundwork for professional augmented reality and virtual reality apps begins with generating realistic, interactive content.
From Solid Geometry to Responsive AR-VR
August 1, 2018
The handshake between CAD and visualization engines proves critical to AR-VR development.
When CAD, CAE and CAM Collide
July 16, 2018
New compute platforms enable design engineers to reap the benefits of CAD, CAE and CAM convergence.
Empower Introduces CAD-Embedded Optimization Plug-In
July 12, 2018
CAD-embedded optimization plugin OASIS from Empower targets SolidWorks users -- part of the trend to promote simulation among design engineers and CAD users.
New Lenovo ThinkStation P330 Family: Smaller Just Got Better
July 12, 2018
With each workstation dropping in size, the ThinkStation P330 Tower, SFF and Tiny are proving smaller is better, the company reports.
SOLIDWORKS Simulation Overview, Part 2
July 1, 2018
Walk through a static analysis study of an aircraft keel section in SOLIDWORKS.
Optimize Designs Automatically
June 20, 2018
Integrated tool swaps out manual optimization processes with automation.
Latest News
Sponsored Content
Editor's Pick: Machine Learning Boosts Modeling Methods
Automating your simulation workflows can help speed optimal design discovery.
Process Integration and Design Optimization Platform Updated
Optimus Rev. 2018.1 introduces modeling methods augmented with machine learning
Hensoldt Purchases Nano Dimension DragonFly Pro System
Early DragonFly Adopter Hensoldt uses Nano Dimension's precision additive manufacturing platform for printed...
Soler & Palau selects CORTIME for Design Exploration in SolidWorks
Soler & Palau is immersed in the development of efficient ventilation products and systems into...
All posts