BMF Introduces microArch Microscale 3D Printer
October 26, 2021
The next-gen printer combines high resolution with accuracy, precision and speed for prototyping through short-run production.
Sponsored Content
Micro-Precision 3D Printing Makes Micro Molds for Thermoformed Microplates
July 6, 2021
Buchmann Institute for Molecular Life Sciences at Goethe University in Frankfurt am Main, Germany is dedicated to the understanding of macromolecular complexes, in particular the molecular mechanisms underlying cellular functions.
Sponsored Content
3D Integrated Microelectronic Subsystems and Additive Manufacturing
June 30, 2021
New 3D printing technology enables more complex electrical routing for 3D integrated microelectronic subsystems.
Sponsored Content
Comparing SLA, DLP and PμSL
June 28, 2021
In this paper, we will compare laser-based SLA, Digital Light Processing (DLP) and Projection Micro Stereolithography (PμSL) and how each compare with the below factors.
Stratasys Buys RPS
February 18, 2021
Purchase of RPS, a provider of stereolithography 3D printers, will give Stratasys a full suite of polymer 3D printing solutions across the product life cycle.
Nexa3D Acquires NXT Factory
August 5, 2020
Move will increase potential market for production-class 3D printing.
3D Systems Expands Plastics Materials Portfolio
June 4, 2020
Figure 4 RUBBER-65A BLK new mid-tear strength elastomer has high elongation at break for flexibility, strength and durability.
3D Print Stiff, Pliable Parts With Tough 1500 Resin
February 11, 2020
Tough 1500 Resin produces stiff and pliable parts that bend and spring back quickly under cyclic loading, the company says.
DWS and Huntsman Form Cooperation to Bring Resin to Market
November 19, 2019
The collaboration will give footwear companies and other industrial manufacturers access to the SLA 3D printing of a new kind of polyurethane-based resin.
Huntsman to Unveil Two Flexible 3D Printing Materials
November 8, 2019
Company unveils IROPRINT F 80112 filament and IROPRINT R 1801 resin at Formnext in Germany.
Sponsored Content
Design Guidelines for 3D Printing & Additive Manufacturing
September 12, 2019
Created by FATHOM's Application Engineering Team, this design guideline on 3D printing and manufacturing technologies includes PolyJet, SLA, FDM, SLS, and MJF. The easy-to-use chart highlights wall thickness, hole diameter, clearance for assemblies, escape holes, minimum detail, pin diameter, accuracy,...
Huntsman Delivers new IROPRINT Additive Manufacturing Materials
July 8, 2019
Huntsman's IROPRINT additive manufacturing platform contains three kinds of urethane-based materials (resins, powders and filaments), which can be 3D printed using various additive manufacturing methods.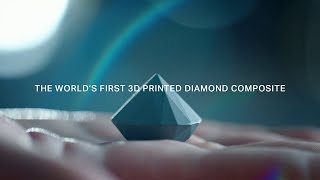 Sandvik Creates 3D-Printed Diamond Composite
May 23, 2019
Stereolithography used to create parts in complex shapes from composite diamond slurry.
Editor's Pick: Open Source 3D Printer is a Horse of a Different Color
May 8, 2019
LulzBot TAZ Workhorse Edition brings open source revolution to the engineering desktop.
Sponsored Content
Editor's Pick: Turning SLA printing on its side for improved performance
April 17, 2019
Formlabs launches two new printers for production workflows.
Latest News
Wild and Crazy Parts Competition Targets Students
Mastercam hosts annual competition to encourage secondary and post-secondary students to demonstrate creativity and technical skills in parts design.
Vitech Unveils GENESYS 2021 R2 Systems Engineering Software
Vitech announces the latest release of its model-based systems engineering platform.
Essentium to Become A Public Company
Essentium's sustainable manufacturing solution eliminates over 70% of waste versus traditional manufacturing; on-site printing reduces heavy logistics requirement and limits...
Industry 4.0 Responds to the Pandemic
More organizations turn to digital twins and centralized workflows to address supply chain challenges.
All posts