3D PDF - Making your CAD Data Portable
August 29, 2022
Published interactive 3D data contained within a 3D PDF file can be shared, viewed and interrogated using the freely available Adobe Acrobat Reader by users and departments who do not have access to native CAD data, but who need a ...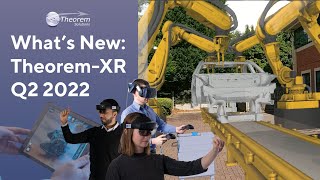 Augmented, Mixed or Virtual Reality
August 24, 2022
The adoption of extended reality (XR) technology in engineering and manufacturing is accelerating at a rapid pace. But what is XR and what are its benefits? Theorem Solutions explains.
Editor's Picks: July 21-27, 2022
July 28, 2022
One of the picks will be chosen as DE's Editor's Pick of the Week.
Theorem-XR Q2 2022 Release Boosts XR Capabilities
July 26, 2022
Company says the new release enables users to "explore the future of 3D visualization."
AR, MR or VR: Which Technology is Right for your Engineering Use Case?
July 26, 2022
Augmented, Mixed or Virtual Reality? This is a key question. You will need to understand the features and benefits of each technology type before looking to build and implement your XR strategy.
3D PDF Insights From the Theorem Experts
July 21, 2022
We recently sat down with our UK Account Manager Clair Baxter, and US Account Manager Matt Pongratz to discuss 3D PDF, and the major benefits it can have for those working in engineering and manufacturing.
Getting Started with Extended Reality (XR)
July 21, 2022
The use of Augmented Reality (AR), Mixed Reality (MR) or Virtual Reality (VR) (collectively known as Extended Reality (XR)) in engineering and manufacturing is still in its infancy, but has seen a steady rate of growth and adoption, especially in...
Digitally Transforming the Design Review Process
July 21, 2022
In only a short time, ATM manufacturer NCR (National Cash Registers) have revolutionized their design review and prototyping processes with the help of Theorem-XR.
Valiant TMS Merged Reality Concept
July 21, 2022
Theorem's Visualization Experience software has provided Valiant TMS with a unique opportunity to visualize 3D CAD models placed directly over real world equipment, tooling and components.
Theorem Solution's 3D PDF Enabling Tool
July 21, 2022
3D PDF enables the creation of interactive PDF documents enriched with 3D content directly from your native source CAD (3DEXPERIENCE, CATIA V5, Creo, JT or NX) that can be shared with NON-CAD users.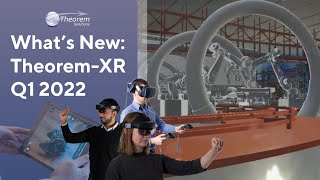 Theorem Solutions
June 24, 2022
Theorem Solutions enables engineering and manufacturing companies to extend the use of their 3D design data in the latest innovative and emerging technologies. Providing specialist tools for CAD Translation, Interactive Documentation and Full Scale Immersive XR Visualization and Collaboration (Augmented,...
Editor's Picks: April 7-13, 2022
April 18, 2022
One of the picks will be chosen as DE's Editor's Pick of the Week.
Find Out Latest Updates With Theorem-XR
April 11, 2022
The Q1 2022 release adds support for several AEC systems, including REVIT, IFC and Navisworks. 
Editor's Picks: Oct. 7-13, 2021
October 18, 2021
One of the picks will be chosen as DE's Editor's Pick of the Week.
Theorem Releases CATIA 3DEXPERIENCE 3D PDF v. 24.2
October 12, 2021
Publish products enable the publishing of 3DEXPERIENCE data directly from within the design application into an interactive 3D PDF document format.
Latest News
Epic Games Teams Up with Autodesk
Their joint goal is to accelerate real-time, immersive design capabilities across industries.
Tech Soft 3D Launches CAE-Based CEETRON Toolkits
The CEETRON solutions enables software engineers to accelerate CAE application development at every stage of the process.
Quickparts Acquires Xcentric Mold & Engineering
Acquisition expands Quickparts' digital manufacturing offerings.
Simulation's Answer to Connected Car Complexity
The path to adopting advanced multiphysics design practices is complicated and multifaceted.
All posts