Sponsored Content
3D Scanning in a New Light
June 13, 2021
Advanced 3D scanning software is enabling large-scale digital twin applications and new types of reality capture.
Editor's Picks: May 13-19, 2021
May 21, 2021
One of the picks will be chosen as DE's Editor's Pick of the Week.
Volume Graphics Enhances Industrial CT Software Version 3.5
May 14, 2021
New software version helps detect and correct design flaws and manufacturability issues.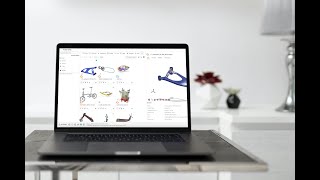 DE Video News Roundup: May 2021
May 13, 2021
Altair Portfolio Goes Online with Altair One, NVIDIA Omniverse Moves from Beta to Commercial, Ansys and Flir partner to develop autonomous driving in the fog, Volume Graphics offer CT scan-based analysis software to find flaws in mechanical parts
Podcast: CT Scanning Improves Product Quality
July 21, 2020
In our latest podcast, Ashley Bray of Volume Graphics describes the benefits of CT scanning for inspection and quality analysis, as well as how the technology combined with the right software can bridge the gap between simulation and reality.
Volume Graphics CT Software Includes Scan-to-CAD Reverse Engineering Capabilities
July 10, 2020
New capabilities support digital twin creation and simulation validation.
Hexagon Buys Volume Graphics
November 25, 2019
Volume Graphics will operate as part of Hexagon's Manufacturing Intelligence division. Completion of the transaction (closing) is subject to regulatory approvals. 
Composite Simulation Grows More Robust
October 1, 2019
Composite performance inseparable from manufacturing process and material design.
Volume Graphics Joins With Consortium to Update Prototyping of Molds
September 5, 2019
Computed tomography data analysis software analyzes additively manufactured molds and their prototypes for deviations and defects to improve quality and speed design iteration
Editor's Picks: July 4-10, 2019
July 15, 2019
One of the picks will be chosen as DE's Editor's Pick of the Week.
Volume Graphics Releases New Generation of CT Software Solutions
July 12, 2019
Updates in 3.3 include multi-material dimensioning, native Q-DAS support, OCR-based automation, and high-quality volume meshing.
eXstream Engineering and Volume Graphics Collaborate on Mechanical Simulation of Materials
March 15, 2019
The combined use and the interfaces between the software solutions of e-Xstream and Volume Graphics allow companies active in developing and producing fiber compound components to optimize manufacturing parameters.
Combine CT Scanning with Additive Manufacturing
January 2, 2018
CT scanning allows manufacturers to look inside parts made with additive manufacturing to measure complex internal designs.
Latest News
Wild and Crazy Parts Competition Targets Students
Mastercam hosts annual competition to encourage secondary and post-secondary students to demonstrate creativity and technical skills in parts design.
Vitech Unveils GENESYS 2021 R2 Systems Engineering Software
Vitech announces the latest release of its model-based systems engineering platform.
Essentium to Become A Public Company
Essentium's sustainable manufacturing solution eliminates over 70% of waste versus traditional manufacturing; on-site printing reduces heavy logistics requirement and limits...
Industry 4.0 Responds to the Pandemic
More organizations turn to digital twins and centralized workflows to address supply chain challenges.
All posts