Zuken Unveils High-Speed Features for Internet-Connected PCB Design
December 20, 2019
eCADSTAR Advanced HS extends eCADSTAR's connected 3D PCB design capabilities with high-speed routing tools, such as length and delay-based impedance and skew control and comprehensive constraint management capabilities.
Editor's Picks: Dec. 12-18, 2019
December 19, 2019
One of the picks will be chosen as DE's Editor's Pick of the Week.
Zuken to Acquire Vitech Corporation
February 1, 2019
Systems engineering company to help expand Zuken Solutions.
Zuken, CADENAS and ECAD-Port to Cooperate on Component Library
November 20, 2018
Zuken has signed a partnership agreement with CADENAS, a provider of online component libraries, and ECAD-Port, a specialized provider for electrical components library services.
ACCEL All-Electric Flight Research Initiative Picks Zuken's Design Software
October 17, 2018
Electroflight uses Zuken's E3.series electrical design software for all-electric aircraft.
Zuken and Polar Instruments Collaborate for Design Consistency
August 23, 2018
Zuken CR-8000 Design Force now connects with Polar Speedstack PCB Stackup / ECAD interface.
Zuken Expands Quoting and Order Processing Functionality for Manufacturers
August 21, 2018
Harness Builder 2018 for E3.series from Zuken is available now.
Zuken Enables 3D Collaboration Between Automotive OEMs and Harness Suppliers
August 17, 2018
E³.HarnessAnalyzer enables OEMs and suppliers to open, inspect and collaborate on previously proprietary harness design data generated by different authoring tools used in the industry.
Editor's Picks: July 19-25, 2018
July 26, 2018
One of the picks will be chosen as DE's Editor's Pick of the Week.
Zuken Addresses Complexity in Electrical Engineering
July 24, 2018
Key enhancements are in the areas of topology planning, modularity support and variant handling, which are designed to support the requirements of manufacturing companies using modular product design to control complexity.
Zuken USA names Keynote for Annual Event in April
March 9, 2018
Zuken USA announces No Magic's CTO as keynote speaker at Zuken Innovation World in San Diego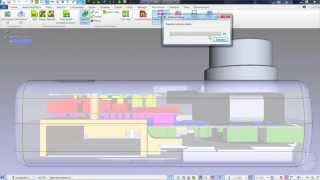 Zuken
January 1, 2018
Zuken is a global provider of leading-edge software and consulting services for electrical and electronic design and manufacturing. It has the longest track record of technological innovation and financial stability in the electronic design automation (EDA) software industry. The company's...
Sponsored Content
A System of Systems Design Approach
December 1, 2017
Design complexity is driving design process expansion and multidiscipline co-design.
Study: PLM Systems Remain Limited, Report Majority of Engineering Product Designers
October 24, 2017
Electrical and electronic engineering product designers reportedly spend an 45% of their time on administrative activities, according to a new report.
Editor's Picks for July 27- August 2, 2017
August 3, 2017
One of the picks will be chosen as DE's Editor's Pick of the Week.
Latest News
Cable Tray Manufacturer Improves Product Selection and Deliverability of Instant Product Downloads with Its CAD Catalog
The catalog doubles down on Unitray's delivery time and customization capabilities by providing instant CAD models of configurable products.
Arvizio Launches XR Connect
Multi-User XR now available for CAD, BIM and Point Cloud Visualization with Magic Leap 1, HoloLens 2 and Mobile AR.
XTREME-D Launches New HPC Infrastructure Services in Collaboration with Digital Realty
MC Digital Realty (a 50/50 joint venture between Mitsubishi Corporation and Digital Realty in Japan) will supply 10kW racks from its...
AON3D Launches Industrial 3D Printer Built for the Strong Plastics
It's a high-temperature 3D printer designed to print an expanding array of plastics
All posts