Siemens Launches Enterprise-Class Embedded Linux Solution
February 26, 2019
New enterprise-class binary Mentor Embedded Linux solution is a commercial distribution that is designed to reduce risk and accelerate productivity for medical, industrial, aerospace and defense application.
FiberForce Italy Offers Pantone Filaments
February 26, 2019
The company will initially offer 15 Pantone colors, resulting in more consistent color printing.
NVIDIA Quadro RTX 8000 Now Available from PNY Technologies
February 25, 2019
B9Creations Automates 3D Print Post-Processing
February 25, 2019
Parts and models can be transferred automatically to an alcohol wash after printing.
AMD Radeon Pro Software for Enterprise 19.Q1 Features SolidWorks Performance Improvements
February 22, 2019
Radeon Pro Software for Enterprise 19.Q1 updates product design workflows with features aimed at boosting designer and engineer productivity.
Contex Completes the HD Ultra X Scanner Series with Two Models
February 21, 2019
The series now includes 36- and 42-in. models, completing the range of scanning solutions for Contex's newest line of premium scanners.
Editor's Picks: February 14-20, 2019
February 21, 2019
One of the picks will be chosen as DE's Editor's Pick of the Week.
FARO Launches FARO RevEng for Design Professionals
February 21, 2019
This is a scan-to-CAD software solution for the FARO Design ScanArm.
Ultimaker Unveils new Platform Services with Ultimaker Cloud
February 21, 2019
Future-ready cloud platform designed to support the 3D printing workflow.
BobCAM V7 for SolidWorks Now Available
February 20, 2019
SolidWorks CAM plug-in has 86 upgrades and enhancements, including a new NC editor.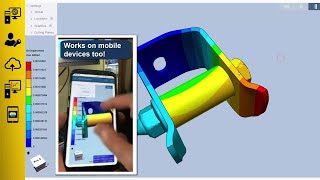 ANSYS Provides Path to Cloud HPC
February 20, 2019
ANSYS Cloud delivers on-demand cloud HPC access within the ANSYS portfolio to democratize simulation.
Siemens Updates NX Software with Artificial Intelligence and Machine Learning
February 19, 2019
Latest release of NX software enhanced with new capabilities that leverage machine learning and artificial intelligence technology to create user interfaces based on expected tasks to increase user adoption.
ZWCAD 2019 SP2 Just Released
February 19, 2019
Compared with ZWCAD 2019 SP1, the efficiency of SP2 has been further enhanced.
BobCAD-CAM Unveils New SolidWorks CAM Software Plug-in
February 19, 2019
BobCAM V7 for SolidWorks made its debut at SolidWorks World 2019.
VELO3D Introduces Enhancements to Its Flow Software
February 19, 2019
Flow is specifically designed for Sapphire, VELO3D's laser fusion metal additive manufacturing system.
Latest News
NVIDIA GTC 2019: Data Science Workstation, Purchase of an Interconnect Vendor, Safety Force Field in Autonomous Driving, and More
There are sufficient demos and talks of rayt racing, but the biggest announcements have...
Meeting Design and Regulatory Challenges of Autonomous Air Taxis
Frankfurt Airport manager Fraport is working with Volcopter to potentially use electric, vertical take-off...
Altium Launches "Altium Academic Programs"
Programs offer free and low-cost software and support to students and educators, empowering the...
AVL and MSC Software to Partner on Autonomous Vehicle Projects
AVL is developing a scenario-based open verification and validation toolchain to generate operational scenarios,...
All posts