Expanding Role of Tolerance Analysis
May 21, 2020
In our latest podcast, Digital Engineering talks to Ed Walsh, VP of Global Sales at Sigmetrix, about the expanding importance of tolerance analysis.
Sponsored Content
Gain Operational Efficiency Through Low-Code Development
May 18, 2020
To help organizations get started with this approach, low-code platform provider Quick Base offers a 30-day free trial of its solution. 
Sponsored Content
Editor's Pick: Remote teamwork environment for engineering 
April 29, 2020
Tele-collaboration system enables remote work and team work, improving collaboration by directly engaging engineers around the globe. 
Sponsored Content
Editor's Pick: Industrial metal 3D printer with 1-meter-tall build chamber 
April 22, 2020
Velo3D says this new printer is a response to the trade-off many industrial users face when needing 3D printing of mission-critical metal parts that require specialty metals.
Sponsored Content
Editor's Pick: NVIDIA-powered data center for high-performance applications
April 8, 2020
BOXX FLEXX rack-mounted data center platform is made for complex product development workflows.
Sponsored Content
Editor's Pick: Advanced material testing for leading additive manufacturing platform 
March 25, 2020
3D Systems Figure 4 materials testing for production applications
FREE WEBINAR: Generative Design in the Hot Seat - Dispelling the Myths of Generative Design
March 19, 2020
In this webinar, you'll gain a better understanding of how to incorporate generative design into your processes.
Sponsored Content
Editor's Pick: Discover Flexible Print Production Options for SLS Polymer
March 18, 2020
EOS North America INTEGRA P 450 suitable for single print use and true serial production additive manufacturing.
Sponsored Content
Getting Comfortable with AI-Assisted Design
March 9, 2020
Generative design technology is gaining acceptance as software vendors leverage GPU acceleration.
Sponsored Content
Should Engineers Embrace Data Science?
March 9, 2020
Increased adoption of machine learning and AI in design and simulation will require a higher level of understanding by engineers.
Sponsored Content
Editor's Pick: Next-Gen Parallel Meshing Speeds CFD Prep 30x 
March 4, 2020
Siemens Simcenter STAR-CCM+ 2020.1 said to be "rewritten from the ground up for parallel performance."
FREE WEBINAR: Intro to Desktop 3D Printing - Compare FDM, DLP, SLS, and SLA
March 4, 2020
In this webinar, you'll gain the foundation you need to start speaking the language of 3D printing. Learn how parts created from various printing technologies differ across functionality and appearance, and how these differences impact product development and production...
Sponsored Content
SolidWorks 2020: Large Assemblies, Faster Performance
February 7, 2020
Enhanced Graphics Performance streamlines workflows for complex assemblies.
Sponsored Content
When Generative Design and Additive Manufacturing Come Together
February 7, 2020
Mergers and acquisitions forge new path for the duo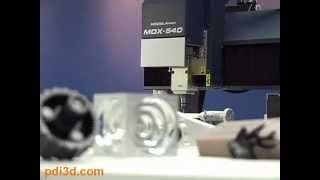 Sponsored Content
Rapid CNC Prototyping—On the Desktop
February 3, 2020
Product Development Inc. has put together an article and infographic explaining exactly how the line of Roland desktop prototyping CNC machines the company offers can eliminate many of the pain points involved in this process.
Latest News
Take Our Poll: A Return to In-Person Events
Share your feedback on whether you're up for in-person events to resume.
Editor's Picks: July 2-8, 2020
One of the picks will be chosen as DE's Editor's Pick of the Week.
Editor's Pick: Zero Emissions Composite 3D Printing
RIZE 2XC desktop composite 3D printer is the first deliverable of the RIZIUM Alliance, an industry collaboration that includes hardware...
Logitech Releases MX Mouse for Mac
Popular CAD mouse now available for Mac, iPad users.
All posts