Sponsored Content
Editor's Pick: Advanced material testing for leading additive manufacturing platform 
March 25, 2020
3D Systems Figure 4 materials testing for production applications
FREE WEBINAR: Generative Design in the Hot Seat - Dispelling the Myths of Generative Design
March 19, 2020
In this webinar, you'll gain a better understanding of how to incorporate generative design into your processes.
Sponsored Content
Getting Comfortable with AI-Assisted Design
March 9, 2020
Generative design technology is gaining acceptance as software vendors leverage GPU acceleration.
Sponsored Content
Should Engineers Embrace Data Science?
March 9, 2020
Increased adoption of machine learning and AI in design and simulation will require a higher level of understanding by engineers.
Sponsored Content
Editor's Pick: Next-Gen Parallel Meshing Speeds CFD Prep 30x 
March 4, 2020
Siemens Simcenter STAR-CCM+ 2020.1 said to be "rewritten from the ground up for parallel performance."
FREE WEBINAR: Intro to Desktop 3D Printing - Compare FDM, DLP, SLS, and SLA
March 4, 2020
In this webinar, you'll gain the foundation you need to start speaking the language of 3D printing. Learn how parts created from various printing technologies differ across functionality and appearance, and how these differences impact product development and production...
Sponsored Content
SolidWorks 2020: Large Assemblies, Faster Performance
February 7, 2020
Enhanced Graphics Performance streamlines workflows for complex assemblies.
Sponsored Content
When Generative Design and Additive Manufacturing Come Together
February 7, 2020
Mergers and acquisitions forge new path for the duo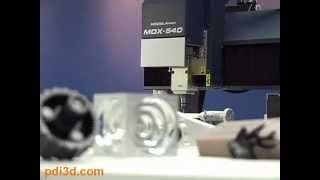 Sponsored Content
Rapid CNC Prototyping—On the Desktop
February 3, 2020
Product Development Inc. has put together an article and infographic explaining exactly how the line of Roland desktop prototyping CNC machines the company offers can eliminate many of the pain points involved in this process.
Sponsored Content
Preparing for Industry 4.0
January 21, 2020
The shift to digital manufacturing will require a mix of new technology to enable increased integration and automation.
Sponsored Content
OMNIS—Solving Your Toughest Industry Challenges
December 11, 2019
An end-to-end CAE environment from design to analysis and optimization.
Sponsored Content
Digital Twin Accelerates Product Development
December 11, 2019
Engineer your innovations with Simcenter.
Sponsored Content
Cloud Engineering Simulation: A Game Changer for Design Engineers
December 11, 2019
By combining powerful multiphysics solver technology with the limitless compute power of cloud supercomputers, engineers can create true Digital Prototypes.
Sponsored Content
Democratizing Simulation to Accelerate Product Development
December 11, 2019
How simulation experts and simulation users can make the most of digital transformation and collaborate in the most efficient way.
Sponsored Content
Simulation Applications Bring the Future of Modeling into the Present
December 11, 2019
Simulation applications and the tools used to distribute them are ushering in a new era of product development to organizations around the world. By democratizing simulation, companies can develop better products faster, using the specialized expertise of each team member...
Latest News
Editor's Picks: March 26-April 1, 2020
One of the picks will be chosen as DE's Editor's Pick of the Week.
How Has COVID-19 Affected Engineering Productivity?
Take our short poll and share your own experiences.
Calling All COVID-19 Researchers: Rescale Team Wants to Help
Rescale, Google Cloud Platform, and Microsoft Azure report they will fund millions in computing for those working on COVID-19 research.
Editor's Pick: New technique enhances photopolymer additive manufacturing
Fortify Continuous Kinetic Mixing System meets the need for advanced material properties in additive manufacturing. 
All posts