Mcity Adds Augmented Reality to Driverless Car Testing Roadmap
December 27, 2018
Researchers make the case for a hybrid autonomous vehicle test process that combines simulated vehicles and traffic scenarios with real-world test drives.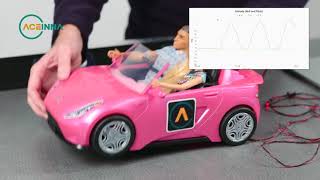 Measuring Dynamic Tilt with an IMU
December 19, 2018
LK Metrology Announces Enhanced CAMIO 8.5 Multi-Sensor CMM Software Version
December 7, 2018
LK Metrology's new 8.5 version of their CAMIO CMM software has a range of new features.
NI's LabVIEW NXG Brings New Features and Functionality to Market
December 4, 2018
The newest version of LabVIEW NXG simplifies time-consuming tasks in automated test and automated measurement applications.
Advantech Unveils New Sensor-to-Cloud Solutions at 2018 IoT Tech Expo
November 20, 2018
Advantech unveils 30-Day Smart Sensors Program, Cloud Enablers, and end-to-end Solution Ready Packages.
Spectrum Launches Digitizers with Long Signal Averaging Capabilities
November 19, 2018
Process uses combination of digitizer and CUDA graphics card.
Eckel Enables Briggs & Stratton to Build Ultra-Quiet Product Test Environment
November 16, 2018
The two anechoic chambers were designed and build by ACS and Eckel, which was also tasked with supplying the acoustic treatment for the test chambers.
Dual-Channel Multimeter from Tektronix Combines Density with Performance
November 9, 2018
The DMM7512 is suited for a range of high-volume manufacturing test applications that require measurement capacity, performance and a compact footprint.
Sensirion
November 8, 2018
Sensirion is the world's leading manufacturer of digital microsensors and -systems. The product range includes gas and liquid flow sensors, differential pressure, as well as environmental sensors for the measurement of humidity and temperature, volatile organic compounds (VOCs), carbon dioxide ...
At the Crossroads: Mechanical, Software Engineering
November 1, 2018
Do mechanical engineers know enough about software to meet the demands of increasingly connected and 'smart' product design?
Morehouse Instrument Company Offers Two New Portable Calibrating Machines
October 29, 2018
New models are for calibrating force-measuring devices with capacities from 25 lbf through 10,000 lbf.
AutoDrive Competition Puts Student Engineers in the AV Driver's Seat
October 22, 2018
AutoDrive, sponsored by General Motors and SAE International, is tasking eight university-level student teams with developing and demonstrating a fully autonomous passenger vehicle by the end of year three.
Hexagon Launches Inspire Software Solution
October 19, 2018
Software release from Hexagon designed for portable probing and scanning; this new metrology software package targets new users and multi-skilled operators.
Salt, Sweat and Gears 
October 11, 2018
Exploring environmental challenges for military vehicles.
MathWorks Launches 5G Toolbox
October 11, 2018
MathWorks releases 5G Toolbox to let designers simulate and test 5G communication-based products and devices; MathWorks' Ken Karnofsky discusses 5G impact on IoT.