Top Story
5G Concerns and Opportunities at IoT World 2019
May 15, 2019
Anxieties and opportunities around 5G at IoT World 2019, One-Click VR from Luxion KeyShot, ASSESS Congress set for October
Ralf Hartmann of Airbus Defense & Space to Keynote ASSESS 2019 Congress
June 18, 2019
Hartmann's keynote presentation's title is "Multidisciplinary Integration Towards the Digital Twin."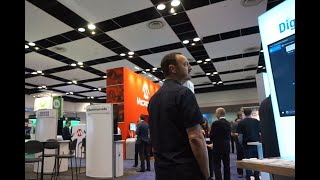 5G Concerns and Opportunities at IoT World 2019
May 15, 2019
Anxieties and opportunities around 5G at IoT World 2019, One-Click VR from Luxion KeyShot, ASSESS Congress set for October
ASSESS Initiative
May 10, 2019
The demand for software tools for Engineering Simulation* are exploding to support the demand for increased competitiveness and to deal with the rapidly growing complexity of products, processes, and systems. At the same time, we are struggling to keep up...
Sponsored Content
Advancing the Simulation Revolution
May 6, 2019
Join thought leaders at the ASSESS Congress to advance a multi-industry initiative to expand and improve the use of simulation software.
ASSESS Initiative Says it Made Impression at COFES 2019
April 23, 2019
 ASSESS Initiative's presence included active participation in the program by ASSESS Initiative advocates including Joe Walsh, Andreas Vlahinos, Peter Thorne, Linda Lokay, and Karen Caswelch. 
ASSESS 2019 Congress Open for Registration
March 7, 2019
The ASSESS 2019 Congress, the 4th annual congress, will be held at Chateau Elan Winery & Resort in Braselton, GA, October 27-29, 2019.  
ASSESS Initiative Publishes its First Strategic Insight Paper 
October 25, 2018
The ASSESS initiative has been organized around a key set of themes associated with expanding the usage and benefit of engineering simulation. The ASSESS Initiative is planning on publishing Strategic Insight papers related to each of these themes, which will...
ASSESS 2018 Congress Adds "Notes From the Front" Sessions
September 19, 2018
At ASSESS 2018, each session is made up of multiple 15-minute quick presentations from industry leaders on experiences related to involvement or support of the simulation revolution.
Dimitri Mavris of GA Tech to Keynote ASSESS 2018 Congress
August 16, 2018
Dr. Mavris will be presenting, "The Creation of a Digital Twin of the GA Tech Campus."
ASSESS Initiative Publishes Initial Two Positioning Papers
August 3, 2018
The ASSESS initiative is built around themes associated with expanding the usage and benefit of engineering simulation.
Pushing Democratization Beyond a Buzzword at CAASE 18
June 29, 2018
Simulation industry experts discuss the challenges faced by organization who want to advance the democratization of simulation.
Public Web Portal Launched to Support Simulation for All
May 30, 2018
New simulation community-driven portal, Rev-Sim, provides a one-stop resource to support movement to democratize simulation, company says.
ASSESS 2018 Congress in the Works
April 10, 2018
The theme of the ASSESS 2018 Congress is "Launching the Engineering Simulation Revolution."
ASSESS Initiative Launches ASSESS Membership Program
January 18, 2018
ASSESS Initiative is launching the ASSESS Initiative Membership Program open for membership enrollment immediately.
ASSESS 2017 Congress Takes on Increasing the Availability and Effectiveness of Engineering Simulation
November 9, 2017
The second-annual congress was organized by the ASSESS Initiative to help shape engineering simulation product strategies for the next decade.
Latest News
Octans Aircraft Takes to the Skies with Siemens Software
The company is producing its first aircraft model that will undergo the certification process, the 300A, with capacity for five...
Aras and Modelon Collaborate for Integrated System Modeling to Support Enterprise MBSE in the Digital Thread
Collaboration intended to support enterprise MBSE in the digital thread.
Airbus and ANSYS Partner to Enable Autonomous Flight
New agreement drives development of AI-enabled flight control software; goal is to support future combat air system by 2030.
Elizabeth Goode Receives President's Award from Additive Manufacturing Users Group
Goode, the eighth to receive this award, is an additive manufacturing veteran and owner of Goode Ink.
All posts