Top Story
CEAD Sets Sail With Large-scale Continuous Fiber Printing
December 26, 2018
CEAD Group's CFAM Prime 3D printer brings continuous fiber printing for composite applications to an industrial scale.
Stratasys Launches Carbon Fiber Material for F123 Series 3D Printers
February 16, 2021
Lightweight, ABS-based material is specifically formulated for applications such as manufacturing tooling, jigs and fixtures.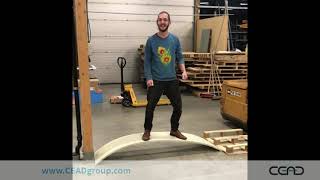 CEAD Sets Sail With Large-scale Continuous Fiber Printing
December 26, 2018
CEAD Group's CFAM Prime 3D printer brings continuous fiber printing for composite applications to an industrial scale.
EOS to Launch EOS P 810 Polymer 3D Printing Platform and New Material
April 23, 2018
EOS' large frame, two-laser system and high-performance material meet the strict requirements for demanding polymer parts in the aerospace, electronics and mobility industries.
By the Numbers: Lightweighting
January 2, 2018
Facts and figures on lightweighting in engineering with new materials and the use of more composites.
AdditiveCARBON Features Hybridization of 3D Printing with Carbon Fibers
August 18, 2017
AdditiveCARBON enables hybrid structures by means of a combined and fully automated manufacturing approach in which the carbon fiber reinforcement directly follows the load paths and the additive base structure serves as support for compressive loading.
Carbon Fiber 3D Printing Advances
March 8, 2017
Simulation enabled by a supercomputer was the key to getting carbon fibers to flow through an ink nozzle in a modified direct ink writing process.
Hexagon AB Acquires Apodius GmbH for Composite Measurement Expertise
August 31, 2016
Acquisition augments Hexagon Manufacturing Intelligence's expertise in the measurement of composite materials.
Tour de France Champion and ORNL to Offer Lower Cost Carbon Fiber
August 30, 2016
New manufacturing process yields high volume, low cost carbon fiber for transportation, renewable energy and infrastructure.
IACMI Advances Engineering of Composites
October 1, 2015
The Institute for Advanced Composites Manufacturing Innovation is working to expand accessibility of advanced composite materials in labs and factories nationwide.
Ford Accelerates Carbon Fiber Research
January 13, 2015
The company is partnering with DowAksa to develop high-volume carbon fiber part manufacturing methods.
Lightweight Material Champions
October 1, 2014
While no one wants a product to be heavier than necessary, lightweighting has become an obsession in the automotive and aerospace industries.
Boeing, Team USA to Recycle 7,000 lbs. of Carbon Fiber
November 1, 2013
Carbon Fiber Covers $4.6 Million Lamborghini
December 4, 2001
Latest News
Sunway Communication Partners with BMF
Partnership to focus on development of next-gen antenna.
NUBURU and Essentium Partner
Collaboration to enable the companies to launch blue laser-based wire feed metal 3D printers.
BMW Group and Ansys Co-Developing Simulation Software
The two companies join forces to implement simulation capabilities leading to advances in automated/autonomous vehicle technology.
Hopium Uses Dassault Systèmes' 3DEXPERIENCE Platform
Plan is for Hopium to design and develop Its hydrogen-powered high-end vehicle, companies say.
All posts