Top Story
Designing Machines in the Age of the IIoT
October 1, 2019
To design equipment for the new digital age, engineers are reinventing the product design process.
Designing Machines in the Age of the IIoT
October 1, 2019
To design equipment for the new digital age, engineers are reinventing the product design process.
ASSESS Initiative Publishes Strategic Insight Paper on Generative Design
September 19, 2019
The ASSESS Initiative is planning on publishing Strategic Insight papers related to various themes.
Autodesk Fusion 360: Getting Better All the Time
September 1, 2019
Autodesk consolidates Fusion 360 into a single, more powerful package.
Generation Gap
September 1, 2019
Bye bye, baby boomers. Move over millennials. Engineering software gears up for Gen Z.
ParaMatters CogniCAD Walkthrough
September 1, 2019
Setting up topology optimization problems is clear-cut in CogniCAD.
Mazda Taps into Siemens' Model-based Generative Engineering Tools
July 23, 2019
Mazda realizes electrical and electronic design productivity and innovation using the Capital model-based generative design flow.
nTop Platform Meets Advanced Manufacturing
July 16, 2019
New platform from nTopology integrates CAD, simulation and CAM technologies to accelerate the design of complex and lightweight parts.
Volkswagen Reshapes Classic Microbus with Generative Design
July 16, 2019
VW uses Autodesk Fusion to design the steering wheel, wheel, side mirror arm, and seat support for the new Type 20 concept minivan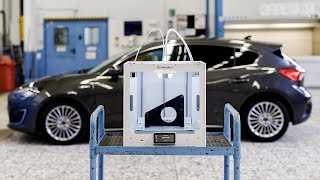 Ford Pilots 3D Printing Initiative for Tooling
May 28, 2019
The goal is to allow local plant floor workers without 3D printing experience to generate tools, jigs and fixtures using Ultimaker 3D printers.
XponentialWorks Companies Plan to Launch Products at Rapid+TCT 2019
May 20, 2019
XponentialWorks plans to demonstrate the latest capabilities from Nexa3D, NXT Factory and ParaMatters.
Techniplas: Combining Additive Manufacturing (AM), Generative Design, and AI to Explore Lightweighting
May 9, 2019
In partnership with generative design software maker Paramatters, Techniplas offers free browser-based manufacturing portal to attract lightweighting projects
ParaMatters Upgrades its Generative, Autonomous Design and Lightweighting Software
April 30, 2019
CogniCAD 2.1 autonomous topology optimizer for lightweighting offers enhanced variety of loading conditions, optimization of build orientation. It also features an intuitive, simple user interface that works autonomously and instantly.
LIFT Announces New Phase of "Fast Forge" Technology Project Opportunities
April 12, 2019
Small and large organizations can submit project ideas designed to develop new technologies in short period of time.
Generative Design Calculator Assists in Better Technology-Based Decision-Making
April 2, 2019
The Generative Design Total Lifetime Value Calculator enables ABI Research Industrial Solution clients to plan and compare the best strategies for deploying generative design.
Trust, Technology and Being Human
April 1, 2019
An engineering workflow needs to take human nature and the pros and cons of software recommendations into account.
Latest News
Varjo Releases VR2, Flyingshapes Launches CAD for VR, More
xRS Week Conference by Greenlight Insights kicks off, Varjo releases VR-2 Regular and Pro hardware, flyingshapes launches CAD modeling app...
A Strong Black Thermoplastic Enters the Digital Factory
PRO-BLK 10 allows fast printing on the Figure 4, with simplified post-processing that includes a single curing cycle and single solvent cleaning. 
Sponsored Content
Editor's Pick: Additive Manufacturing Thermoplastic Masters Long Production Runs 
3D Systems Figure 4 PRO-BLK 10 3D printing material is ideal for a wide variety of manufacturing use cases.
Cortona3D RapidAuthor 12.0 Facilitates Compliant Documentation
Product features a new user interface for editing SCORM Content Package Modules (SCPM) and improved user interface of SCPM publications.
All posts