Top Story
3D Printing Throttles Up Skyline GT-R Replacement Parts
April 8, 2021
With partners SOLIZE and HP and help from 3D printing, Nissan optimizes production of NISMO Heritage Parts.
3D Printing Throttles Up Skyline GT-R Replacement Parts
April 8, 2021
With partners SOLIZE and HP and help from 3D printing, Nissan optimizes production of NISMO Heritage Parts.
HP and Ford Team Up to Convert 3D Waste Into Auto Parts
March 26, 2021
Companies found way to extend life of already-used 3D printed powders and parts, turning them into auto components for Super Duty F-250 trucks, creating closed-loop on waste.
AMD Brings Power of Zen 3 to Mobile Processors for Business
March 19, 2021
Business notebooks from HP and Lenovo powered by AMD Ryzen PRO 5000 Series Mobile Processors provide performance and enterprise-class security solutions to meet demands of the workforce.
SOLIZE and HP Enable Sustainable 3D Production of Replacement Heritage Parts
March 17, 2021
SOLIZE, HP and Nissan share commitment to sustainable production, finding innovative ways to reduce, reuse and recycle.
Sustaining the Future of 3D Printing
February 26, 2021
Experts share their sustainability approaches for manufacturing the way to a more planet-friendly future.
3D Printing in a Post-COVID-19 World
December 31, 2020
Mass customization and flexibility ensure AM's role in the post-COVID world.
AMFG Collaborates With HP on Additive Manufacturing
December 8, 2020
Integration of HP 3D API with AMFG Additive MES software enables machine control and monitoring.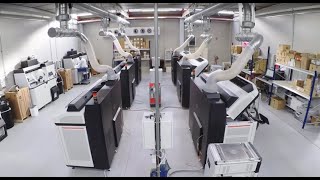 Weerg Doubles Its 3D Printing Department
November 19, 2020
Company reports its largest EMEA installation of HP Jet Fusion 5210 in Gardigiano with the new HP Automatic Unpacking Station.
Editor's Picks: Nov. 5-11, 2020
November 13, 2020
One of the picks will be chosen as DE's Editor's Pick of the Week.
Editor's Pick: Software platform made for fast additive manufacturing build prep
November 11, 2020
HP Universal Build Manager Powered by Dyndrite is an OEM- and process-agnostic tool and is said to be supported by many vendors.
Editor's Picks: Oct. 29-Nov. 4, 2020
November 6, 2020
One of the picks will be chosen as DE's Editor's Pick of the Week.
HP Improves 3D Print Management, Automation
November 5, 2020
New solutions increase control and quality of additive manufacturing processes.
GoProto Introduces New 3D Printing Parts Service
October 29, 2020
Service features elastomeric TPA (thermoplastic polyamide), enabling the production of rubber-like parts that was otherwise unachievable by traditional manufacturing methods.
Global HP Study Finds Digital Manufacturing Helps Drive Economic Growth
October 15, 2020
3D printing, innovation and supply chain resiliency more important than ever, say manufacturing decision makers.
HP Launches HPBCU Challenge, 3D Printing Pilot Program
September 8, 2020
HP is expanding its partnership with HBCUs via a new pilot learning program focused on 3D printing at North Carolina A&T State University.
Latest News
NVIDIA Releases New RTX GPUs
Ampere architecture GPUs will power next-generation laptops, desktops and servers.
Materialise Acquires Option to Buy Link3D
Potential acquisition aims to boost cloud-based access to integrated software platform.
NVIDIA Announces CPU for High-Performance Computing
Los Alamos, Swiss Supercomputing Center build CPU-powered supercomputers with a focus on AI.
Dassault, STMicroelectronics, Others Team Up to Create Software Republique
New collaboration to serve as an ecosystem for intelligent and sustainable mobility.
All posts