Top Story
DE Hot Seat: Reconciling Additive and Subtractive
September 9, 2021
Panelists explore the intersection of additive and subtractive manufacturing.
HP to Collaborate With L'Oréal; Grows Global Partner Ecosystem
November 16, 2021
Also, HP Metal Jet progress continues ahead of commercial launch.
DE Hot Seat: Reconciling Additive and Subtractive
September 9, 2021
Panelists explore the intersection of additive and subtractive manufacturing.
Ford, HP Collaboration Turns 3D Printing Waste into Parts
May 24, 2021
Closed-loop process transforms recycled materials into injection-molded fuel line clips.
Getting Better All the Time: HP ZBook Studio G7 Mobile Workstation
May 3, 2021
HP makes their lightweight mobile workstation even thinner and smaller than previous versions.
3D Printing Throttles Up Skyline GT-R Replacement Parts
April 8, 2021
With partners SOLIZE and HP and help from 3D printing, Nissan optimizes production of NISMO Heritage Parts.
HP and Ford Team Up to Convert 3D Waste Into Auto Parts
March 26, 2021
Companies found way to extend life of already-used 3D printed powders and parts, turning them into auto components for Super Duty F-250 trucks, creating closed-loop on waste.
AMD Brings Power of Zen 3 to Mobile Processors for Business
March 19, 2021
Business notebooks from HP and Lenovo powered by AMD Ryzen PRO 5000 Series Mobile Processors provide performance and enterprise-class security solutions to meet demands of the workforce.
SOLIZE and HP Enable Sustainable 3D Production of Replacement Heritage Parts
March 17, 2021
SOLIZE, HP and Nissan share commitment to sustainable production, finding innovative ways to reduce, reuse and recycle.
Sustaining the Future of 3D Printing
February 26, 2021
Experts share their sustainability approaches for manufacturing the way to a more planet-friendly future.
3D Printing in a Post-COVID-19 World
December 31, 2020
Mass customization and flexibility ensure AM's role in the post-COVID world.
AMFG Collaborates With HP on Additive Manufacturing
December 8, 2020
Integration of HP 3D API with AMFG Additive MES software enables machine control and monitoring.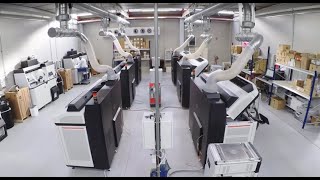 Weerg Doubles Its 3D Printing Department
November 19, 2020
Company reports its largest EMEA installation of HP Jet Fusion 5210 in Gardigiano with the new HP Automatic Unpacking Station.
Editor's Picks: Nov. 5-11, 2020
November 13, 2020
One of the picks will be chosen as DE's Editor's Pick of the Week.
Editor's Pick: Software platform made for fast additive manufacturing build prep
November 11, 2020
HP Universal Build Manager Powered by Dyndrite is an OEM- and process-agnostic tool and is said to be supported by many vendors.
Editor's Picks: Oct. 29-Nov. 4, 2020
November 6, 2020
One of the picks will be chosen as DE's Editor's Pick of the Week.
Latest News
Wild and Crazy Parts Competition Targets Students
Mastercam hosts annual competition to encourage secondary and post-secondary students to demonstrate creativity and technical skills in parts design.
Vitech Unveils GENESYS 2021 R2 Systems Engineering Software
Vitech announces the latest release of its model-based systems engineering platform.
Essentium to Become A Public Company
Essentium's sustainable manufacturing solution eliminates over 70% of waste versus traditional manufacturing; on-site printing reduces heavy logistics requirement and limits...
Industry 4.0 Responds to the Pandemic
More organizations turn to digital twins and centralized workflows to address supply chain challenges.
All posts