Top Story
A Window Into Tomorrow's Shop Floor
October 15, 2020
The transformation to digital manufacturing requires a combination of technology, processes and people.
In-Place Machining Company Acquires Exact Metrology
July 21, 2021
As part of the In-Place Machining Company long-term growth strategy, this acquisition will expand In-Place Machining Company's service offerings to include 3D scanning and more.
ESPRIT CAM Improves Productivity for Long-Part Machining
April 20, 2021
Offset-aware programming of spindle transfers and bar pulls helps manufacturers drive multi-channel CNC machinery with confidence, company says.
Mastercam Mill Developments Target Streamlined Manufacturing
March 4, 2021
Multiaxis features, 3D enhancements and 2D high-speed toolpaths combine with dozens of new enhancements in a software package intended to improve shop floor productivity.
OPEN MIND Debuts hyperMILL 2021.1 CAD/CAM Software Suite 
January 19, 2021
Innovations and enhancements optimize machining tools and molds and more.
CNC Cloud App MachiningCloud Launches E-Commerce
November 19, 2020
California-based MachiningCloud continues to expand its online offering of e-commerce tooling partners.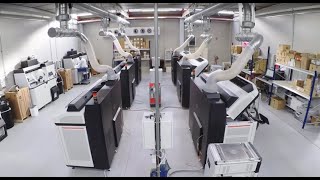 Weerg Doubles Its 3D Printing Department
November 19, 2020
Company reports its largest EMEA installation of HP Jet Fusion 5210 in Gardigiano with the new HP Automatic Unpacking Station.
Hexagon Releases New Machine Simulation Software
November 17, 2020
Virtual manufacturing software avoids quality issues machining complex parts, reduces time to simulate toolpath adjustments.
Hexagon Acquires DP Technology
November 2, 2020
DP Technology is a developer and supplier of computer-aided manufacturing (CAM) technology. 
Sandvik to Buy Software Company CGTech
October 22, 2020
Combined machining expertise of Sandvik Coromant and CGTech will enhance the Group's capabilities in machining intelligence and strengthen the software offering, companies say.
A Window Into Tomorrow's Shop Floor
October 15, 2020
The transformation to digital manufacturing requires a combination of technology, processes and people.
Mastercam Recreates Historic Water Wheel
September 30, 2020
American Precision Museum machines reproduction of manufacturing water wheel for new exhibit.
Sponsored Content
Check It Out: Apply Design Tips to Cut Part Production Costs
September 15, 2020
Protolabs has published a white paper, "Design Essentials for CNC Machining," that provides tips for designers to help reduce machining costs and more.
Direct Link to Machining Simulation to Help Boost Efficiency
August 26, 2020
SURFCAM 2021 includes integration with NCSIMUL manufacturing simulation software to connect the virtual and real for greater productivity, company says.
Mastercam Featured in TITANS of CNC Aerospace Academy
July 14, 2020
TITANS of CNC Aerospace Academy is a project-based platform teaching high-level manufacturers the skills necessary to produce complex aerospace parts using the most difficult materials.
Sponsored Content
Editor's Pick: Xometry Launches 2D Technical Drawing Marketplace
July 14, 2020
In midst of COVID-19 disruptions, custom manufacturing company provides U.S. shops with expanded access to jobs.
Latest News
Editor's Pick: 1-Meter Build Chambers for Professional 3D Printing
There's now an updated version of its ONE large-format 3D printer and a new PRO model with additional features for...
Aras Extends Leadership with Most Agile Release Cadence
Starting with Aras Innovator 14, new platform features, plus any updates to applications, connectors or platform components, will be released together...
Stratasys Advances Personalized Healthcare
Collaboration with Synopsys and Materialise gives customers access to FDA 510(k)-cleared workflows for diagnostic anatomic modeling.
QEV Technologies Uses 3DEXPERIENCE Platform for E-Mobility
Spanish specialist in technology and engineering for electric race cars deploys Dassault's platform on the cloud.
All posts