Top Story
Printing to Scale
May 2, 2022
Large-scale 3D printing projects require a new approach to architecture and planning.
Printing to Scale
May 2, 2022
Large-scale 3D printing projects require a new approach to architecture and planning.
Mastercam Multiaxis Machining Improves Productivity
January 7, 2022
It improves productivity with simultaneous four- and five-axis machining capability for Mastercam.
In-Place Machining Company Acquires Exact Metrology
July 21, 2021
As part of the In-Place Machining Company long-term growth strategy, this acquisition will expand In-Place Machining Company's service offerings to include 3D scanning and more.
ESPRIT CAM Improves Productivity for Long-Part Machining
April 20, 2021
Offset-aware programming of spindle transfers and bar pulls helps manufacturers drive multi-channel CNC machinery with confidence, company says.
Mastercam Mill Developments Target Streamlined Manufacturing
March 4, 2021
Multiaxis features, 3D enhancements and 2D high-speed toolpaths combine with dozens of new enhancements in a software package intended to improve shop floor productivity.
OPEN MIND Debuts hyperMILL 2021.1 CAD/CAM Software Suite 
January 19, 2021
Innovations and enhancements optimize machining tools and molds and more.
CNC Cloud App MachiningCloud Launches E-Commerce
November 19, 2020
California-based MachiningCloud continues to expand its online offering of e-commerce tooling partners.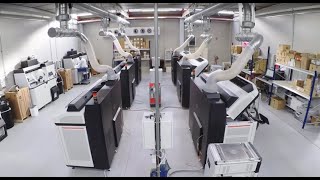 Weerg Doubles Its 3D Printing Department
November 19, 2020
Company reports its largest EMEA installation of HP Jet Fusion 5210 in Gardigiano with the new HP Automatic Unpacking Station.
Hexagon Releases New Machine Simulation Software
November 17, 2020
Virtual manufacturing software avoids quality issues machining complex parts, reduces time to simulate toolpath adjustments.
Hexagon Acquires DP Technology
November 2, 2020
DP Technology is a developer and supplier of computer-aided manufacturing (CAM) technology. 
Sandvik to Buy Software Company CGTech
October 22, 2020
Combined machining expertise of Sandvik Coromant and CGTech will enhance the Group's capabilities in machining intelligence and strengthen the software offering, companies say.
A Window Into Tomorrow's Shop Floor
October 15, 2020
The transformation to digital manufacturing requires a combination of technology, processes and people.
Mastercam Recreates Historic Water Wheel
September 30, 2020
American Precision Museum machines reproduction of manufacturing water wheel for new exhibit.
Sponsored Content
Check It Out: Apply Design Tips to Cut Part Production Costs
September 15, 2020
Protolabs has published a white paper, "Design Essentials for CNC Machining," that provides tips for designers to help reduce machining costs and more.
Direct Link to Machining Simulation to Help Boost Efficiency
August 26, 2020
SURFCAM 2021 includes integration with NCSIMUL manufacturing simulation software to connect the virtual and real for greater productivity, company says.
Latest News
Epic Games Teams Up with Autodesk
Their joint goal is to accelerate real-time, immersive design capabilities across industries.
Tech Soft 3D Launches CAE-Based CEETRON Toolkits
The CEETRON solutions enables software engineers to accelerate CAE application development at every stage of the process.
Quickparts Acquires Xcentric Mold & Engineering
Acquisition expands Quickparts' digital manufacturing offerings.
Simulation's Answer to Connected Car Complexity
The path to adopting advanced multiphysics design practices is complicated and multifaceted.
All posts