Top Story
Pushing the Design Envelope On the Go
February 1, 2020
With a new generation of visual designers, working anywhere in the world, CAD in the Cloud is emerging as a solution for mobile workers to build the future.
Sponsored Content
When Generative Design and Additive Manufacturing Come Together
February 7, 2020
Mergers and acquisitions forge new path for the duo
Pushing the Design Envelope On the Go
February 1, 2020
With a new generation of visual designers, working anywhere in the world, CAD in the Cloud is emerging as a solution for mobile workers to build the future.
Mixed Experiences Ring in New Era of Design Collaboration
February 1, 2020
AR/VR brings enhanced visual context to design collaboration, reducing time-to-delivery cycles and resulting in better products.
AI Rewrites the Possibilities of Digital Twin
January 31, 2020
Developers of the virtual design tool see AI as providing the catalyst for a major shift in product development.
PTC Partnering with Magic Leap
December 29, 2019
Goal is to further expand augmented reality in the enterprise.
Mindtree Launches an Immersive Technologies Experience Center in Collaboration with PTC
December 27, 2019
Immersive Aurora facility provides opportunities to enhance customer experience across augmented, virtual and mixed reality touchpoints.
Graebert to CAD Vendors: We Can Take You to the Cloud
December 5, 2019
Graebert conference presents the company's expanded vision for the cloud-based CAD technology.
Is AR/VR Ready to Go Beyond Visualization?
December 1, 2019
Storytelling is the dominant use of mixed reality devices at present, but may change in the future.
New Licensing Options Satiate Users' Appetite for Design Tool Flexibility
December 1, 2019
As the cloud gains traction and the digital business accelerates, CAD and CAE users are hungry for more flexible deployment and payment options.
AI-Accelerated Rendering
November 1, 2019
Artificial intelligence ushers in rendering democratization.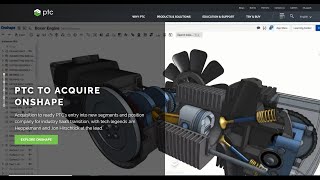 PTC Buys Onshape, xRS Brings Out Use of AR-VR in Training, More
October 31, 2019
In this episode of DE Video News Roundup, CAD and PLM vendor PTC buys cloud CAD Onshape for $470 million, xRS Conference brings out ARVR use in training, CAASE conference now open for paper proposals, DE seeks holiday-themed simulation projects to...
PTC Secures Top Spot in ABI Research's Enterprise AR Platform Assessment
October 30, 2019
The Enterprise AR Platforms assessment analyzed eight AR platform players operating today: PTC, Ubimax, RE'FLEKT, Atheer, Upskill, ScopeAR, Librestream and Fieldbit.
Design Group Joins PTC Partner Network
October 29, 2019
Partnership boosts PTC's technical capabilities for Design Group clients.
PTC Snatches Up Cloud CAD Pioneer Onshape
October 24, 2019
CAD and PLM giant PTC buys cloud CAD developer Onshape in a game-changing acquisition.
Subscription Pricing Meets the Design World
September 1, 2019
The desire for increased flexibility and an ongoing relationship with vendors is fueling a shift toward subscription-based pricing models.
Latest News
Noise & Vibration Seminar Heads to Lake Geneva, Wisconsin
This seminar, Noise & Vibration Quality Inspection Test, provides a basic understanding of sound and vibration principles along with a practical...
MTS Partners With Auburn University To Advance Additive Manufacturing
As part of the alliance agreement with the university, MTS will supply test equipment to Auburn's NCAME mechanical testing lab...
GKN Aerospace CTO to open new Additive Industries facility in UK
This center is part of the global network of Additive Industries Competence Centres, also located in Eindhoven, Los Angeles and...
Amcor Joins the Healthcare Plastics Recycling Council
Amcor's partnership with the Healthcare Plastics Recycling Council (HPRC) designed to help foster more sustainable practices and innovation across...
All posts