Top Story
AI-Accelerated Rendering
November 1, 2019
Artificial intelligence ushers in rendering democratization.
AI-Accelerated Rendering
November 1, 2019
Artificial intelligence ushers in rendering democratization.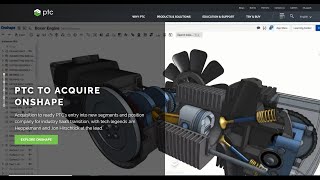 PTC Buys Onshape, xRS Brings Out Use of AR-VR in Training, More
October 31, 2019
In this episode of DE Video News Roundup, CAD and PLM vendor PTC buys cloud CAD Onshape for $470 million, xRS Conference brings out ARVR use in training, CAASE conference now open for paper proposals, DE seeks holiday-themed simulation projects to...
PTC Secures Top Spot in ABI Research's Enterprise AR Platform Assessment
October 30, 2019
The Enterprise AR Platforms assessment analyzed eight AR platform players operating today: PTC, Ubimax, RE'FLEKT, Atheer, Upskill, ScopeAR, Librestream and Fieldbit.
Design Group Joins PTC Partner Network
October 29, 2019
Partnership boosts PTC's technical capabilities for Design Group clients.
PTC Snatches Up Cloud CAD Pioneer Onshape
October 24, 2019
CAD and PLM giant PTC buys cloud CAD developer Onshape in a game-changing acquisition.
Subscription Pricing Meets the Design World
September 1, 2019
The desire for increased flexibility and an ongoing relationship with vendors is fueling a shift toward subscription-based pricing models.
Is Digital Transformation Stuck in Neutral?
July 1, 2019
Engineering has an appetite for new technologies to digitally transform, yet traditional silos and culture remain obstacles to large-scale success.
Digitalization Reveals Product Data Management Gaps
July 1, 2019
Vendors are redefining data management capabilities to address the diversity and large-scale data requirements of the digital thread.
Editor's Picks: June 6-12, 2019
June 14, 2019
One of the picks will be chosen as DE's Editor's Pick of the Week.
PTC Releases ThingWorx 8.5
June 13, 2019
New capabilities enable businesses to leverage the possibilities of industrial IoT.
AR Takes Center Stage at PTC 2019 LiveWorx
June 12, 2019
PTC announced new tools and alliances to boost adoption of AR to transform the industrial enterprise.
What's Old is New
June 12, 2019
CAD and PLM are playing a starring role in PTC's vision for the digitally-connected industrial enterprise.
Going Live with Real-Time Simulation
June 6, 2019
GPU-powered simulation advances democratization of simulation.
Rand 3D Brings Training Solutions to PTC LiveWorx 2019
June 3, 2019
Training and custom documentation solutions help maximize effectiveness of CAD and PLM software implementations.
Digital Twins and the New Reality
June 1, 2019
As mixed reality systems become more affordable, capable and easier to use, manufacturing is making use of mixed reality for digital twins.
Latest News
Editor's Picks: Nov. 7-13, 2019
One of the picks will be chosen as DE's Editor's Pick of the Week.
A Computational Modeling Platform for Building High-Performance Parts Faster 
nTopology nTop Platform 2.0 is software made for advanced manufacturing design. 
Sponsored Content
Editor's Pick: Automate New Design Space Workflows
nTop Platform 2.0 designed to help engineers design high-performance parts faster.
Looking Glass Factory Launches Oversize Holographic Display
Looking Glass Factory releases 32 inch holographic display called Looking Glass 8K
All posts