Top Story
Industrial-Grade, Mass Appeal
April 1, 2019
A new class of desktop 3D printers marries the consistency and flexibility of expensive large-scale printers with the accessibility of consumer-based offerings.
Industrial-Grade, Mass Appeal
April 1, 2019
A new class of desktop 3D printers marries the consistency and flexibility of expensive large-scale printers with the accessibility of consumer-based offerings.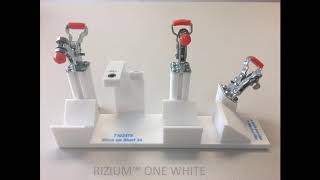 RIZE Brings Smart Spaces to the Desktop
March 31, 2019
Smart Spaces Solutions integrate 3D printing with other intelligent technologies, from augmented reality to blockchain.
Editor's Picks: March 21-27, 2019
March 28, 2019
One of the picks will be chosen as DE's Editor's Pick of the Week.
RIZE Unveils Smart Spaces for Innovation, Announces New Partnerships
March 27, 2019
With Dassault Systemes as an investor and strategic partner, RIZE says it has developed an end-to-end solution that connects the entire digital ecosystem within a company.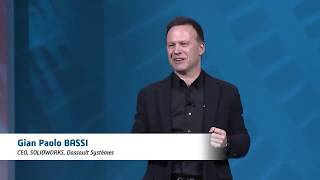 DE News Roundup: SolidWorks World 2019 Recap
February 15, 2019
Kenneth Wong narrates the top video news from this week at SolidWorks World 2019.
Formnext 2018 Pinpoints Anticipated Disruptions to Additive Manufacturing
November 27, 2018
Additive manufacturing hardware vendors shift from optimization for quality to optimization for speed and face competition from open-system material manufacturers.
RIZE Inc. Introduces XRIZE Desktop Industrial Additive Manufacturing Solution
November 12, 2018
The new desktop industrial additive manufacturing solution from Rize is made for creating vibrant, full-color functional parts with minimal post-processing. Multiple materials and IoT solutions allow flexibility and ROI.
RIZE and PSMI/Azoth Redefine the Manufacturing Tool Crib
June 29, 2018
To transform its supply chains, PSMI is fully embracing digital on-demand manufacturing, recently announcing its plan to install RIZE equipment directly at customer sites.
Bursting Additive Manufacturing's Last Bubbles
June 20, 2018
After decades of boasts and promises, additive manufacturing (AM) has finally joined the ranks of traditional industrial manufacturing processes.
3MF Format for 3D Printing: What it is, How to Use it
June 1, 2018
As more 3D printing equipment supports color, texture, multiple materials and other developments, 3MF will play a key role in simplifying the process for everyone.
An April Additive Manufacturing Odyssey: AMUG 2018
May 4, 2018
A recap of the Additive Manufacturing Users Group (AMUG) conference 2018.
Streamlining 3D Printing Post-Processing Opens Market Opportunities
June 1, 2017
By streamlining 3D post-processing, Rize's augmented polymer deposition technology enables additive manufacturing to take on short-run, end-use production parts applications and moves the 3D printer onto the engineer's desktop.
3D-Printing Highlights and Surprises from RAPID + TCT 2017
May 12, 2017
The buzz at the show was mostly that of the manufacturing, not prototyping, world.
Latest News
ZVerse and Shapeways Form Integration Partnership to Deliver 3D Design Solutions at Scale
The new strategic partnership provides Shapeways customers with access to ZVerse's artificial intelligence-driven design platform as well as its network...
Onshape Teams Up With Sandvik for Cloud CAD/CAM Integration
Companies' strategic partnership designed to reshape how manufacturers go from 3D product models to finished parts, according to companies.
SOLIDWORKS 2020 launches, CM Labs releases Vortex Studio 2019b, xRS Week set for October
SOLIDWORKS 2020 with improved assembly performance and flexible parts, CM Labs releases Vortex Studio 2019b with deformable terrain, xRS Week set...
Creaform adds Academia 50 3D Scanner to its Educational Solution Suite 
ACADEMIA 50 uses structured white light technology to scan objects made of any material, surface type or color, according to the...
All posts