Top Story
Self-Driving on Virtual Roads
December 1, 2018
Programs learn to navigate in digital highways.
VERICUT 8.2 Introduces an Optimization Module
December 14, 2018
VERICUT 8.2 adds Force Turning to optimize lathe turning, and mill-turn operations, when combined with Force Milling.
Find out What's New in Autodesk Netfabb 2019.1
December 14, 2018
Leading the list of updates are latticing, the new "CAD-friendly" interface, new machine integrations and some updates to Netfabb simulation.
Sponsored Content
Editor's Pick: Get Metal 3D Parts Right the First Time
December 12, 2018
The ESI Group's new solution suite could help process and manufacturing engineering departments as well as 3D printing bureaus shorten time frames and lower costs.
Siemens Partners with Modelon
December 7, 2018
OPTIMICA is an advanced Modelica-based mathematical engine on the market, built to natively support the Modelica and FMI open standards.
Self-Driving on Virtual Roads
December 1, 2018
Programs learn to navigate in digital highways.
Simufact Additive 4 Now on Market
November 27, 2018
Simufact Additive is a scalable, practitioner-oriented simulation solution predicting distortion, stress and temperature effects.
Editor's Pick: Make Managing Complexity Less Complex
November 19, 2018
Labyrinthine design processes and simulation data management can render informed decision-making tough going. This could be your path out of the maze.
Sponsored Content
Simulation, Validation and Robust Design Optimization Electronic Hardware Drop Test
November 16, 2018
In this webinar, we'll discuss how TV cable box electronic supplier ARRIS runs digital drop tests to verify if its components will continue to function as intended after a drop.
Siemens Introduces Additive Manufacturing Process Simulation Solution
November 16, 2018
The AM Process Simulation solution uses a digital twin to simulate the build process prior to printing, anticipating distortion within the printing process and automatically generating the corrected geometry to compensate for these distortions.
Technology Focus: Designing for Optimization & Simulation
November 15, 2018
Simulation is pervasive, with people from different departments and backgrounds discovering new ways to put it to use, in all of its varied forms.
Editor's Pick: Aero-Acoustics and Vibro-Acoustics Simulations Extended for Turbomachinery
November 14, 2018
New wizard helps predict tonal and broadband noise for turbomachinery.
Wizard Speeds Turbomachinery Acoustics Analyses
November 14, 2018
Integrated aero-acoustics and vibro-acoustics simulation suite updated.
Simulating Humans
November 9, 2018
HPC-backed in silico simulation could fuel the next revolution in clinical studies and treatment development.
ANSYS Startup Program Gaining Ground
November 6, 2018
More than 500 startups have joined the ANSYS Startup Program since inception.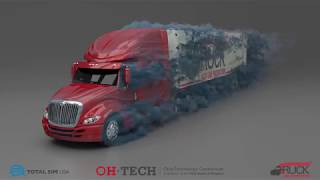 What Makes a Good Simulation App?
November 1, 2018
Simulation app makers weigh ease of use vs. functionality for specific uses cases.
Latest News
Hackrod is Using Lightworks' SLIPSTREAM to Design its Concept Speedster
Hackrod is using virtual reality prior to manufacturing the car using 3D printing processes.
Markforged Launches H13 Tool Steel for High-strength, High-temp Tooling Applications
The expansion into H13 will enable customers to print parts in high-strength, high-temperature applications...
IronCAD Unveils 20th Anniversary Edition CAD Release
The latest CAD release delivers enhanced Shrinkwrap capabilities, improved Smart eBehavior and a more...
EDEM Updates its Flagship Software
Features and tools are being introduced, including a Python library for easier post-processing of...
All posts