Top Story
University of Michigan Researchers Tout High-Speed 3D Printing Approach
February 6, 2019
The process employs dual light sources in place of an oxygen membrane to print at 100 times the print speed of conventional offerings.
Base 11 Awards Initial Prizes in $1M+ Student Rocketry Contest
June 28, 2019
Former astronaut Leland Melvin encourages students to persevere as they continue to build and test their rockets.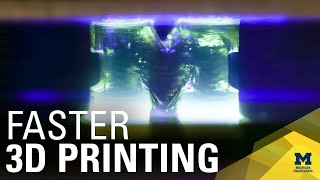 University of Michigan Researchers Tout High-Speed 3D Printing Approach
February 6, 2019
The process employs dual light sources in place of an oxygen membrane to print at 100 times the print speed of conventional offerings.
Mcity Adds Augmented Reality to Driverless Car Testing Roadmap
December 27, 2018
Researchers make the case for a hybrid autonomous vehicle test process that combines simulated vehicles and traffic scenarios with real-world test drives.
AutoDrive Competition Puts Student Engineers in the AV Driver's Seat
October 22, 2018
AutoDrive, sponsored by General Motors and SAE International, is tasking eight university-level student teams with developing and demonstrating a fully autonomous passenger vehicle by the end of year three.
Novum: Space-Grade Solar Arrays and Sleek Aerobody Power Solar Car's Race Day Chances
May 24, 2018
The solar car's goal was to use a smaller, more aerodynamic shape while employing higher efficiency, space-grade solar structures to make up the difference.
Patent Aims to Counter Motion Sickness in Self-Driving Cars
February 15, 2018
The system provides light stimuli in the visual periphery of the passenger to mimic what the rider might see outside, thus eliminating the conflict between vestibular and visual inputs, which is the primary cause of motion sickness in a moving...
Mcity Model IDs Connected Car Security Risks
January 15, 2018
To help engineers and developers address connected car security threats, the Mcity Threat Identification Model creates a framework that evaluates threats.
V2V Technology: A Work in Progress
September 1, 2017
Vehicle-to-vehicle communications promise life-saving innovations.
Humans Play Crash Test Dummy Role for Autonomous Vehicle Testing
August 15, 2017
Standard crash test dummies weren't optimal for testing the automated braking systems.
UM-Dearborn Students 3D Print Parts for Electric Car with EnvisionTEC
May 17, 2017
Battery cooling for a Formula SAE Electric race car, thanks to 3D printed ducts.
Students Get Hands Dirty With Integrated Product Design
March 24, 2017
By tasking students to evaluate a product from a real-world market forces standpoint, they are forced to consider product design trade-offs between feature set, price, market share, aesthetics and usability.
Simulation and Nanotechnology
July 1, 2016
What's new in nanotechnology, what's changed and where you can go for more.
Michigan Pulls Ahead In Autonomous Vehicle Race
June 28, 2016
Michigan tries to grab the mantle for leadership in connected and autonomous vehicles, a market predicted to reach 129 million vehicles sold between 2020 and 2035.
Sensing Ship Damage
June 1, 2016
3D printing helps students at the University of Michigan develop low-cost sensors for the U.S. Navy.
Materials: 3D Printing's Medical Miracle
October 1, 2015
Advances in material science coupled with modified 3D printing processes and new generative design software are ushering in an era of personalized medicine.
Latest News
ZVerse and Shapeways Form Integration Partnership to Deliver 3D Design Solutions at Scale
The new strategic partnership provides Shapeways customers with access to ZVerse's artificial intelligence-driven design platform as well as its network...
Onshape Teams Up With Sandvik for Cloud CAD/CAM Integration
Companies' strategic partnership designed to reshape how manufacturers go from 3D product models to finished parts, according to companies.
SOLIDWORKS 2020 launches, CM Labs releases Vortex Studio 2019b, xRS Week set for October
SOLIDWORKS 2020 with improved assembly performance and flexible parts, CM Labs releases Vortex Studio 2019b with deformable terrain, xRS Week set...
Creaform adds Academia 50 3D Scanner to its Educational Solution Suite 
ACADEMIA 50 uses structured white light technology to scan objects made of any material, surface type or color, according to the...
All posts