The Paradox of Choice
March 1, 2020
Thanks to the convergence of additive manufacturing technology, generative design software, more user-friendly simulation tools and access to nearly unlimited HPC resources and cloud-based infrastructure, the sky really is the limit when it comes to design possibilities.
ANSYS Advances 5G, High-Performance Computing and AI Design 
February 28, 2020
ANSYS RaptorH brings the HFSS solver engine to silicon chip design teams.
Aerion Selects Siemens' Portfolio to Enable Next Generation of Global Transportation Networks
February 28, 2020
Using Siemens' Xcelerator portfolio, Aerion can use advanced design and simulation software to speed aircraft development.
CAASE 2020 Preview: Boosting Diversity in Computer Science and Engineering
February 25, 2020
Simulation conference keynote speaker discusses ways to increase diversity in computer science and engineering
Autodesk Unveils People-Centered Subscription Plan
February 24, 2020
Software giant to retire legacy licensing plans based on serial numbers in favor of a named-user strategy.
CoreTechnologie Launches Simplified CAD Models for Digital Factory Planning
February 24, 2020
The Simplifier enables a smooth and fast processing of large CAD models.
New hyperMILL 2020.1 CAD/CAM Suite Offers 3D and Five-Axis Machining Enhancements
February 21, 2020
The new version includes key new automation and additive manufacturing strategies.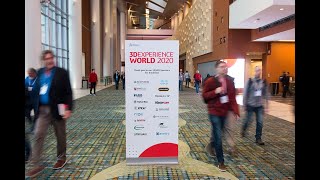 3DEXPERIENCE World 2020 Highlights, Altium Launches Web-based PCB Viewer, AMD Releases Radeon Pro W5500
February 20, 2020
SolidWorks World returns under parent company Dassault Systemes' 3DEXPERIENCE Brand
Arcimoto FUV Goes on a Lightweighting Ride
February 19, 2020
Using generative design tools and AM, XponentialWorks helps Arcimoto reduce part sizes to squeeze more performance out of the electric vehicle.
Editor's Pick: Latest PolyJet 3D Printer Offers "Designed for Designers" Feature Set 
February 19, 2020
Stratasys J826 PolyJet 3D printer rounds out the company's line of line of full-color, multi-material photopolymer 3D printers as a model "designed for designers."
Designairspace Launches CAD in the Cloud Plan
February 19, 2020
P-4000 Bare Metal will be available to subscribers in North America and Europe via three data centers, giving them maximum performance and minimum latency, the company says.
Elysium's Solution Supports Dassault Systèmes' 3DEXPERIENCE in the Digital Supply Chain
February 19, 2020
Greater automation helps users save time and achieve the benefits of MBD/MBE in multi-CAD environments, companies say.
SoftInWay Partners with Siemens
February 18, 2020
The new partnership with Siemens Digital Industries Software means an expansion of the software portfolio for SoftInWay's clients.
Sponsored Content
Better Informed Decision Making, Optimized Product Designs
February 18, 2020
Design review is a critically important part of the product development process and is starting to change dramatically.
Visual Integrity Releases pdf2cad Version 12
February 18, 2020
Advanced features added for layers, fonts and security.
Latest News
Editor's Pick: NVIDIA-powered data center for high-performance applications
BOXX FLEXX rack-mounted data center platform is made for complex product development workflows.
Digital Metal's New Software Upgrade Delivers Triple its Print Speed
This allows for significantly larger production volume per time unit while keeping the component quality, company says.
Campbell Hall 3D Prints Masks and Face Shields for Medical Community
School hopes to inspire others in education to join the movement.
Razorleaf Corporation Launches Manufacturing Suite for Aras Innovator Platform
Company extends PLM capabilities to automate processes for manufacturers.
All posts