Altair Buys Univa
September 14, 2020
Move solidifies Altair's position in workload management and cloud enablement for high-performance computing.
Mastercam Now Features New SGS Round Solid Carbide Tool Libraries
September 11, 2020
Provides seamless import of SGS round solid carbide tools into toolpath operations, company says.
FREE WEBINAR SERIES: Product Development in the Cloud
September 11, 2020
Join Autodesk to learn about the impact of cloud technology on product development and collaboration.
Hawk Ridge Systems Acquires Quest Integration
September 11, 2020
Merger provides advanced 3D design tools and additive manufacturing expertise to fast-growing regional manufacturers in the West.
Centric Software Pioneers 3D PLM for Long-term Market Recovery 
September 8, 2020
Centric PLM's complete 3D workflow from design to sampling to e-commerce is designed to cut costs and speed time to market.
Autodesk Manufacturing Summit: Betting on Generative Design and Additive Manufacturing
September 4, 2020
Autodesk showcases Fusion 360 during virtual event, promotes generative design and 3D printing for collaborative product development during the new normal.
InfiPoints Supports CAD Modeling
September 1, 2020
New Elysium release has automatic feature extraction from point-cloud data scanned with unmanned aerial vehicless and mobile mapping systems.
AR Market Forecast to Grow Exponentially in Near Future
August 31, 2020
Major factors that are contributing to the growth of the market include increasing demand for AR devices from various industry verticals including health care and others.
Synchronoss and Bricsys Partner to Manage Communications Networks
August 31, 2020
New agreement gives telecom network service providers the ability to choose from a variety of licensing options for the same functionality as traditional CAD interfaces.
Aucotec Debuts 3D Portal
August 28, 2020
3D portal in Engineering Base secures 24/7 data exchange.
3D Scanning Accelerates Production of Custom Roof Racks 
August 28, 2020
NVision's 3D laser scanning captured the geometry of vehicles' roof profiles and the data was incorporated into the CAD files used to create the custom-fit racks.
Indy Challenge to Use RTI Software to Build and Race Autonomous Vehicles 
August 27, 2020
RTI provides university teams with software to design, simulate and run autonomous vehicles in world's first high-speed, head-to-head autonomous race
SIGGRAPH 2020: Intel Launches oneAPI Rendering Tool Kit
August 24, 2020
CPU leader Intel eases into the GPU-dominated rendering market with with new offering oneAPI Tool Kit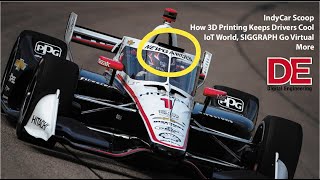 IndyCar Scoop on How to Keep Drivers Cool, IoT World and Siggraph Go Virtual, More
August 20, 2020
In August 20 Episode of DE News Roundup, 3D printed device keeps cockpit cool at IndyCar, IoT World and Siggraph go virtual, SimulationHub uses CFD design airborn contagion isolation rooms
GstarCAD 2020 SP2 Now Released
August 17, 2020
GstarCAD features improvements centered around performance and stability.
Latest News
Editor's Pick: A comprehensive toolset for electronics design and testing 
Keysight Technologies PathWave suite update includes five new modules to help engineers remove computational limitations that traditionally make electronics design...
Migrating Engineering Workloads to the Azure Cloud –
An FLSmidth case study from UberCloud.
MathWorks Updates Simulink Real-Time
Software enhancements involve rapid control prototyping and hardware-in-the-loop testing capabilities with QNX Neutrino Realtime Operating System (RTOS).
Radica Software Partners with Onshape on Electrical CAD
Electra Cloud now available on Onshape's app store to offer end-to-end solutions including 3D, electrical, pneumatic hydraulics and soon...
All posts