Zuken, CADENAS and ECAD-Port to Cooperate on Component Library
November 20, 2018
Zuken has signed a partnership agreement with CADENAS, a provider of online component libraries, and ECAD-Port, a specialized provider for electrical components library services.
Keysight Technologies Enables ON Semiconductor to Deliver a Design Solution for Power Devices
November 19, 2018
Keysight's Power Electronics Design Bundle is built for power electronics engineers, delivering a design workflow for power device design.
Mouser Electronics Partners with SamacSys
November 19, 2018
Through the partnership, Mouser Electronics and SamacSys will offer engineers free PCB footprints, schematic symbols and 3D models.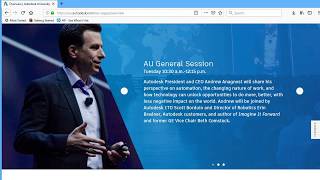 DE News Roundup: November 16, 2018
November 16, 2018
3D printing study on particle emission risk, Autodesk improves generative design, PLM vendor Arena Solutions buys rival Omnify, Nano Dimensions 3D prints radio frequency amplifier.
3MF 3D Printing Format Adopted By 17 Companies
November 16, 2018
Autodesk, HP, Microsoft, Siemens, others use 3MF for additive manufacturing solutions.
Technology Focus: Designing for Optimization & Simulation
November 15, 2018
Simulation is pervasive, with people from different departments and backgrounds discovering new ways to put it to use, in all of its varied forms.
Graebert Technology Enables Dassault Systemès DraftSight to Advance Interoperability
November 13, 2018
Graebert sees itself as the arms merchant for the war to liberate CAD from the desktop. It sells a three-part portfolio of DWG-based CAD software under the ARES brand name for desktop (Commander), mobile (Touch), and cloud (Kudo). It also...
Generative Design Challenges Old Paradigms from the Parametric Era
November 12, 2018
The genesis of generative design can be traced back to simulation software, with topology optimization as the intermediary evolutionary step. Generative design software uses time-tested structural, fluid and thermal simulation technologies; however, instead of asking the user to provide the...
International TechneGroup Offers GoToINVENTOR Solution for Autodesk Customers
November 12, 2018
New CAD conversion software to be featured at Autodesk University in Las Vegas.
BOXX Named Sponsor of SOLIDWORKS User Groups 
November 9, 2018
The designated SOLIDWORKS Solution Partner and manufacturer of SOLIDWORKS-certified workstations will provide information, product benchmarks and more. 
Nomination Period for 2019 Design for Recycling Award Now Open
November 6, 2018
ISRI Award recognizes manufacturers & others who design with recycling in mind.
ZW3D 2019 Beta Contains Plethora of CAD/CAM Highlights
November 5, 2018
ZW3D 2019 Beta delivers enhancements and new functions that solve complex design challenges and facilitate detail works in engineering.
Sponsored Content
Windows Explorer Wasn't Made For Engineers
November 5, 2018
Engineers spend, on average, 15 percent of their time managing data. How much time do you waste managing your design data?
Sponsored Content
Go Beyond CAD File Management
November 5, 2018
Your design files are now managed perfectly with PDM. Now what?
Sponsored Content
Compelling Product Configuration Drives Efficiency and Leads
November 5, 2018
Vent-A-Hood streamlines the design and engineering of custom range hoods with Autodesk solutions for 3D modeling, engineering automation, and data management.
Latest News
Partner Content
CAD Embedded CFD: Overhyped, but a Good Value for Some
One particularly beneficial aspect of CAD-embedded or CAD-linked CFD is its potential for enabling...
Partner Content
How Ascensia Diabetes Care Instituted new PLM, ERP and CRM Solutions in 18 Months
New enterprise resource planning (ERP) and product lifecycle management (PLM) systems needed to be...
Hackrod is Using Lightworks' SLIPSTREAM to Design its Concept Speedster
Hackrod is using virtual reality prior to manufacturing the car using 3D printing processes.
Markforged Launches H13 Tool Steel for High-strength, High-temp Tooling Applications
The expansion into H13 will enable customers to print parts in high-strength, high-temperature applications...
All posts