Product Realization and Visualization Software in your Pocket  
October 9, 2019
CAD Schroer i4 AR-Viewer for smartphones enables complex 3D models to be viewed as they would appear in a real-world environment. 
Editor's Pick: A Simple and Useful Tool for Product Visualization 
October 9, 2019
CAD Schroer i4 AR-Viewer for smartphones extends company's expertise to product visualization beyond the bounds of typical CAD software. 
Elysium Provides Quality Information Framework (QIF) for Translation and Validation to/from CAD
October 8, 2019
New software capability connects design, manufacturing and quality inspection phases and streamlines workflows to support MBD/MBE.
New Augmented Reality Viewer Designed to Bring 3D Models to Life
October 7, 2019
The new AR-Viewer i4 Augmented Review enables the display of 3D models within a realistic environment.
Sponsored Content
VCollab Solves Simulation Collaboration Challenges
October 7, 2019
VCollab merges information from multiple CAE and CAD files into a single 3D, vendor-neutral, and compact format for analysis and collaboration.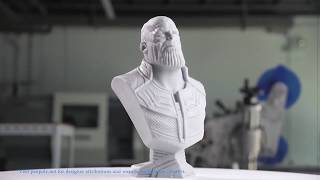 HOOPS Summit Brings Out VR Developers, ANSYS-Autodesk Partner to Cater to Automotive, New Large-Format 3D Printer, More
October 3, 2019
HOOPS Summit Brings Out VR Developers, ANSYS-Autodesk Partner to Cater to Automotive, New Large-Format 3D Printer, More
Taylor Attachments Modernizes With a 3D Design Workflow
October 2, 2019
Farm equipment manufacturer trades time-consuming manual processes for a streamlined workflow that incorporates 3D scanning and CAD modeling.
With UX, the User Drives Design
October 1, 2019
Market changes are causing engineers to redefine what UX design means.
Designing Machines in the Age of the IIoT
October 1, 2019
To design equipment for the new digital age, engineers are reinventing the product design process.
KeyCreator 2019 Review: Agile Despite its Age
October 1, 2019
The latest release improves on one of the original 3D CAD programs.
Cobra Aero Takes Off on DfAM Journey
October 1, 2019
Partnership with Renishaw helps specialty manufacturer optimize UAV engine design for metal AM production.
Enabling the Designer Material Era of Additive Manufacturing
October 1, 2019
The consensus: It's a long path from defining the science to delivering the technology.
Cimatron CAD/CAM Software Enables the Design and Manufacture of More Complex Molds
October 1, 2019
Cimatron software reduces tooling design time by up to 50% and delivery time by up to 20%, company reports.
Fast Radius Puts Curtiss Motorcycles on a Manufacturing Fast Track
September 30, 2019
A hybrid manufacturing approach, including AM for complex parts, helped the firm meet an accelerated design and build cycle for its new Zeus 8 electric motorcycle.
Kubotek Announces New Model Revision Comparison Product
September 26, 2019
The new program assures effective communication during the hand-off of engineering changes between product design and manufacturing.
Latest News
Looking Glass Factory Launches Oversize Holographic Display
Looking Glass Factory releases 32 inch holographic display called Looking Glass 8K
Siemens Buys Atlas 3D
Atlas 3D helps designers define optimal part orientations for "right first time" 3D printing; cloud-based, GPU-accelerated Sunata software can reduce...
Accellera Issues Standardization Initiative to Address Design Automation and Tool Interoperability for Functional Safety
Proposed working group established to determine industry interest for a standard to support a functional safety flow.
Aleph Objects Bought by FAME 3D
Aleph Objects is best known for its LulzBot line of 3D printers.
All posts