Boom Supersonic Debuts Symphony Engine for Overture
December 20, 2022
Boom-led collaboration brings together ompanies across design, manufacturing and maintenance.
3D Rendering Market Expected to be Worth USD$12.52 billion by 2029
December 20, 2022
To achieve a substantial market share in the worldwide 3D rendering market and strengthen their position, manufacturers are pursuing various expansion methods.
The Value of Digital Transformation Across the Asset Lifecycle
December 20, 2022
Improved productivity, is one of many significant operational benefits that digital transformation can have on an business.
Nextech AR Announces Plans For IPO Spin-Out Of 3D Design Studio Toggle3D
December 19, 2022
The move targets the $11 Billion CAD market shift to 3D commerce.
Make48 Hosts 48-hour Design Challenge for Kansas State School for the Blind
December 16, 2022
Make48 hosts design challenge for Kansas State School of the Blind, contest sponsored by Onshape
Hexagon Asset Lifecycle Intelligence Division
December 16, 2022
Hexagon's Asset Lifecycle Intelligence division helps clients design, construct, and operate more profitable, safe, and sustainable industrial facilities.
Luna Rossa Prada Pirelli Adopts Siemens Xcelerator as a Service
December 15, 2022
Luna Rossa Prada Pirelli uses Siemens Xcelerator as a Service to accelerate development of the AC75 America's Cup yacht.
Partnership Provides G-Code Simulation Within Mastercam
December 13, 2022
Simulate the entire machining process with the click of a button.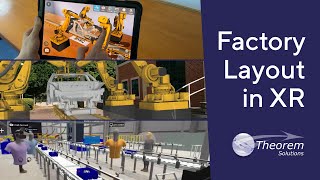 Bridge the Gap Between Digital and Physical by Using XR for Planning and Layout
December 13, 2022
Using Extended Reality (XR) is helping to bridge the gap between the digital and physical when creating and planning factory and plant layouts.
Data Conversion from the Mechanical CAD System to BIM
December 9, 2022
Bridging two different CAD systems, CAD-to-BIM Translator transfers models and their properties from one format to another.
Zuken and CSA Catapult Present Results of an R&D Collaboration
December 9, 2022
R&D collaboration provides electronics engineers with optimized tools to generate 3D models of power modules.
Quick Electromagnetic Analysis of PCB Design
December 7, 2022
Autodesk Fusion 360 Signal Integrity Extension by Ansys reduces costs and improves compliance.
Epic Games to Use HOOPS Exchange for CAD Import
December 6, 2022
Epic Games switches to HOOPS Exchange for handling CAD model import
What's New in Arnold?
December 2, 2022
Autodesk product enables optimization of rendering and much more.
CADEditorX 15 Released
November 28, 2022
Users can download a free 45-day trial version.
Latest News
Podcast: Revolution in Simulation
DE chats with Malcolm Panthaki, co-founder of Revolution in Simulation, about their mission to expand the reach of simulation technology.
Partnership Accelerates Additive Manufacturing Material Qualification
Dyndrite, MIMO Technik and ASTRO Mechanical Testing team to qualify 3D print materials for aerospace and defense.
MATLAB Test Enables Test Management at Scale
MATLAB and Simulink Release 2023a Includes new and updated blocksets and toolboxes that simplify model-based design for the aerospace and...
Additive Manufacturing Industry Grew 23 Percent in 2022
SmarTech estimates AM market reached $13.5 billion in 2022, and will grow to $25 billion in 2025.
All posts