Sponsored Content
NVIDIA-Powered Data Science Workstations
September 11, 2020
Combining the power of NVIDIA Quadro RTX GPUs with accelerated CUDA-X AI data science software, NVIDIA-Powered Data Science Workstations deliver a new breed of fully integrated workstations for data science.
Sponsored Content
NVIDIA Quadro for Data Centers
September 11, 2020
Meet the most demanding visual computing challenges by bringing the power of NVIDIA Quadro RTX GPUs and NVIDIA virtual GPU software to the data center.
Sponsored Content
NVIDIA RTX Server
September 11, 2020
Take visual computing to the next level with NVIDIA RTX™ Servers which combine NVIDIA Quadro RTX GPUs with NVIDIA virtual GPU software for maximum performance and cost savings.
Sponsored Content
NVIDIA Quadro RTX
September 11, 2020
Whether implementing massive CAD models, performing complex engineering simulations or interactively rendering photorealistic images directly from CAD files, NVIDIA® Quadro® RTX™ GPUs deliver the performance you need to tackle these graphics and compute intensive tasks.
Sponsored Content
Simplify HPC Licensing for Parametric Studies
September 10, 2020
Ansys offers a single solution for enabling simultaneous execution of multiple design variations using standard high-performance computing licenses.
Altair Extends OEM Agreement With Hewlett Packard Enterprise
September 3, 2020
The decision of HPE and Altair to renew their commitment to collaborate will ensure that HPC users can benefit from the functionality of the latest iteration of PBS Professional.
HP Enhances Remote Collaboration With Z by HP
September 2, 2020
Secure and manageable workstations designed to deliver new levels of performance.
Rackspace Technology, UC Irvine, Scientific Systems and Plan4Co Debut COVID-19 Forecasting Model
August 27, 2020
The team—experts in medical, academic, data science and forecasting fields—showed that hospitalizations and deaths can be better forecasted by using the Rackspace Technology solution compared to other commonly used forecasts.
Students Use AI for a Better COVID-19 Prediction Model
August 26, 2020
How a spring term class project morphed into a race to track and predict the virus.
SIGGRAPH 2020: A Peek Behind LAIKA's Stop Motion Magic
August 25, 2020
Oscar-nominated stop-motion film studio discusses how AI and Machine Learning accelerate rotoscoping
SIGGRAPH 2020: Intel Launches oneAPI Rendering Tool Kit
August 24, 2020
CPU leader Intel eases into the GPU-dominated rendering market with with new offering oneAPI Tool Kit
Eurocom Launches Mobile Supercomputer
August 21, 2020
It will feature a user-upgradable, NVIDIA RTX 2080 Super (Non-Max Q) desktop graphics card.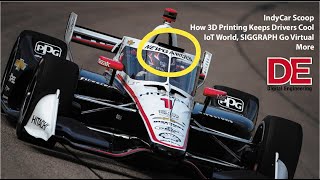 IndyCar Scoop on How to Keep Drivers Cool, IoT World and Siggraph Go Virtual, More
August 20, 2020
In August 20 Episode of DE News Roundup, 3D printed device keeps cockpit cool at IndyCar, IoT World and Siggraph go virtual, SimulationHub uses CFD design airborn contagion isolation rooms
Editor's Pick: Major update from leading .DWG editor
August 19, 2020
The IntelliCAD Technology Consortium (ITC) introduces IntelliCAD Release 10, a major update of its drafting solution. 
FREE WEBINAR: How the Cloud is Revolutionizing Product Development 
August 17, 2020
Learn how cloud-based product development tools can further your digital transformation strategy.
Latest News
ExOne Awarded Contract to Develop High-Strength Steel for US Air Force
Parts additively manufactured with AF-9628 are about 20% stronger than conventional AM alloys.
Ball Aerospace to Deploy 3DEXPERIENCE Platform as Manufacturing Solution
The 3DEXPERIENCE platform works as a single integrated solution to support program execution activities.
HOOPS Toolkits Bring 3D Capabilities to Manufacturing Hub
Eurostep brings 3D data access and visualization to its flagship solution, with aim to simplify global manufacturing processes.
Hexagon Kicks Off 100%EV Automotive Initiative
Goal is to boost electric vehicle development.
All posts