Russian Scientists Use Supercomputer to Tackle COVID-19
April 3, 2020
An international research team uses recently upgraded HPC system to develop diagnostics and treatment against COVID-19.
NVIDIA Offers Free Access to Genome-Sequencing Software to COVID-19 Researchers
April 3, 2020
GPU maker NVIDIA hopes to accelerate virus research by giving away free licenses of Parabricks software
Calling All COVID-19 Researchers: Rescale Team Wants to Help
April 1, 2020
Rescale, Google Cloud Platform, and Microsoft Azure report they will fund millions in computing for those working on COVID-19 research.
Server and Enterprise Storage Systems Markets to Decline in 2020 as Result of COVID-19 Pandemic
March 30, 2020
Impact on market to be felt worldwide.
BOXX Introduces New NVIDIA-Powered Data Center System and More at GTC Digital
March 27, 2020
Multiple NVIDIA Quadro GPUs accelerate high-performance computing applications.
Sponsored Content
VPLP Design Revolutionizes Hydrofoil Design with Advanced Simulation Technology
March 27, 2020
VPLP managed to reduce the simulation time of their design process by a factor of 8 while assessing more physics than before.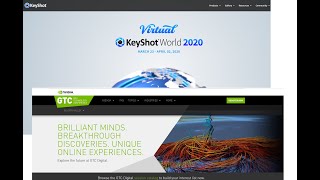 NVIDIA GTC and KeyShot World Go Virtual, 3D Printing Rushes to Produce PPE, More
March 26, 2020
Tech conferences switch to virtual events under lockdown, additive manufacturers spring into action to fight virusoutbreak
Sponsored Content
Relaunching Commercial Supersonic Air Travel
March 26, 2020
With pre-orders and options for 30 Overture airliners from Japan Airlines and Virgin Group already booked, the race is on to design the next generation supersonic plane.
Sponsored Content
Democratizing Marine CFD for Maneuvering
March 25, 2020
New scalable cloud solution has allowed thousands of marine engineers and naval architects access to industry-leading CFD.
Altair Offers Hosted, Temporary Licenses in Response to COVID-19
March 23, 2020
Altair will offer temporary software licenses and hosted licenses for displaced end users.
Sponsored Content
Fast Borehole Acoustic Simulations
March 23, 2020
This webinar will cover an introduction to OnScale for borehole acoustic simulation, as well as Live demo of running open hole sonic simulations in parallel on the cloud.
Sponsored Content
Using Synthetic Datasets to Train Embedded AI
March 20, 2020
This study demonstrates training and validating embedded AI algorithms using synthetic datasets derived from large numbers of parametric cloud simulations.
GTC Digital Draws 25K Registration, and Growing
March 19, 2020
GPU event switches to digital due to Coronavirus concerns, draws 25K registration
Folding at Home: Put Your GPUs to Work to Fight COVID-19
March 19, 2020
Crowd-sourced HPC project from Stanford University let you donate idle computing cycles for virus research.
OnScale Responds to COVID-19 With Rx for Engineering Productivity
March 18, 2020
Cloud simulation provider offers free cloud core-hours to customers grappling with office shutdowns.
Latest News
Saratech acquires Apex DMS Inc., a Siemens PLM software business, from the Sconce Group
Apex DMS is a Siemens PLM software business, from the Sconce Group.
Siemens Updates Simcenter System Simulation Solutions
These system simulation solutions help enable engineers to rapidly build models before the first physical prototype becomes available.
DE Podcast: Analyst Jon Peddie Explains COVID-19's Effect on the GPU Market
JPR releases graphics market report for 2020 Q1, shipments down, growth blunted by Coronavirus and shutdowns
Mastercam 2021 is Now Released
CAD/CAM developments streamline the manufacturing process from job setup to job completion.
All posts