Deep Learning and Design Engineering
March 1, 2019
Designers incorporate AI and deep learning into new products and in their own design processes.
NVIDIA Quadro RTX 8000 Now Available from PNY Technologies
February 25, 2019
AMD Radeon Pro Software for Enterprise 19.Q1 Features SolidWorks Performance Improvements
February 22, 2019
Radeon Pro Software for Enterprise 19.Q1 updates product design workflows with features aimed at boosting designer and engineer productivity.
Contex Completes the HD Ultra X Scanner Series with Two Models
February 21, 2019
The series now includes 36- and 42-in. models, completing the range of scanning solutions for Contex's newest line of premium scanners.
Ultimaker Unveils new Platform Services with Ultimaker Cloud
February 21, 2019
Future-ready cloud platform designed to support the 3D printing workflow.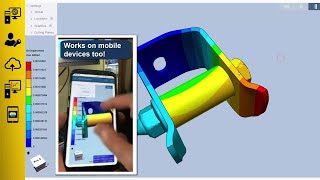 ANSYS Provides Path to Cloud HPC
February 20, 2019
ANSYS Cloud delivers on-demand cloud HPC access within the ANSYS portfolio to democratize simulation.
Sponsored Content
Making the Case for a Workstation-Centered Workflow
February 18, 2019
Paper helps you communicate the causes of your computing frustrations and plots out a path to rectify them.
Partner Content
Visual Manufacturing
February 15, 2019
Modern CAM tools benefit from high-end visualization to keep up with faster speeds, more complex toolpaths.
Partner Content
Configure Your Workstation for SolidWorks
February 15, 2019
Experts weigh in on the best hardware and SolidWorks settings to use in order to maximize engineering design productivity.
3Dconnexion Devices Now Compatible with SolidWorks xDesign
February 12, 2019
The update will take effect after SolidWorks World conference.
BOXX Demos Fast Intel-based SolidWorks Workstation at SolidWorks World 
February 11, 2019
Product showcases also include an AMD Ryzen Threadripper desktop workstation, new laptops and a server.
ANSYS Launches ANSYS Cloud to Boost Business Agility
February 5, 2019
ANSYS Cloud enables instant access to cloud HPC from within ANSYS flagship products.
Lenovo ThinkStation P520: Affordable Power
February 1, 2019
We review the latest mainstream Lenovo tower workstation.
Epson Introduces Workgroup Scanner
January 29, 2019
New DS-970 and DS-870 are said to be robust scanners for environments where speed is needed.
Sponsored Content
Advancing Product Design Workflows in Manufacturing
January 21, 2019
Radically Improve Design, Collaboration, and Time to Market with the World's Most Advanced Visual Computing Platform.