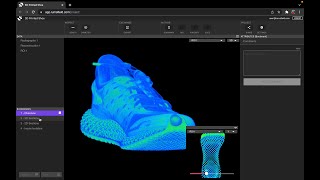 CT Scan for Engineering Parts
May 9, 2022
Lumafield develops CT scanner for engineering diagnosis
New SolidWorks CEO Discusses AI, Generative Design, Virtual Twins
March 11, 2022
Long-time R&D veteran Manish Kumar steps up to become CEO, envisions natural interactions driven by AI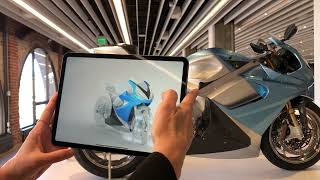 San Francisco-based Autodesk Gallery reopens
March 9, 2022
The newly reopenned San Francisco-based Autodesk Gallery exhibits highlight AR/VR apps for real-time CFD, generative design projects.
Podcast: Transforming the Process of Simulation
January 25, 2022
With VCollab, 3D Digital CAE Reports can be created no matter what major CAE solver a company is using.
Podcast: Better, Faster Engineering Workstations
January 25, 2022
Velocity Micro has nearly 25 years of experience building ultra-fast workstations optimized for CAD, CAM, and other design applications.
Podcast: How CoLab is Modernizing Collaboration for Mechanical Engineering Teams
January 25, 2022
CoLab's web-based platform makes it easy to securely share and review CAD with anyone.
Podcast: Remove Silos, Rethink Designs & Accelerate Your Work on One Platform
January 25, 2022
The 3DEXPERIENCE platform helps users collaborate and share their work, no matter where they are.
Sponsored Content
Podcast: HPC Everywhere
January 20, 2022
In this podcast, we talk to TotalCAE about cloud and on-premises HPC resources
Sponsored Content
Podcast: Additive Manufacturing Without Compromise
January 6, 2022
Velo3D fulfills the original promise of AM by providing a complete end-to-end metal 3D printing solution for mission-critical parts
Sponsored Content
Podcast: Simulate Early and Often
January 6, 2022
Broad access to simulation: it's a matter of survival for engineering teams. SimScale is making it happen —now.
Sponsored Content
Podcast: People, Processes and Technology Orchestration in One Platform
January 5, 2022
ESTECO VOLTA moves to the next level by introducing a business process management layer on top of the Simulation Product and Data Management, and Design Optimization capabilities.
Sponsored Content
Podcast: Ultrafast 3D Design at the Desktop
January 5, 2022
Design engineering teams face tight deadlines and high demands. A digitized, ultrafast 3D print workflow can maximize productivity and exceed quality expectations.
DE Editors' Chat: NVIDIA GTC Fall, Autonomous Cars on Campuses, Haptic Devices at AWE, and More
December 10, 2021
DE Editors discuss news from NVIDIA GTC Fall, Autonomous Cars on Campuses, Haptic Devices at AWE, and More
AWE 2021: Haptic Devices and Training Apps Hint at AR's Future
December 1, 2021
Augmented World Expo welcomes in-person attendees. Haptic devices and training applications offer clues to Augmented Reality's future in entertainment and enterprise use.
Sigma Labs on Metal AM's Maturity for Mass Production
October 26, 2021
Sigma Labs VP Jacob Brunsberg discusses QA and Regulatory Challenges
Latest News
Sunway Communication Partners with BMF
Partnership to focus on development of next-gen antenna.
NUBURU and Essentium Partner
Collaboration to enable the companies to launch blue laser-based wire feed metal 3D printers.
BMW Group and Ansys Co-Developing Simulation Software
The two companies join forces to implement simulation capabilities leading to advances in automated/autonomous vehicle technology.
Hopium Uses Dassault Systèmes' 3DEXPERIENCE Platform
Plan is for Hopium to design and develop Its hydrogen-powered high-end vehicle, companies say.
All posts