Purdue University Uses Machine Learning to Classify Mechanical Objects
November 20, 2020
Purdue University mechanical engineers creates comprehensive open-source annotated database of more than 58,000 3D mechanical parts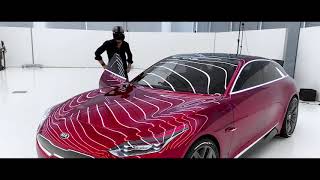 SOLIDWORKS 2021 highlights, KIA uses Varjo ARVR and Autodesk VRED, NVIDIA announces Omniverse
October 23, 2020
SOLIDWORKS 2021 highlights, KIA uses Varjo ARVR and Autodesk VRED, NVIDIA announces Omniverse
Podcast: Is Your Car a Good Listener?
September 23, 2020
Acoustic Simulation Experts from COMSOL and Dassault Systemes Simulia Discuss Audio Analysis in Automotive
Podcast: Desktop Metal AM 2.0, Going Public, More
September 21, 2020
Metal AM hardware maker discusses the technology's transition from prototyping to manufacturing
Podcast: Autodesk's Lisa Campbell discusses AU Virtual, Subscription Model, Pandemic's Impact
September 17, 2020
Autodesk's Chief Marketing Officer Lisa Campbell on going virtual with AU, customer adoption of subscription model, more
SIGGRAPH 2020: A Peek Behind LAIKA's Stop Motion Magic
August 25, 2020
Oscar-nominated stop-motion film studio discusses how AI and Machine Learning accelerate rotoscoping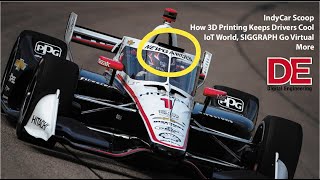 IndyCar Scoop on How to Keep Drivers Cool, IoT World and Siggraph Go Virtual, More
August 20, 2020
In August 20 Episode of DE News Roundup, 3D printed device keeps cockpit cool at IndyCar, IoT World and Siggraph go virtual, SimulationHub uses CFD design airborn contagion isolation rooms
3MF Joins Linux Foundation: How Will This Change Your 3D Printing Workflow?
August 11, 2020
3MF Consortium's Exec. Director Luis Baldez discusses STL vs. 3MF, benefits of joining Linux Foundation, and more
Fictiv, Xometry Discuss Manufacturing Interruptions from COVID 19
July 28, 2020
On-demand manufacturing service providers urge supply chain shuffling, seeking local partners closer to home.
Podcast: CT Scanning Improves Product Quality
July 21, 2020
In our latest podcast, Ashley Bray of Volume Graphics describes the benefits of CT scanning for inspection and quality analysis, as well as how the technology combined with the right software can bridge the gap between simulation and reality.
PODCAST: Shutdown's Impact on Workstation Purchase, Electronics Manufacturing
July 16, 2020
Lenovo and MacroFab discuss mobile workstation sales and PCB production during the new normal
OVR: Stop and Smell the Roses in VR
June 15, 2020
Company aims to augment VR with sense of smell via its Architecture of Scent system.
DE Podcast: Analyst Jon Peddie Explains COVID-19's Effect on the GPU Market
June 4, 2020
JPR releases graphics market report for 2020 Q1, shipments down, growth blunted by Coronavirus and shutdowns
DE Podcast: Reexamining the Role of Digital Twins in the Era of Social Distancing
June 3, 2020
Ansys discusses the use of digital twins in engineering projects while following social distancing rules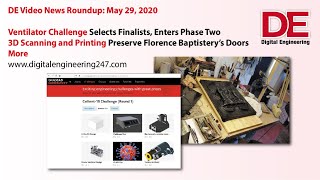 DE Video News Roundup: Update on CoVent 19 Ventilator Design Challenge, 3D Print and Scan in Medieval Church Restoration, More
May 27, 2020
In Video News Roundup for May 29, 2020, the Covent-19 ventilator design challenge enters phase II, 3D printing and scanning firm Prototek helps restore Florence Baptistery cathedral door, Autodesk Fusion 360 adds 3D printing tools, 3D Heals virtual conference set for June
Latest News
Materialise Sees Sustainability as the Future of 3D Printing
Company focuses on reduction in waste, improvement in material re-use.
Sponsored Content
HPC Helps JSP Perform Ansys Simulations up to 35% More Efficiently
HPC boosts simulation efficiency.
Safran Transmission Systems Picks MSC Software to Manage Simulation Data
Web-based simulation and test data management system addresses all phases from project initiation through product launch and beyond.
GrabCAD Print Integrates With KeyShot Rendering Software
KeyShot by Luxion is real-time 3D rendering software that allows for intuitive designs and renders.
All posts