Sponsored Content
Podcast: Next-Generation CFD
December 7, 2020
Nextflow Software CEO Vincent Perrier discusses the future of computational fluid dynamics.
AU 2020 Virtual: AI-related acquisition, AEC digital twin, CFD-based generative design, and more
November 18, 2020
At Autodesk University 2020 Virtual, Autodesk announces Spacemaker acquisition, previews Autodesk Tandem, highlights flow-based generative design in Fusion 360.
CFD on the Menu for Cafeteria Re-opening Plan
October 26, 2020
Working with Dassault, GEA leverages simulation and digital twin technology to understand aerosol spread as it works to safely re-open its employee cafeteria.
SOLIDWORKS 2021: GPU-Accelerated for Better Performance
October 8, 2020
SOLIDWORKS 2021 returns with more improvements in performance, modeling, and simulation.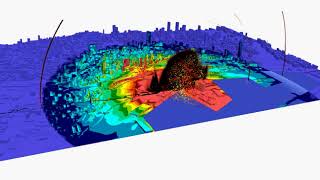 CFD Sheds Light on Beirut Explosion
September 28, 2020
Blast simulations by Arup and SSSL provide greater insight into causes of the tragedy, and how the explosion affected surrounding structures.
Pointwise Accelerates Surface Meshing
July 2, 2020
New release provides 5X faster surface meshing for CFD.
CAASE20 Presentation: Justifying Spending More on Simulation During a Crisis
June 16, 2020
Presenter argues investment in R&D during the crisis is the key to beat competition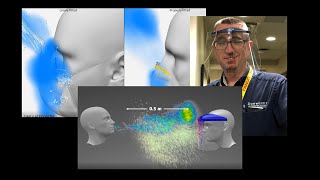 3D printers rally to make PPE, simulation examines social distancing
April 8, 2020
Professional and hobbyist 3D printers join the race to make PPE, simulation reveals social distancing's effectiveness
Big Compute 20: Tackling the Big Issues for a Better Future
March 2, 2020
HPC service provider Rescale and partners host conference on use of high performance computing
Simcenter STAR-CCM+ Improves Simulation Time, Accuracy
March 2, 2020
STAR-CCM+ 2020.1 includes includes automatic coupled solver control, and collaborative VR features.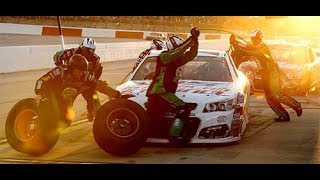 Digital Twin Helps RCR Race to the Finish Line
December 2, 2019
Simulation and technology advances like the digital twin give RCR drivers an edge in horsepower and performance.
Moffitt Streamlines Custom Vent Designs With Discovery Live
October 16, 2019
With ANSYS real-time simulation, customers can visualize natural ventilation solutions quickly, shortening design cycles and accelerating sales.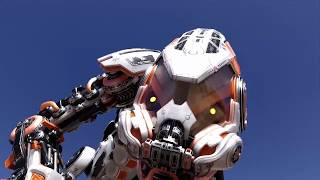 Chaos Group previews Project Lavina, SimScale releases radiation simulator, Onshape recognized by World Economic Forum
August 16, 2019
In this episode of DE News Roundup, Chaos Group previews Project Lavina for real time ray tracing, SimScale releases radiation simulation tool, Onshape recognized as a Technology Pioneer by World Economic Forum
Pointwise Adds Native Interface to Design Software ESP
March 11, 2019
Although it's mostly a maintenance release, it includes new geometry model importa and user interface updates.
LDRA Partners with Siemens to Boost Traceability and Verification for Critical Embedded Systems
March 5, 2019
LDRA tool suite integration features bidirectional traceability, automates impact analysis and enables Polarion users to reduce the cost of compliance with safety-critical standards, company reports.
Latest News
Engineering Services Outsourcing Market Size Worth $8,126.49 Billion by 2029
Corporations are putting money into R&D and concentrating on offering personalized solutions to their clients, research company reports.
Lufthansa Technik Uses Ansys Technology
Partnership enables Lufthansa to develop and certify AeroSHARK technology for more sustainable aviation, companies report.
FARO Partners With Hologate
HGXR systems will integrate FARO digital scanning technology.
Is AI Ready to Make Autonomous Vehicles a Reality?
Automotive OEMs are bringing the power of artificial intelligence to the development of self-driving cars.
All posts