Leadership Profile: Cadence' John Chawner Discusses the Evolution of CFD
January 17, 2023
Cadence expands from electronics to system-wide simulation with acquired technologies
DE Leadership Profile: ESTECO on the Spread of Predictive Simulation
January 9, 2023
ESTECO's President Carlo Poloni discusses how the purpose of simulation shifts from verification to prediction
FREE WEBINAR DEC. 13: Simulation-Driven Design of High Performance Thermal Systems for Industrial Machinery
November 25, 2022
In this webinar, learn how to address challenges related to the design of thermal systems for industrial machinery using SIMULIA's Computational Fluid Dynamics (CFD) solutions.
Innovation Leadership Through Unified Modeling & Simulation
August 16, 2022
For innovation to thrive and for companies to transform, the people, their knowledge, contributions, ideas, and know-how have to come together at the right time with the right tools. Transformation requires change.
SimScale Plans Premiere Sustainability Analysis Event
August 3, 2022
Cloud-hosted simulation software maker SimScale launches a live event on climate change and simulation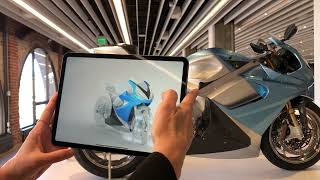 San Francisco-based Autodesk Gallery reopens
March 9, 2022
The newly reopenned San Francisco-based Autodesk Gallery exhibits highlight AR/VR apps for real-time CFD, generative design projects.
Rhino Flow RT CFD Now in Beta Phase
August 13, 2021
Simerics is looking for beta testers for its early release program.
Siemens' Simcenter Portfolio for CFD Expands
May 4, 2021
The latest version includes new functionality allowing designers to use a seamless working environment, and enhancements that extend thermal simulation capabilities.
STAR-CCM+ Gets AWS HPC Thumb's Up
March 26, 2021
Latest CFD release has achieved AWS HPC Competency status.
Advanced CFD at the Helm in Competitive Sailing
March 1, 2021
New rules in America's Cup encourage virtual testing.
CFD Keeps Boats Afloat in the America's Cup
March 1, 2021
Despite COVID disruptions, sailing teams discover new ways to simulate the unexpected.
Simulating the Way to COVID Safety
February 23, 2021
MSC Cradle CFD simulation explores the impact of ventilation and social distancing on in-door dining scenarios to promote safe practices aimed at reducing the spread.
Sponsored Content
Podcast: Boost Engineering Productivity
December 9, 2020
Numeca president Charles Hirsch discusses how OMNIS can improve engineering productivity.
Sponsored Content
Podcast: Next-Generation CFD
December 7, 2020
Nextflow Software CEO Vincent Perrier discusses the future of computational fluid dynamics.
AU 2020 Virtual: AI-related acquisition, AEC digital twin, CFD-based generative design, and more
November 18, 2020
At Autodesk University 2020 Virtual, Autodesk announces Spacemaker acquisition, previews Autodesk Tandem, highlights flow-based generative design in Fusion 360.
Latest News
Weber State Installs Impossible Objects CBAM 3D Printer
The Composite-Based Additive Manufacturing (CBAM) system is installed at Weber State University's MARS Center at Hill Air Force Base, UT.
What's New in Simcenter Mechanical Simulation
Simcenter Mechanical tools let users model the complexity of products.
Asking the Right Questions About HPC for Simulation
The answers to those questions may shed light on what services are most needed.
Matterport to Provide Digital Twin Platform for John Deere Operations
John Deere will use Matterport's digital twin platform to streamline facilities and operations management to boost responsivity and productivity,...
All posts