Innovation Leadership Through Unified Modeling & Simulation
August 16, 2022
For innovation to thrive and for companies to transform, the people, their knowledge, contributions, ideas, and know-how have to come together at the right time with the right tools. Transformation requires change.
SimScale Plans Premiere Sustainability Analysis Event
August 3, 2022
Cloud-hosted simulation software maker SimScale launches a live event on climate change and simulation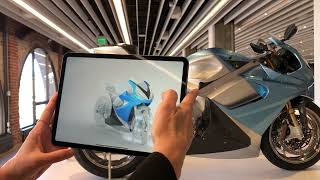 San Francisco-based Autodesk Gallery reopens
March 9, 2022
The newly reopenned San Francisco-based Autodesk Gallery exhibits highlight AR/VR apps for real-time CFD, generative design projects.
Rhino Flow RT CFD Now in Beta Phase
August 13, 2021
Simerics is looking for beta testers for its early release program.
Siemens' Simcenter Portfolio for CFD Expands
May 4, 2021
The latest version includes new functionality allowing designers to use a seamless working environment, and enhancements that extend thermal simulation capabilities.
STAR-CCM+ Gets AWS HPC Thumb's Up
March 26, 2021
Latest CFD release has achieved AWS HPC Competency status.
Advanced CFD at the Helm in Competitive Sailing
March 1, 2021
New rules in America's Cup encourage virtual testing.
CFD Keeps Boats Afloat in the America's Cup
March 1, 2021
Despite COVID disruptions, sailing teams discover new ways to simulate the unexpected.
Simulating the Way to COVID Safety
February 23, 2021
MSC Cradle CFD simulation explores the impact of ventilation and social distancing on in-door dining scenarios to promote safe practices aimed at reducing the spread.
Sponsored Content
Podcast: Boost Engineering Productivity
December 9, 2020
Numeca president Charles Hirsch discusses how OMNIS can improve engineering productivity.
Sponsored Content
Podcast: Next-Generation CFD
December 7, 2020
Nextflow Software CEO Vincent Perrier discusses the future of computational fluid dynamics.
AU 2020 Virtual: AI-related acquisition, AEC digital twin, CFD-based generative design, and more
November 18, 2020
At Autodesk University 2020 Virtual, Autodesk announces Spacemaker acquisition, previews Autodesk Tandem, highlights flow-based generative design in Fusion 360.
CFD on the Menu for Cafeteria Re-opening Plan
October 26, 2020
Working with Dassault, GEA leverages simulation and digital twin technology to understand aerosol spread as it works to safely re-open its employee cafeteria.
SOLIDWORKS 2021: GPU-Accelerated for Better Performance
October 8, 2020
SOLIDWORKS 2021 returns with more improvements in performance, modeling, and simulation.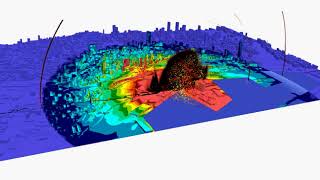 CFD Sheds Light on Beirut Explosion
September 28, 2020
Blast simulations by Arup and SSSL provide greater insight into causes of the tragedy, and how the explosion affected surrounding structures.
Latest News
Epic Games Teams Up with Autodesk
Their joint goal is to accelerate real-time, immersive design capabilities across industries.
Tech Soft 3D Launches CAE-Based CEETRON Toolkits
The CEETRON solutions enables software engineers to accelerate CAE application development at every stage of the process.
Quickparts Acquires Xcentric Mold & Engineering
Acquisition expands Quickparts' digital manufacturing offerings.
Simulation's Answer to Connected Car Complexity
The path to adopting advanced multiphysics design practices is complicated and multifaceted.
All posts