FREE WEBINAR Dec. 7: High-Accuracy Simulation of Aircraft Aerodynamics with CFD
October 29, 2023
In this webinar, our experts will guide you through the entire workflow for aircraft aerodynamic CFD simulations.
Engineering Analysis: The Good, the Bad and the Ugly
October 26, 2023
At the Oct. 26 Design & Simulation Summit, learn best practices for performing engineering analysis to improve simulation performance.
AI Goes to Space
October 13, 2023
Artificial intelligence can help augment simulation activities for space applications.
SimScale Adds Joule Heating Simulation for the Power Electronics Industry
March 8, 2023
SimScale Adds Joule Heating Simulation for the Power Electronics Industry with Automatic Post-Processing Tools
FREE WEBINAR MARCH 16: Harmonic CFD Simulation of Drones (UAVs) Using Fidelity
February 16, 2023
In this webinar, experts will guide you through a four-bladed quadcopter drone harmonic simulation in the Cadence Fidelity CFD Platform.
Leadership Profile: Cadence' John Chawner Discusses the Evolution of CFD
January 17, 2023
Cadence expands from electronics to system-wide simulation with acquired technologies
DE Leadership Profile: ESTECO on the Spread of Predictive Simulation
January 9, 2023
ESTECO's President Carlo Poloni discusses how the purpose of simulation shifts from verification to prediction
FREE WEBINAR DEC. 13: Simulation-Driven Design of High Performance Thermal Systems for Industrial Machinery
November 25, 2022
In this webinar, learn how to address challenges related to the design of thermal systems for industrial machinery using SIMULIA's Computational Fluid Dynamics (CFD) solutions.
Innovation Leadership Through Unified Modeling & Simulation
August 16, 2022
For innovation to thrive and for companies to transform, the people, their knowledge, contributions, ideas, and know-how have to come together at the right time with the right tools. Transformation requires change.
SimScale Plans Premiere Sustainability Analysis Event
August 3, 2022
Cloud-hosted simulation software maker SimScale launches a live event on climate change and simulation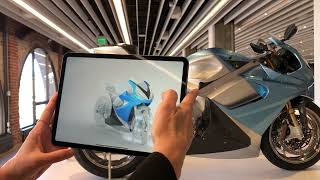 San Francisco-based Autodesk Gallery reopens
March 9, 2022
The newly reopenned San Francisco-based Autodesk Gallery exhibits highlight AR/VR apps for real-time CFD, generative design projects.
Rhino Flow RT CFD Now in Beta Phase
August 13, 2021
Simerics is looking for beta testers for its early release program.
Siemens' Simcenter Portfolio for CFD Expands
May 4, 2021
The latest version includes new functionality allowing designers to use a seamless working environment, and enhancements that extend thermal simulation capabilities.
STAR-CCM+ Gets AWS HPC Thumb's Up
March 26, 2021
Latest CFD release has achieved AWS HPC Competency status.
Advanced CFD at the Helm in Competitive Sailing
March 1, 2021
New rules in America's Cup encourage virtual testing.
Latest News
CIMdata Supports the PLM Green Global Alliance
CIMdata's Sustainability and Green Energy Practice Director Mark Reisig will moderate the Alliance's coverage of PLM and Green...
SprutCAM X Updates with Collision Avoidance
Collision Avoidance option now features an updated calculation algorithm.
Introducing Autodesk Fusion Industry Cloud
Built on the Autodesk Design & Make Platform, Fusion industry cloud is designed to transform product design and manufacturing by unifying...
ESTECO, Optimad Partner to Offer Embedded Explainable AI
This venture will bring machine learning and explainable artificial intelligence capabilities into ESTECO software solutions, the company reports.
What Will Digital Twins Look Like in 5 Years?
A clear definition and view of the technology is only now taking shape.
Flow Science Releases FLOW-3D POST 20
FLOW-3D POST 2023R2 introduces support for a new results file format that enables faster postprocessing, the company reports.
All posts