Top Story
Parametric Design Optimization with CORTIME
March 1, 2019
Walk through a linear buckling optimization using CORTIME.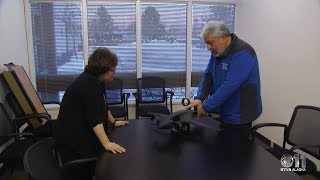 Autonomous Cargo Drone Does Heavy Lifting
March 27, 2019
Sabrewing has designed two hybrid-electric aircraft that can autonomously deliver hundreds of pounds of cargo to remote locations.
EnginSoft USA Joins PTC Partner Network for Creo and Creo Simulation Live 
March 21, 2019
EnginSoft USA provides customized solutions for complex simulations.
Parametric Design Optimization with CORTIME
March 1, 2019
Walk through a linear buckling optimization using CORTIME.
Humanetics Innovative Solutions Partners With SATT Conectus Alsace
February 21, 2019
Partnership built around distributing Strasbourg University Finite Element Head Model - Head Injury Prediction Tool, developed by the University of Strasbourg.
NAFEMS World Congress 2019 Preview
February 20, 2019
The international association for the engineering modeling, analysis and simulation community, hosts the NAFEMS World Congress June 17-20 in Quebec, Canada.
NAFEMS Names Speakers for NAFEMS World Congress 2019
February 12, 2019
The international association for the engineering analysis community launches extensive roster of keynotes for its biennial world congress in Quebec.
Transition to Simulation: Spectrum of FEA Analysis, Part 2
February 1, 2019
This month, we continue exploring the spectrum of FEA to include even more available tools. If you enjoy designing mechanical systems, you'll naturally want to take every opportunity to develop the most robust and well-tested products.
Licensed to See
January 31, 2019
Ophthalmology startup uses a parametric digital eye model to develop presbyopia treatments.
Mechanical Simulation Releases CarSim, TruckSim, BikeSim, and SuspensionSim 2019.0 
January 23, 2019
The VehicleSim products CarSim, TruckSim, and BikeSim have featured high-fidelity math models for vehicle dynamics that can reproduce physical test results.
MSC Software Debuts MSC Nastran 2019.0 and MSC Apex
January 18, 2019
MSC Nastran is a FEA solver that enables simulation of various multidisciplinary engineering problems. The latest MSC Apex release, Iberian Lynx, enables enhanced interoperability between MSC Apex and MSC Nastran.
BETA CAE Systems Launches v19.1.0 of its Software Suite
January 14, 2019
This release of v19x provides enhancements in the recently introduced functionality of v19x series.
The Spectrum of FEA Analysis
January 1, 2019
This month's column explores the common swath of tools available inside the simulation toolbox.
Meshless FEA Opportunities
January 1, 2019
Is there a future for meshless methods in mainstream analysis?
Sponsored Content
Transhield Has Innovation Covered
December 4, 2018
Custom protective covering company increases efficiency by 6X and lowers cost with just one FARO® Focus3D X 130 Laser Scanner.
Renishaw Extends Paramatters Collaboration
November 26, 2018
The joint partnership is focused on optimized lightweighting and automation of metal additive manufacturing.
Latest News
Hexagon Releases Latest Update of EDGECAM
New release supports fast 5-axis machining tools; software features barrel cutter support and new gun drilling cycle.
Systems Engineering Software Update Advances Multidiscipline Simulation
Siemens PLM Software releases a full plate of new features in Simcenter Amesim 2019.1. 
Sponsored Content
Editor's Pick: Multi-domain Systems Analysis Just Got Easier
Siemens PLM Software updates Simcenter Amesim with new features in four broad categories.
Researchers Freeze-Print Graphene Battery Anodes
A team at Kansas State University used a freeze printing approach to create sodium ion batteries with hybrid graphene aerogels.
All posts