Simufact Forming 16 Simulation Software Launches
June 20, 2019
The upcoming release covers highlights and improvements to create simulation models, set up complex manufacturing processes and more.
Rand Simulation Launches Turbomachinery Offering
June 20, 2019
The company has enhanced its collaborative consulting and overall business practice to include expertise focused on the turbomachinery industry.
Altair SIMSOLID Walkthrough
June 1, 2019
For this overview, Tony Abbey says he was was able to explore design configurations very rapidly—and this prompted further exploration into alternative configurations such as an integral fitting.
Simulation Transition: Materials
June 1, 2019
It is fundamentally essential to understand how your simulation software incorporates the mechanical properties of materials.
FEATool Multiphysics MATLAB FEA Toolbox 1.10 Available
May 14, 2019
New update features an updated and fully integrated graphical user interface with built-in and interactive step-by-step multiphysics simulation examples.
DLR Advances Crack Prediction in Ceramic Matrix Composites Using MultiMech
May 14, 2019
Research designed to reduce development time of novel CMC materials.
PROSTEP Sponsors the Formula Student DART Racing Team
May 3, 2019
The team is developing an electric racing car for the international Formula Student university design competition.
Simulation Transition: Meshing Nuts and Bolts
May 1, 2019
It's essential to understand the fundamentals of how to adjust a mesh to obtain accurate and reliable results.
Get Cracking with ANSYS Workbench 19.2
May 1, 2019
Walk through a fracture analysis using ANSYS Separating Morphing Adaptive Remeshing Technology.
Sponsored Content
Editor's Pick: Faster Composites Simulation Improves Predicting Carbon Fiber Performance
May 1, 2019
MultiMechanics MultiMech 19.0 composite simulation software specializes in finite element analysis of carbon fiber and other composites.
COMSOL Debuts COMSOL Client for Android
April 26, 2019
New release enables engineers and students to run simulation applications from an Android device.
Aras Expands Partnership with MSC Software Corporation
April 23, 2019
Collaboration focuses on enhanced simulation process and data management.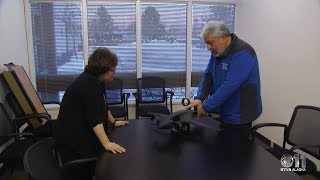 Autonomous Cargo Drone Does Heavy Lifting
March 27, 2019
Sabrewing has designed two hybrid-electric aircraft that can autonomously deliver hundreds of pounds of cargo to remote locations.
EnginSoft USA Joins PTC Partner Network for Creo and Creo Simulation Live 
March 21, 2019
EnginSoft USA provides customized solutions for complex simulations.
Parametric Design Optimization with CORTIME
March 1, 2019
Walk through a linear buckling optimization using CORTIME.
Latest News
ExOne Awarded Contract to Develop High-Strength Steel for US Air Force
Parts additively manufactured with AF-9628 are about 20% stronger than conventional AM alloys.
Ball Aerospace to Deploy 3DEXPERIENCE Platform as Manufacturing Solution
The 3DEXPERIENCE platform works as a single integrated solution to support program execution activities.
HOOPS Toolkits Bring 3D Capabilities to Manufacturing Hub
Eurostep brings 3D data access and visualization to its flagship solution, with aim to simplify global manufacturing processes.
Hexagon Kicks Off 100%EV Automotive Initiative
Goal is to boost electric vehicle development.
All posts