Top Story
Superworkstations!
June 1, 2019
Design engineering workstations have become extremely powerful—where does it make sense to invest your IT budget?
SparkFun Electronics Releases First Open-Source, U.S.-Manufactured Embedded Systems Module
June 25, 2019
SparkFun makes technology that runs the TensorFlow machine-learning platform easy to implement and deploy at an ultra-low power.
Bright Cluster Manager Is Now Qualified Software Stack for Intel Select Solutions for Simulation & Modeling
June 18, 2019
Bright Cluster Manager is a commercial cluster management software designed to automate the process of installing, provisioning, configuring, managing, and monitoring clusters.
Sponsored Content
AI Workstations for Data Science
June 17, 2019
AI Workstation maximizes productivity, reduces time to insight, and lowers the cost of your data science projects in one robust, readily deploy able solution.
Sponsored Content
Artifical Intelligence for Media & Entertainment
June 17, 2019
Within the Media & Entertainment industry, AI is rewriting all the rules about how to create content.
Superworkstations!
June 1, 2019
Design engineering workstations have become extremely powerful—where does it make sense to invest your IT budget?
Edge Computing Opportunities and Frustrations
May 1, 2019
Balancing quality and quantity of edge data presents a difficult challenge.
Sensory Brings Natural Language Understanding to the Edge with TrulyNatural
April 29, 2019
TrulyNatural offers a fast voice interface without privacy concerns.
Editor's Pick: New Machine Learning and Data Intelligence Support for Engineering Simulation  
March 13, 2019
Autonomous optimization helps simplify complex engineering processes.
Partner Content
Artificial Intelligence, Machine Learning and Deep Learning for Design
March 8, 2019
Break down the buzzwords to understand and successfully apply AI.
Making Autonomous Vehicles Smarter
March 1, 2019
Combining real-world info and simulated conditions to build a data set.
Machines Learn Differently
March 1, 2019
This commentary gets practical about one set of AI technologies that's just about ready for broader adoption: machine learning (ML).
Deep Learning and Design Engineering
March 1, 2019
Designers incorporate AI and deep learning into new products and in their own design processes.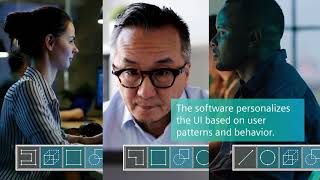 NX Gets an AI-Driven UX Makeover
February 20, 2019
The new NX Adaptive UI harnesses AI and machine learning to dynamically create user interfaces based on user behavior.
Siemens Updates NX Software with Artificial Intelligence and Machine Learning
February 19, 2019
Latest release of NX software enhanced with new capabilities that leverage machine learning and artificial intelligence technology to create user interfaces based on expected tasks to increase user adoption.
Sponsored Content
Editor's Pick: Machine Learning Boosts Modeling Methods
January 16, 2019
Automating your simulation workflows can help speed optimal design discovery.
Latest News
Predicting Structural Instability Due to Plastic Hinge Collapse Mechanism
Designing structures based on conditions where loading results in full plastic yielding that creates structural instability where the structure collapses...
Volkswagen updates classic van with generative design, RoboCup flexes autonomous muscles, more
In this episode of DE Video News roundup, VW uses Autodesk Fusion to reshape Microbus, autonomous robots play soccer, Onshape...
Editor's Picks: July 11-17, 2019
One of the picks will be chosen as DE's Editor's Pick of the Week.
HP Unveils New Performance Options for Z6 Workstations
New configurable options for Z6 G4 workstations feature Intel Xeon W CPUs that are designed for creative workloads like 3D...
All posts