Harvey Mudd College Professor on Teaching Robotics, Circuit Design in Lockdown
May 11, 2020
Harvey Mudd College Professor continues teaching circuit design and robotics lab courses under lockdown using take-home Arduino kits
MecSoft Sets Up Partnership with RoboDK
May 8, 2020
This partnership enables users of MecSoft's CAM products the ability to use robots for milling.
PTC's Onshape Teams Up With FIRST For Design Competition
April 17, 2020
FIRST, a nonprofit that offers robotics competitions for students primary/secondary students, has partnered with PTC for a virtual design competition.
Robotic Research Uses Innovations to Assist Health Care in COVID-19 Crisis
April 17, 2020
DC-area engineering firm produces reusable face shields for region's hospitals, offers sterile 3D printer patent for COVID applications globally.
FANUC America Partners With TITANS of CNC to Help Bridge the Skills Gap
March 12, 2020
The education platform offers students the support, education and training to help prepare them for careers in high-tech manufacturing.
3D Printing Company SQ4D Prints 3-Bedroom Home in 48 Hours
January 20, 2020
The home is 1,900 square feet and took 48 hours of print time, over an 8-day period.
Robots Are Going Soft
December 1, 2019
Materials innovations are helping create less rigid, more compliant robotic structures.
Will Robots Find a Place in the Smart Home?
November 1, 2019
For developers and engineers, emerging "social robot" applications are still a work in progress.
Robotics Innovation Challenge Call For Entries Now Open
October 14, 2019
Earn a prize for a new technology or idea that will benefit the wearable robotics Industry.
MathWorks Releases 2019b of MATLAB and Simulink
September 19, 2019
In addition, R2019b introduces new products in support of robotics, new training resources for event-based modeling, and updates and bug fixes across the MATLAB and Simulink product families.
Robotics Engineering Takes to the Seas
September 1, 2019
The International Robotic Sailing Regatta (SailBot) is a robotic sailing competition held in North America.
WIN Enterprises Announces the MB-65040 Mini-ITX with Intel Scalable Skylake Processor
August 23, 2019
MB-65040 supports the Intel Skylake-S CPU and Intel H110 chipset.
SparkFun Works with NVIDIA to Release Two New Kits
August 16, 2019
JetBot AI Kit Powered by the NVIDIA Jetson Nano and a Materials Kit for NVIDIA's "Getting Started on AI with Jetson Nano."
SME, Stratasys Announce Winners of FANUC-Inspired SkillsUSA Additive Manufacturing Competition
July 23, 2019
Six teams—three high school and three college teams—received top honors for the designs they created during the three-day contest.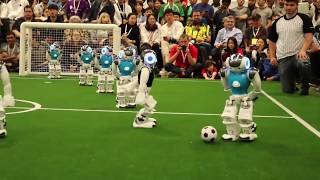 Volkswagen updates classic van with generative design, RoboCup flexes autonomous muscles, more
July 18, 2019
In this episode of DE Video News roundup, VW uses Autodesk Fusion to reshape Microbus, autonomous robots play soccer, Onshape study finds PLM insights, more
Latest News
Ansys and Rockwell Automation Optimize Industrial Operations
Rockwell Automation's latest release of Studio 5000 Simulation Interface now connects to Ansys Twin Builder.
ASME and Carbon Survey Finds Large Gains for 3D Printing in Manufacturing
Report shows that nearly all respondents now use a 3D printing process for manufacturing.
MakerBot Report Highlights 3D Printing Use in Remote Learning Environments
Findings from MakerBot's new trend report on 3D printing in education show its significance to continue engaging students and...
Xaar and Meteor Inkjet Partner With Dyndrite
Companies deliver integrated, optimized 3D CAD-to-inkjet printhead development environment enabling OEMs to quickly invent new raster inkjet machines.
All posts