Sponsored Content
Check It Out: HPC Maximizes the Value of Ansys Mechanical
September 24, 2020
Developers updated the company's simulation solutions to leverage access to faster processors storage systems, and communication sockets available in modern high-performance computing clusters.
Sponsored Content
Check It Out: Turnkey HPC for Simulation
September 21, 2020
Ansys has partnered with TotalCAE, Intel and Dell EMC to create a managed and totally integrated HPC Appliance powered by the latest Intel Scalable Xeon processors.
Sponsored Content
Check It Out: Apply Design Tips to Cut Part Production Costs
September 15, 2020
Protolabs has published a white paper, "Design Essentials for CNC Machining," that provides tips for designers to help reduce machining costs and more.
Sponsored Content
Simplify HPC Licensing for Parametric Studies
September 10, 2020
Ansys offers a single solution for enabling simultaneous execution of multiple design variations using standard high-performance computing licenses.
5 Ways to Reduce Production Costs
August 5, 2020
The new guide explains how 3D printing removes hurdles that can drive up production costs.
Sponsored Content
Gain Operational Efficiency Through Low-Code Development
May 18, 2020
To help organizations get started with this approach, low-code platform provider Quick Base offers a 30-day free trial of its solution.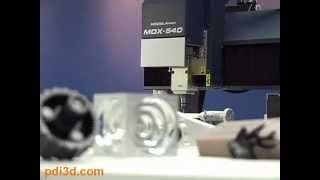 Sponsored Content
Rapid CNC Prototyping—On the Desktop
February 3, 2020
Product Development Inc. has put together an article and infographic explaining exactly how the line of Roland desktop prototyping CNC machines the company offers can eliminate many of the pain points involved in this process.
Sponsored Content
Preparing for Industry 4.0
January 21, 2020
The shift to digital manufacturing will require a mix of new technology to enable increased integration and automation.
Sponsored Content
Preparing for 5G RF Filter Design with Cloud Engineering Simulation
September 23, 2019
New OnScale white paper outlines efficient simulation-drive design of RF MEMS filters for emerging 5G applications.
Sponsored Content
Reverse Engineering in a Digital World
September 23, 2019
Reinventing the wheel has become a whole lot easier.
Sponsored Content
Choose the Right Mobile Workstation for the Job
July 25, 2019
How mobile workstations are tailored to the workloads of the professionals who need them most.
Design Engineering Teams Choose Process Over Products
July 23, 2019
The State of Product Development & Hardware Design 2019 survey results contain some surprises.
Sponsored Content
Building a Gateway to the Moon and Beyond
May 13, 2019
See how Protolabs is helping with Lockheed Martin's work on NASA's Gateway lunar orbiter project.
Simulation Unbound
May 6, 2019
Siemens Simcenter Webapp Server lets you share system simulation with anyone.
Sponsored Content
Advancing the Simulation Revolution
May 6, 2019
Join thought leaders at the ASSESS Congress to advance a multi-industry initiative to expand and improve the use of simulation software.
Latest News
Editor's Pick: A comprehensive toolset for electronics design and testing 
Keysight Technologies PathWave suite update includes five new modules to help engineers remove computational limitations that traditionally make electronics design...
Migrating Engineering Workloads to the Azure Cloud –
An FLSmidth case study from UberCloud.
MathWorks Updates Simulink Real-Time
Software enhancements involve rapid control prototyping and hardware-in-the-loop testing capabilities with QNX Neutrino Realtime Operating System (RTOS).
Radica Software Partners with Onshape on Electrical CAD
Electra Cloud now available on Onshape's app store to offer end-to-end solutions including 3D, electrical, pneumatic hydraulics and soon...
All posts