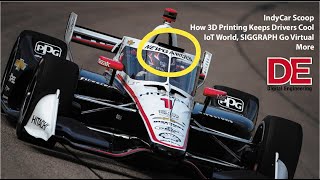 IndyCar Scoop on How to Keep Drivers Cool, IoT World and Siggraph Go Virtual, More
August 20, 2020
In August 20 Episode of DE News Roundup, 3D printed device keeps cockpit cool at IndyCar, IoT World and Siggraph go virtual, SimulationHub uses CFD design airborn contagion isolation rooms
ASSESS Organizes Insight Webinar Series
August 20, 2020
This ASSESS Insight Webinar will focus on "Understanding A Generative Design Enabled Design Paradigm Shift."
MathWorks Introduces Motor Control Blockset for Algorithm Development
August 20, 2020
New release extends Simulink workflow and offers an on-ramp to Model-Based Design.
Sigmetrix Releases Updated CETOL 6σ Tolerance Analysis Software
August 17, 2020
Variation analysis software for PTC Creo, SOLIDWORKS, CATIA, and NX is available for download.
Azore Software Launches CFD Simulation Software 
August 17, 2020
The company is offering extended free trials and low-cost monthly subscriptions.
Embry-Riddle EcoCAR Team Thrive Despite Shutdown
August 14, 2020
Embry-Riddle EcoCAR engineering team adapts to remote collaboration, wins Best Final Technical Report award
Keysight, IPG Automotive, Nordsys Team to Validate Advanced Driver Systems
August 12, 2020
Companies have created new test platform to accelerate development of ADAS solutions.
3MF Joins Linux Foundation: How Will This Change Your 3D Printing Workflow?
August 11, 2020
3MF Consortium's Exec. Director Luis Baldez discusses STL vs. 3MF, benefits of joining Linux Foundation, and more
BETA CAE Systems Releases New Version v21.0.0 of its Software Suite
August 11, 2020
Company also releases v20.0.5 and v20.1.3.
MapleMBSE Release From Maplesoft Now Includes Capella Support
August 7, 2020
MapleMBSE 2020.2 offers expanded toolchain connectivity, improved performance and usability.
Cambashi Releases 2020 Update of CAE Market Observatory 
August 7, 2020
Market for CAE / Simulation software will reach $6.1bn in 2020.
OMNIS™ Solve
August 5, 2020
A modern simulation environment containing the fastest CFD solvers on the market, freely customizable to your workflow, and offering unparalleled fidelity.
BETA CAE Systems Releases SPDRM v1.3.3
August 4, 2020
This version delivers a number of enhancements and fixes to the users of the most advanced Simulation Process Data and Resources Management tool.
On the Right Track
July 31, 2020
Palatov Motorsport takes CFD simulation farther and faster.
The Human Side of Simulation
July 31, 2020
Incorporating human body models as part of simulation-driven design improves design outcomes, resulting in highly personalized, safer products.
Latest News
Sponsored Content
Editor's Pick: Micron-resolution production 3D printing
Boston Micro Fabrication microArch S240 3D printer increases build volume, speed and material capacity compared to the company's previous...
Mastercam Recreates Historic Water Wheel
American Precision Museum machines reproduction of manufacturing water wheel for new exhibit.
Ansys and University of Texas at Arlington Boost High-Speed Hypersonics Research and Development
New collaboration aims to save hundreds of millions of dollars in hypersonic aircraft, spacecraft and missile prototype testing.
New MakerBot Report Reveals 74% of Companies Plan to Invest in 3D Printing in 2021
Over half of survey respondents plan to invest up to $100,000 in 3D printing technologies next year.
All posts