Sponsored Content
Tooling Delays? Get Parts in Days! Consider Additive Manufacturing
September 11, 2019
As designers and engineers become more accustomed to using AM, and more materials become readily available at lower prices, additive technologies will only continue to grow as a significant force in the manufacturing process.
SIMULIA Goes on the Road
September 9, 2019
Dassault Systemes goes on the road to promote SIMULIA simulation solutions
ANSYS and Autodesk Collaborate to Innovate in the Automotive Industry
September 9, 2019
Alliance provides customers with deep integration between solutions to drive revolutionary design advancements.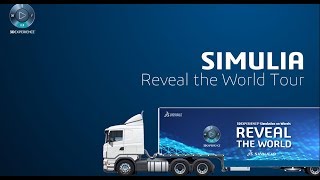 SIMULIA road trip, Unreal Engine 4.23 highlights, ANSYS and Edge Case Research partnership, more
September 6, 2019
Dassault Systèmes SIMULIA goes on the road to promote simulation, Epic Games launches Unreal 4.23 with Beta features, ANSYS and Edge Case Research partner to address autonomous vehicle hazard detection, GPU-based on-demand Bullet Render Fame goes live
ModuleWorks Sets up Cooperation With Mitsubishi Electric
September 6, 2019
The new simulation technology provides detailed CNC machine simulation with graphics and advanced features such as full-scene collision detection to protect both the machine environment as well as the workpiece.
Siemens and Dassault Systèmes Nab Top Spots in ABI Research's Simulation Software Assessment
September 5, 2019
The Manufacturing Simulation Software Competitive Assessment analyzed and ranked seven major vendors in the industry.
Sponsored Content
Multiphysics Informs Business & Engineering Solutions
September 5, 2019
From the initial concept to the final product, finding innovative, cost-effective, and environmentally friendly designs is an intense but extremely rewarding journey for managers and engineers alike.
CM Labs Announces Major Updates to Vortex Studio
September 5, 2019
Latest version of real-time simulation software adds new terrain system, a modular vehicle design process and streamlined installation.
Siemens Unveils Xcelerator Rapid Development Platform
September 4, 2019
Solution combines Mendix and Siemens software portfolio to enable rapid product validation.
Advanced Computational Fluid Dynamics Software 
September 4, 2019
Nextflow Software introduces Nextflow Studio for smoothed-particle hydrodynamics. 
Sponsored Content
Editor's Pick: Conduct Computational Fluid Dynamics Simulations More Efficiently
September 4, 2019
Nextflow Software introduces Nextflow Studio, which covers the entire CFD workflow from pre-processing to computation and post-processing.
Sponsored Content
Requirements Engineering Defining Problems—Enabling Solutions
September 4, 2019
Rising complexity of systems across the industrial landscape are driving the need for transformational technologies to manage requirements in the context of total product configuration for companies.
Digital Engineering and NAFEMS Americas Launch CAASE19 Virtual Conference
September 3, 2019
The virtual conference will explore the use of simulation and analysis across the design/development process.
ANSYS and Edge Case Research Collaborate on OEM Agreement
September 3, 2019
Collaboration designed to advance autonomous vehicle safety, solve complex artificial intelligence reliability challenges.
The Path to Simulation
September 1, 2019
Industry veterans weigh in on how to make engineering simulation more accessible to a larger user base.
Latest News
ZVerse and Shapeways Form Integration Partnership to Deliver 3D Design Solutions at Scale
The new strategic partnership provides Shapeways customers with access to ZVerse's artificial intelligence-driven design platform as well as its network...
Onshape Teams Up With Sandvik for Cloud CAD/CAM Integration
Companies' strategic partnership designed to reshape how manufacturers go from 3D product models to finished parts, according to companies.
SOLIDWORKS 2020 launches, CM Labs releases Vortex Studio 2019b, xRS Week set for October
SOLIDWORKS 2020 with improved assembly performance and flexible parts, CM Labs releases Vortex Studio 2019b with deformable terrain, xRS Week set...
Creaform adds Academia 50 3D Scanner to its Educational Solution Suite 
ACADEMIA 50 uses structured white light technology to scan objects made of any material, surface type or color, according to the...
All posts