Precision Workstation Storage Classification
January 26, 2018
The paper provides an in-depth description of the different types of SSDs and how Dell classifies them via benchmarking.
Precise Simulation Releases FEATool 1.7.1 Update
January 19, 2018
Precise Simulation has released a FEATool Multiphysics update featuring a redesigned and simplified mesh and grid generation toolbar.
Altair Launches WEYV Entertainment App Platform; DE in the Mix
December 5, 2017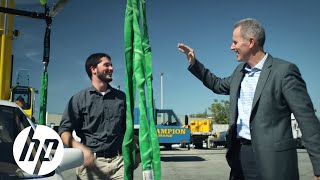 3D Printed Chain, Using HP Multi Jet Fusion, Lifts Car Off Ground
November 15, 2017
3D printed chain using HP technology lifts car off ground.
Powering the HP Jet Fusion 3D Printers
November 15, 2017
Powering the HP Jet Fusion 3D printer
MATLAB Bolsters Text Analytics to Aid in Predictive Maintenance
November 14, 2017
The new Text Analytics Toolbox, a product within the semi-annual MATLAB upgrade, is designed to help engineers extract more value from data, specifically unstructured text.
3DEXPERIENCE & Additive Manufacturing
October 13, 2017
Onshape's Tricks for Sheet Metal Design
October 13, 2017
ANSYS Fluent: Dealing with Meshing
October 13, 2017
Proto Labs' Cool Idea! Award
October 13, 2017
Sponsored Content
Tormach Machines Help Make Dice for Gaming
October 5, 2017
Sometimes you just have to toss the dice and bet on your idea.
Sponsored Content
Let Simulation Guide You
October 1, 2017
The same simulation technology once reserved for expert analysts is now available to all design engineers, and it's easier to use than you think.
Mentor Prepares Engineers for an Electric, Self-Driving Future
September 28, 2017
A recap of the Mentor Integrated Electrical Solutions Forum (IESF) Automotive 2017.
Sponsored Content
On-Demand Webcasts Focus on Engineering Simulation in the Cloud
September 26, 2017
Taking some or even all your engineering simulations to the cloud raises a lot of questions. Here's what's in it for you.
Jabil Sees Future of Manufacturing for 3D Printing
September 19, 2017
Latest News
Editor's Pick: Accelerating electromagnetics simulation
Siemens Simcenter 2022.1 has updates in three specific applications: Simcenter SPEED; Simcenter Motorsolve; and Simcenter MAGNET.
IMAGINiT Launches Clarity 2023
This enterprise-level suite of products can improve architecture, engineering and construction firms' advances in process automation.
Morf3D and Constellium Ink Joint Additive Manufacturing Program
Constellium's Aheadd CP1 offers benefits including thermal and electrical conductivity approaching that of pure aluminium, the company reports.
JIE USA Debuts 3D CAD Configurator Built by CADENAS
Motor and drive manufacturer unveils tool for on-demand, online design and product selection.
All posts