Top Story
Designing with AM in Mind
November 1, 2019
Designers and fabricators must support one another to avoid print failure.
Designing with AM in Mind
November 1, 2019
Designers and fabricators must support one another to avoid print failure.
Partner Content
Made in Metal but Lighter
September 12, 2019
As Metal AM Attracts Attention, the Need for Simulation Grows.
Engineering Productivity to Drive Generative Design to More Than 16 million Users by 2030
February 1, 2019
The automotive industry represents the largest opportunity globally with US$18.5 billion in generative design software revenues forecasted for 2030, but the largest industry differs from country to country.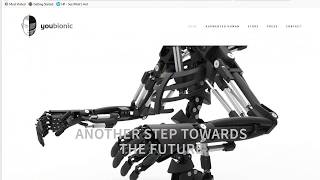 DE News Roundup: December 3, 2018
December 5, 2018
PTC acquires generative design software maker Frustum, TechSoft adds AR-VR support to HOOPS SDK, HP partners with Autodesk for 3D printing workflow, hybrid Centaur-like robot from Bostondynamics and Youbionic
Formnext 2018 Pinpoints Anticipated Disruptions to Additive Manufacturing
November 27, 2018
Additive manufacturing hardware vendors shift from optimization for quality to optimization for speed and face competition from open-system material manufacturers.
Frustum Acquisition to Add Generative Design Muscle to PTC Creo
November 20, 2018
Slated to debut in future versions of the PTC Creo CAD tool, Frustum's AI-based generative design capabilities will make it easier for engineers to innovate product breakthroughs.
Generative Design Challenges Old Paradigms from the Parametric Era
November 12, 2018
The genesis of generative design can be traced back to simulation software, with topology optimization as the intermediary evolutionary step. Generative design software uses time-tested structural, fluid and thermal simulation technologies; however, instead of asking the user to provide the...
Editor's Picks: Sept. 27-Oct. 3, 2018
October 8, 2018
One of the picks will be chosen as DE's Editor's Pick of the Week.
Frustum Debuts Generate for Windows OS Generative Design Software
October 3, 2018
Technology from Frustum with its latest generative design software enhances industrial design process, producing manufacture-ready designs.
Frustum Launches Windows OS Version of its Generate Software
October 1, 2018
Optimization software developer Frustum releases Windows desktop version of its Generate software, promises to bring interactivity to topology optimization.
From Perpetual to On-Demand Licensing
June 1, 2018
A look at the design software industry's movement toward usage-based, time-based sales models.
Frustum Makes Available TrueSOLID for Generative Design
May 1, 2018
TrueSOLID from Frustum delivers multi-part assembly topology optimization, advanced optimization modes and kernel-integrated mesostructures (lattices) to design lighter, stronger and more efficient products, the company reports.
The Rise of Design Software for 3D Printing
April 1, 2018
Manufacturers' embrace of additive manufacturing pressures software providers.
Generative Design: Advice from Algorithms
January 2, 2018
Design engineers face new challenges in working with computation-driven design software.
Artificial Intelligence Wants a Seat at the Design Table
December 1, 2017
Generative design redefines the role of design engineers.
Latest News
CoreTechnologies Launches Simplified CAD Models for Digital Factory Planning
The Simplifier enables a smooth and fast processing of large CAD models.
Eurocom Sets Record for Storage in Lightweight Laptops with 16TB of SSD storage in its 2.5kg/5.5lbs Nightsky RX15 Superlaptop
Eurocom uses fast Sabrent Rocket 4TB M.2 NVMe SSDs (sized 22x80 mm), that are small enough to fully meet the...
DNV GL and MSC Software Set Up Strategic Partnership Enables Engineers to Design Ships and Offshore Structures More Efficiently
Partnership enables engineers to design ships and offshore structures more efficiently.
TYAN Refreshes Server Platforms with New 2nd-Gen Intel Xeon Scalable Processors
Powered by the extended product line of 2nd-gen Intel Xeon Scalable processors, TYAN's Thunder HX product line takes advantage...
All posts