Top Story
Challenges of Building Out A Live Digital Twin
November 11, 2022
Digital twin technology has developed over time, but what do organizations need to ensure real-time metrics?
Challenges of Building Out A Live Digital Twin
November 11, 2022
Digital twin technology has developed over time, but what do organizations need to ensure real-time metrics?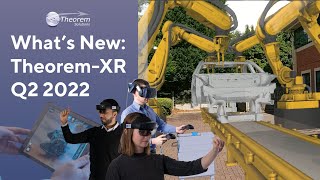 Augmented, Mixed or Virtual Reality
August 24, 2022
The adoption of extended reality (XR) technology in engineering and manufacturing is accelerating at a rapid pace. But what is XR and what are its benefits? Theorem Solutions explains.
AR, MR or VR: Which Technology is Right for your Engineering Use Case?
July 26, 2022
Augmented, Mixed or Virtual Reality? This is a key question. You will need to understand the features and benefits of each technology type before looking to build and implement your XR strategy.
Enter the Holodeck: Designing in a Virtual World
November 15, 2021
The gaming industry has long been big business, but thanks to virtual reality technology, it is now taking us where no one has gone before. Are product design and manufacturing the next frontier?
Editor's Pick: Upgrade to Mixed Reality 3D CAD Viewing Suite
May 5, 2021
Theorem Solutions Theorem-XR Suite update offers support for HoloLens 2 and the Microsoft Azure Remote Rendering (ARR) engine.
Playing Games Saves Lives
January 27, 2021
VR and gamification improve workplace safety and enhance productivity.
Virtual, Mixed Reality Market to Reach $30 Billion
July 22, 2020
New IDTechEx report looks at COVID-19 impact on VR adoption.
Redesigning CAD for Mixed Reality
February 1, 2020
Break old habits while inventing new practices at the same time.
Mixed Reality Moves Beyond the Cool Factor
February 1, 2020
As hype subsides, practical use cases emerge.
Mindtree Launches an Immersive Technologies Experience Center in Collaboration with PTC
December 27, 2019
Immersive Aurora facility provides opportunities to enhance customer experience across augmented, virtual and mixed reality touchpoints.
Is AR/VR Ready to Go Beyond Visualization?
December 1, 2019
Storytelling is the dominant use of mixed reality devices at present, but may change in the future.
Is Mixed Reality Worth a Try?
August 1, 2019
The visual technology holds much promise for design review and collaboration, but still faces limitations in hardware and processing power.
Can AR Enhance Design?
August 1, 2019
Though augmented reality brings benefits for collaboration and design review, hardware limitations make engineers wonder about its viability.
Lemnis Technologies Unveils Verifocal Mixed Reality Headsets with New Generation Eye Tracker
July 30, 2019
The Verifocal platform developed by Lemnis Technologies addresses the eye strain, visual discomfort and low image clarity that that is common in today's virtual reality and augmented reality headsets, according to the company.
Latest News
UltiMaker Launches the S7 Flagship S-Series 3D Printer
The UltiMaker S7 builds on the S-Series printers, with new features including an integrated Air Manager and a flexible build...
3DEO Launches 316l Stainless Steel
Material is made for medical, aerospace, and industrial markets, company says.
Spring TRX Event Agenda, Venue Announced 
Attendees will get updates on the America Makes projects portfolio to advance additive manufacturing.
Desktop Metal Reports 2023 Cost Reduction Plans
Plans include facility closures and a 15% cut in workforce, according to company release.
All posts