Partner Content
Simulations Slow?
March 8, 2019
More complex, higher-fidelity simulation workflows drive hardware upgrades.
Partner Content
Artificial Intelligence, Machine Learning and Deep Learning for Design
March 8, 2019
Break down the buzzwords to understand and successfully apply AI.
3D Printing Increasingly Prescribed for Medical Apps
March 4, 2019
HP's Director of 3D Printing, Lee Dockstader outlines 3D printing opportunity in healthcare.
Bringing Order to AI Chaos with Blockchain
March 1, 2019
Investigating the use of blockchain to democratize artificial intelligence.
Making Autonomous Vehicles Smarter
March 1, 2019
Combining real-world info and simulated conditions to build a data set.
Parametric Design Optimization with CORTIME
March 1, 2019
Walk through a linear buckling optimization using CORTIME.
Manufacturing Awareness Signals a New Phase in Generative Design
March 1, 2019
Migrating from theoretically optimal topology to manufacturable shapes, generative design technology shows signs of maturity.
Deep Learning and Design Engineering
March 1, 2019
Designers incorporate AI and deep learning into new products and in their own design processes.
Integrating Smart Design Under Pressure
March 1, 2019
How a small engineering team evolved from its traditional product design roots to embrace the complexity that comes with smart, connected products.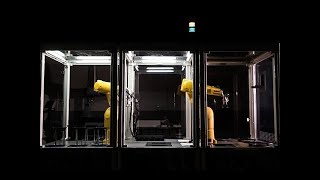 Air Force Readies Rapid Parts Replacement for Takeoff
February 21, 2019
The USAF is exploring how to leverage DLP 3D printing technology as a lean alternative to producing and inventorying legacy parts.
Partner Content
Visual Manufacturing
February 15, 2019
Modern CAM tools benefit from high-end visualization to keep up with faster speeds, more complex toolpaths.
Partner Content
Configure Your Workstation for SolidWorks
February 15, 2019
Experts weigh in on the best hardware and SolidWorks settings to use in order to maximize engineering design productivity.
Connecting the Thread: IoT
February 1, 2019
Most designers delve into unknown territory when it comes to implementation in the commercial sector of IoT.
Connecting the Thread: Digital Twins
February 1, 2019
A factory floor digital twin can deliver insights to design engineers, but it takes some legwork to create a closed-loop workflow between manufacturing and engineering.
Ruggedized Electronics Require Special Attention
February 1, 2019
Meet the challenge of designing sensitive electronics for harsh environments.