Editor's Picks: February 21-27, 2019
February 27, 2019
One of the picks will be chosen as DE's Editor's Pick of the Week.
ITAR Compliance in the Age of On-Demand HPC
October 1, 2018
How to stay within ITAR's rigid boundaries while straddling the cloud's blurred borders.
Partner Content
Cloud 3.0: The Rise of Big Compute
September 10, 2018
The success of deep learning as the first Big Compute killer app signals an inflection toward exponentially greater use of large-scale, specialized computing.
Simulation in the Cloud
June 1, 2018
Cloud-based solutions allow engineers to access a wider variety of hardware instances than would be possible to support on-premise.
Startup OnScale to Offer SaaS CAE
March 1, 2018
HPE, SGI Servers for HPC to be on Rescale Cloud via Partnerships
February 22, 2018
Rescale announces that it will support HPE and SGI servers on its HPC platform.
Rescale's Turnkey Cloud HPC Platform Offers NVIDIA Tesla V100 GPU with NVLink
February 22, 2018
Rescale announces that NVIDIA Tesla V100 GPU accelerators and NVIDIA NVLink high-speed interconnect technology are available on Rescale's ScaleX turnkey cloud platform for AI and high-performance computing.
ANSYS and Rescale Offer Pay-Per-Use ANSYS Software on Rescale's Cloud
January 18, 2018
ANSYS Elastic Licensing can now be purchased directly through Rescale's ScaleX, a system-as-a-service cloud-based platform.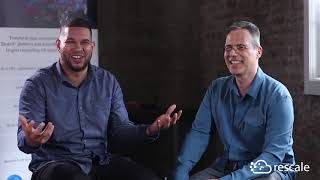 Rescale
January 1, 2018
Rescale provides a secure, pay-per-use, web-based platform that helps engineers and scientists build, compute, and analyze large simulations on demand. Founded in 2011, Rescale is located in San Francisco, CA and works with customers in aerospace, automotive, oil & gas, and life...
Simulation-as-a-Service On-Ramp
November 1, 2017
Read more on how network infrastructure affects small- and mid-size business access to cloud-based simulation and what is known as simulation-as-a-service.
Sponsored Content
Engineering for the Auto Industry
October 25, 2017
In this digital issue featuring some of DE's most popular content on the subject, we take a deeper look at how automotive design engineers are responding to changing regulatory requirements, electric drivetrains and self-driving technologies.
Rescale and ANSYS Team Up to Boost Startup Product Innovation
October 25, 2017
Rescale and ANSYS program empowers startups with cloud simulation and compute resources.
Riding on the Speed of Additive Manufacturing and HPC
October 1, 2017
Formula One teams turn to 3D printing and cluster-powered simulation.
Rescale Collaborates with Equinix to Offer HPC Solutions
August 17, 2017
Equinix and Equinix Cloud Exchange enable enterprises to easily migrate their on-premise infrastructure into data centers and connect to multiple cloud service providers via a single port, the companies report.
Rescale Announces Southeast Asia Expansion
August 2, 2017
Rescale is opening a Singapore office covering Southeast Asia.
Latest News
Elysium Takes a Platform Approach to 3D Data Interoperability
3DxSUITE is a single, modular platform that leverages all of Elysium's interoperability products to support the model-based enterprise.
CFD on the Menu for Cafeteria Re-opening Plan
Working with Dassault, GEA leverages simulation and digital twin technology to understand aerosol spread as it works to safely re-open...
SOLIDWORKS 2021 highlights, KIA uses Varjo ARVR and Autodesk VRED, NVIDIA announces Omniverse
SOLIDWORKS 2021 highlights, KIA uses Varjo ARVR and Autodesk VRED, NVIDIA announces Omniverse
ParaMatters 4.0 Generative Design Software Opens New Door to Automation
Autonomous generative design platform offers structural and thermal design and analysis, support structures and build orientation optimization for entire design-to-manufacturing...
All posts